Jess Lockwood, the 2017 Professional Bull Riders World Champion, issued an apology Friday via Facebook for using a word in a tweet earlier this week that he described as "inappropriate and insensitive."
Lockwood has also been fined an undisclosed amount by PBR, according to an emailed statement from a PBR public relations employee.
The amount of that fine will be be "directed to a Native American charitable organization," and Lockwood "has been offered and accepted an invitation to tour an Indian Reservation, where he will learn more about the extraordinary Native American culture, and teach the youngsters there about opportunities in bull riding," the PBR statement says.
The tweet in question has been deleted from Twitter, but screenshots have circulated on the social media site. The Nov. 12 tweet from Lockwood's verified account read: "So Jake literally pissed his pants laughing at this rezzer that stopped us outside the Indian depot." That tweet was punctuated by a laughing, smiling emoji.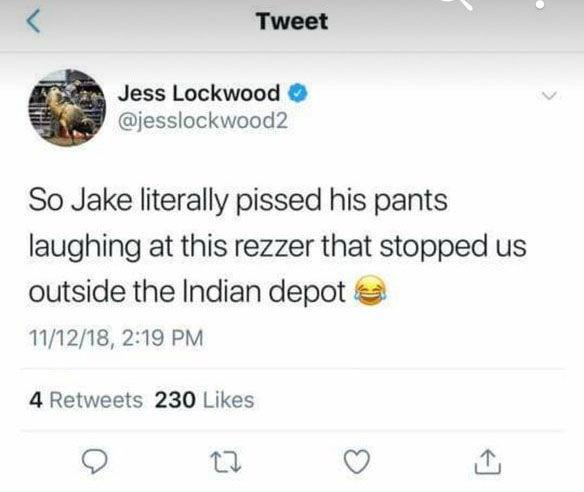 Another screenshot of a tweet from an account with the username Jake Lockwood, apparently issued around the same time, shows a tweet saying "Drunk rezzer- can i ask you a favor? Me- ya what do you need? Drunk rezzer- what do i need? …i got water! #noDAPL #WaterisLife."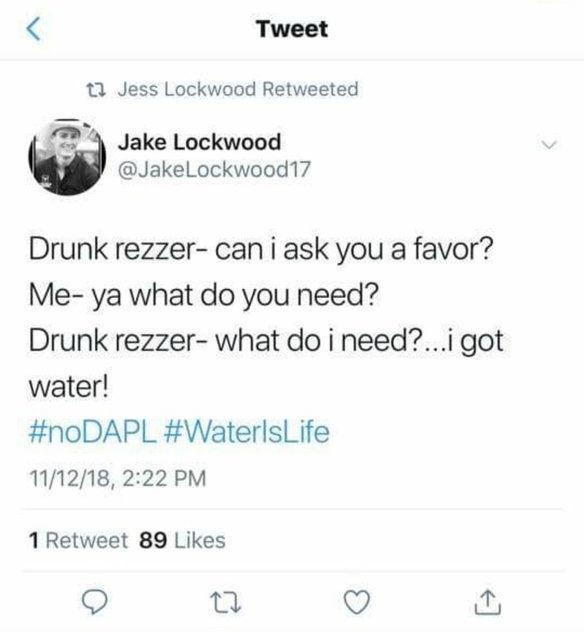 Both #noDAPL and #WaterIsLife are hashtags that were used to show support for Dakota Access Pipeline protesters at Standing Rock.
Register for more free articles.
Stay logged in to skip the surveys.
Jake Lockwood, 18, is the brother of Jess Lockwood and also a PBR competitor.
A Facebook message posted Thursday evening on the verified Jess Lockwood page states, "Earlier this week in a tweet, I used an inappropriate and insensitive word. I am sorry for my actions and assume full responsibility. I realize that I made a mistake, I should never use that term or any other term that is demeaning.
"I have many Native American friends, several of whom live on reservations in Montana and many who I compete against week in and week out. I did not intend to offend anyone and it won't happen again."
The apology concludes by saying, "Asking for your understanding and forgiveness, Jess Lockwood."
Lockwood became the youngest PBR champion ever in 2017 when he was 20 years old. He is from Volborg, a rural community south of Miles City. Now, at 21 years old, he is No. 3 in the touring pro division standings and No. 12 in the world standings.
PBR "is aware of an inappropriate comment made on social media by Jess Lockwood," according to an emailed statement to The Billings Gazette.
Lockwood "immediately apologized and is using this incident as a learning experience to educate himself further," according to the statement from PBR. "He counts all our Native American riders as close friends and he did not intend to hurt any member of the Native American Community."