BUTTE — With the 2018 Northern Rodeo Association campaign drawing to a close Saturday night, so too did the purse strings of a slew of cowboys and cowgirls who descended on the Butte Civic Center for the chance to add a nice chunk of cash at season's end.
And perhaps taking most advantage of the final stop on the NRA circuit was Kalispell's Tammy Jo Carpenter. The barrel racer and breakaway roper entered the weekend second in the barrels, sixth in roping and second in the all-around standings.
By weekend's end, Carpenter knotted the 2018 all-around title, and moved into second overall in the barrels with $2,975 earned over three days. She didn't add any money in breakaway, but her dominance around the barrels on the arena floor was enough. She took the first two days' top score and finished with the top average at 44.74.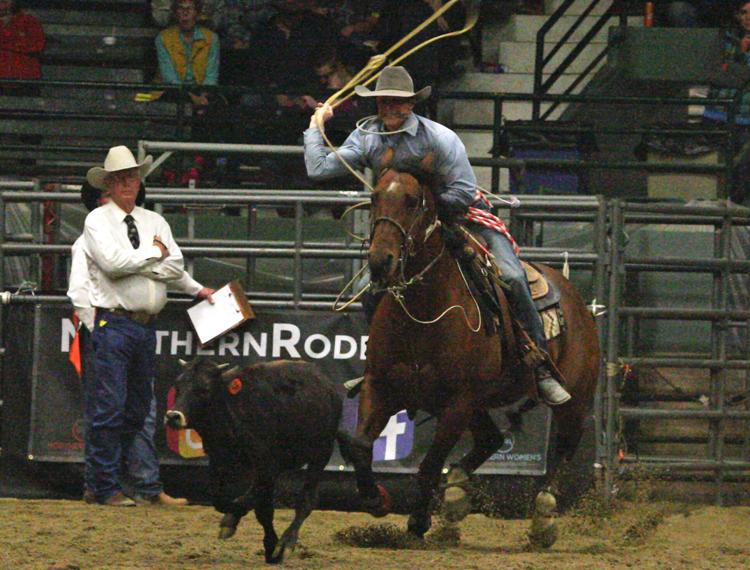 The title of dominance on the men's side belongs solely to first-year NRA cowboy Jack Graham.
The Montana State cowboy, hailing from Lakeview, Oregon, came away with tie-down, team roping and all-around titles to take the first NRA triple crown since 2009.
Graham took Go 1 and 2 in tie-down, finished third in the third go and won the average handily to amass $2,800 on the weekend alone. In team roping, Graham and partner Sam Levine were third the first day, second the second and took Go 3 Saturday night. They finished second in the average and each tacked $2,362 onto their season winnings over the three-day stretch.
Year-end winners
Bareback: J2 Bridges, Dillon — 7,885.19
Steer wrestling: Kyle Callaway, Billings — 6,266.73
Breakaway roping: Cierra Kunesh, Helena — 6,259.92
Tie-down roping: Jack Graham, Lakeview, Ore. — 7,646.73
Saddle bronc: Andrew Evjene, Two Dot — 8,675.76
Barrel racing: Shai McDonald, Gardiner — 8,935.90
Team roping header: Jack Graham, Lakeview,Ore. — 6,887.72
Team roping heeler: Sam Levine, Wolf Creek — 7,547.60
Bull riding: Payton Fitzpatrick, Polson — 6,786.95
Men's all-around champion: Jack Graham, Lakeview, Ore. (tie-down roping, team roping)
Women's all-around champion: Tammy Jo Carpenter, Kalispell (barrel racing, breakaway)