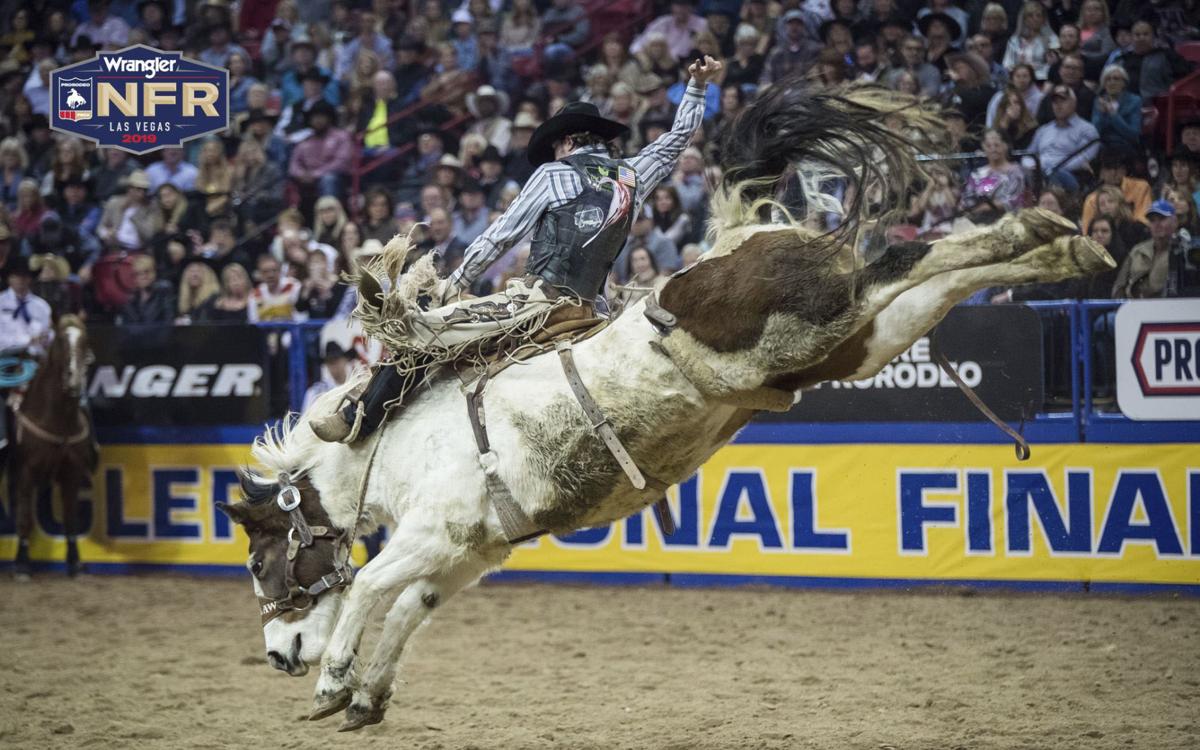 LAS VEGAS — Deer Lodge's Chase Brooks won his first round of the 2019 Wrangler NFR with a Round 3 record-tying saddle-bronc ride Saturday night at the Thomas & Mack Center.
Brooks had a 90-point ride on Outlawbuckers Rodeo's Lunatic Party. He shares the Round 2 record with ProRodeo Hall of Famer Billy Etbauer, who had 90-point rides in 1999 and 2005, and Isaac Diaz, who did it in 2018.
"Yeah, it was nice to have one that was that much fun," Brooks said of Lunatic Party. "(Friday night) was a lot of work, and I came up a little short.
"Oh, man, that's awesome (to tie the record). Shoot, it's cool to have my name by those guys. I've watched them since I was starting and looked up to them."
Between the 2018 Wrangler NFR and this year's Finals, Brooks has been on a roll, winning three of the last seven rounds.
"That's pretty cool," he said. "It's nice to do one by myself, because I split every other (round win). It's good to get one alone."
Also at the NFR on Saturday night:
• Miles City's Haven Meged was eighth in tie-down roping with an 8.6 and is fourth in the average standings. He is second in the world standings with $158,860 in winnings.
• Lisa Lockhart, a native of the Vida/Circle area now living in Oelrich, South Dakota, was eighth in barrel racing with a time of 13.94. Lockhart is third in the average standings and remains first in the world standings with $181,313, about $2,000 ahead of Hailey Kinsel.
• Chase Tryan of Helena and Brenten Hall were second in team roping with a time of 3.9 to win $20,731. The duo is first in the average standings and Tryan, a heeler, is fifth in the world standings.
• Tryan's cousin Clay, of Billings, is fourth in the world team-roping standings among headers. 
• In bareback riding, recent Stevensville transplant Richard Champion was ninth with a 79 and is third in the average standings. Champion is fourth in the world standings.
• Bridger Chambers of Butte was in a third-way tie for fourth in steer wrestling with a time of 4.3. Chambers is seventh in the average standings and ninth in the world.
• Helena's Ty Erickson was ninth in the same event with a 4.8. He's 13th in the average standings but continues to lead the world standings by nearly $9,000 over Tyler Waguespack. 
The NFR concludes Dec. 14.
Be the first to know
Get local news delivered to your inbox!