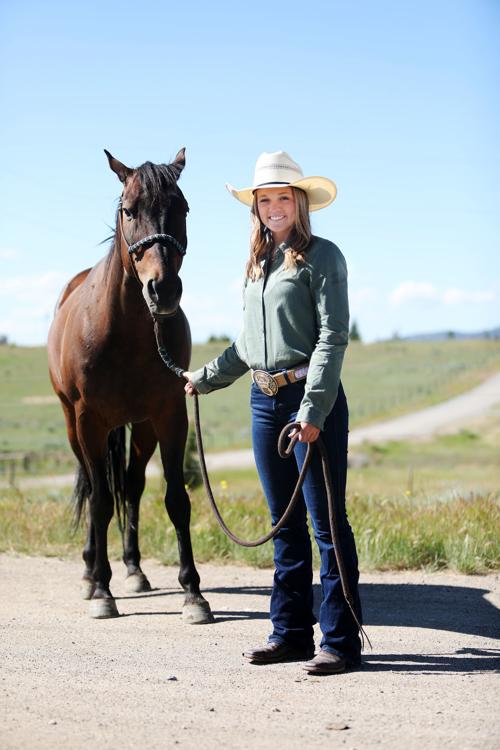 Braleigh Garrett doesn't know when the first time she rode a horse was. Honestly.
"I can't remember," Garrett said. "I've been rodeoing my whole life, I don't really recall the first I was ever on a horse, it's just been a part of my life for as long as I can remember."
A childhood of riding and competing has seen Garrett compete at the Montana state level throughout junior high and high school, including placement at the National Junior High Rodeo Finals while in middle school.
Now, following her third trip to the Montana High School Rodeo Finals, the Butte High junior is headed to National High School Finals Rodeo in Guthrie, Oklahoma to represent Montana in the Pole Bending competition after finishing third in Baker last month.
After COVID-19 began to spread around the country, there was serious uncertainty over whether the national competition, set to take place from July 17 to July 23, would even take place.
From the perspective of Braleigh and her father Brian Garrett, it wasn't until Braleigh's recent trip to Montana's state finals that they knew for sure if competing in Oklahoma was a real possibility.
"It was pretty uncertain whether we would have any spring rodeos or not, or nationals," Brian Garrett said. "We had to do some last-minute entries to get to these spring rodeos and state, and we didn't actually even find out if there was going to be nationals until we were at the state finals."
Garrett locked her trip up to the state finals over half a year before the actual event, but that and the uncertainty of the spring season hasn't stopped her from continuing to work towards her passion.
"I already qualified for state early in the fall rodeos," Garrett said. "But the more points you have, the better chance you have of going into nationals. My goal was just to get as many points as I could before going to nationals.
During the school year, I usually practice after school. I don't necessarily practice my horses on all the events every day, but I do exercise them every day, just to keep them in shape. Then, I will usually rope a dummy and tie goats just to keep myself up on it."
Due to the nature of the sport at the high school level, her growth as a rider has been done on her own and her family's accord, rather than through coaches hired by the school, as most other Bulldog sports do.
For Brian Garrett, the reason why his family has gotten invested in rodeo is simple.
"It's just a good family event," Brian Garrett said. "We felt it was a good way to raise a family… We all work together, her older sister [competes in] college rodeos and her next youngest sister does junior high rodeos and her youngest sister does youth rodeos. We have an arena at home and we're out at the arena every day."
Braleigh works with her father and older sister, Brityn Garrett, who also rode while attending Butte High and now rides with Montana Western's rodeo program. Is Braleigh looking to follow in her older sister's footsteps after her time as a Bulldog?
"I definitely want to college rodeo and maybe even go further, we'll see where it goes."
However, Garrett is currently locked in on her trip to Guthrie, which is now just a week away after her performances in early June.
But despite reaching the national level, Garrett said that there isn't much to change in the day-to-day in the preparation for July 17. Instead, committing to the routine that has brought her success has been the primary plan of action.
"We've just been exercising a lot more lately," Garrett said. "Other than that I'm just trying to keep the same [routine] with everything else because it's what's got me there and it's worked well."
In many ways, though, Garrett is just happy that there is a national rodeo to compete at. As a member of Butte's track and field team, she has already learned how it feels to lose a season firsthand.
"I'm excited to go and compete again," Garrett said. "And I'm glad that we're getting this opportunity considering everything that's happened. It was a little scary, but it's nice [that it's happening.]
"There were rumors about whether there was going to be nationals or not or where it was going to be, it was nice to finally learn that we were going to be competing there and all of the opportunities are going to be the same because it hasn't been like that for a lot of sports."
If there's anything that COVID-19 has taught the youth sporting world, it's that the chance to compete is as valuable as anything in sports. After cancellations have rocked the way sporting events are viewed, the mere opportunity is all that most young athletes ask for.
Braleigh is no different, and her father says that it's only come after an immense amount of effort and growth.
"Braleigh is very focused," Brian Garrett said. "And she's disciplined and she works hard with her horses. When she puts her mind to something, she gets it accomplished… It was really good to see her hard work come together, you have to be very proud of that. It's a year-round passion."
Be the first to know
Get local news delivered to your inbox!