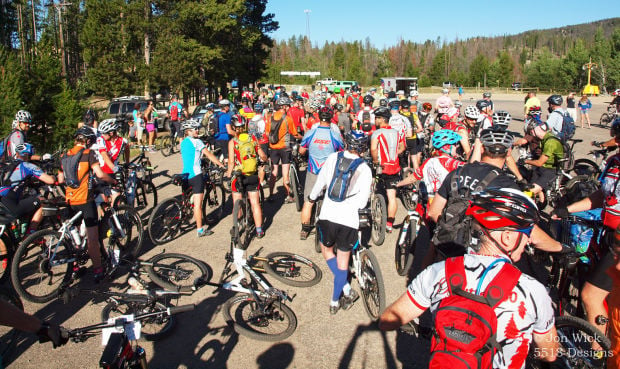 Minutes before sunrise Saturday, hardcore mountain bikers will hit the dirt for a grueling 100-mile race through the mountains east and south of Butte.
The seventh annual Butte 100 starts at 6 a.m., followed by the 50-mile race start at 8 a.m. A total 250 riders — 90 in the 100-mile and 160 in the 50-mile — are registered. The races begin and end on Homestake Pass, east of Butte.
Jon Wick, the race's communications director, said the top racers should start closing in on the finish line around 2 p.m.
"This year's field, as it seems is the trend over the last few years, is going to be even more competitive than we've ever seen," Wick said. "The course will be lightning fast and I think racers have their sights on that course record again. I anticipate a battle to the finish. In this kind of endurance, wilderness race, things like nutrition and fueling, mental training, and aid station strategies might dictate the difference between the first few podium finishers."
Ben Parsons, a registered professional racer out of Kalispell, returns for the fourth straight year and aims to get back on the winner's podium, something he did in 2010.
"The thing about doing a 100-mile is a full-on adventure of self-discovery," Parsons said. "With 10 hours of racing and 100 miles you will go through some good times and some bad times. A big chunk of it is being smart with your fueling and energy expenditure, so I like that aspect of it. Once you hopefully finish as one of the top guys up there and see your family at the finish line it is nice sharing that accomplishment together."
The race, which is gaining more notoriety with each passing year, has helped add to the Mining City's mystique.
"Butte had its own personality and the Butte 100 has its own personality," said Gina Evans, the Butte 100 race coordinator and participant. "It is a mountain bike race in the country. It will make you dig down a mile high and dig down a mile deep."
Evans is riding for the first time since being hit by a truck while riding her bike in 2010.
"The field is pretty impressive with the pros entered," Evans said. "There are racers that might be entering the race for the first time and some pros who know what they are getting into. In the 50 there are plenty of females compared with the 100. A lot of times it depends on your sponsors and what race you get into sometimes."
Evans also noted that the major differences between the two races.
"Elevation gains and the terrain," Evans said. "In the 50 you deal with a lot of Continental Divide trails but the terrain is different and there are a lot more elevation gains with the 100."
Wick believes that many of the professionals who have entered the race will be ready for most of what should come their way including the heat. Temperatures are predicted to be in the mid-80s in town, so it would be slightly cooler in the mountains.
"You know, many of the elite racers have been riding in these conditions since all summer their race schedules have many of them in Utah, Colorado and other hot dry areas," Wick said. "They know what their bodies need, and how fast they can get in these conditions. For the more recreational racer, the sun definitely drains your power reserves and there are those moments throughout a 100- or 50-mile race when you doubt your ability to go on — the sun and heat has a determining factor in that. We've educated our aid station volunteers, and have over calculated water supplies to help combat any adverse situations that might come up, so we feel that we're ready for the heat from a race perspective."
Butte racer Warren Smith will be among the contenders.
"It's hard to get excited about spending over 10 hours on a bike but I am looking forward to the challenge," Smith said. "It is a physical and mental challenge to complete something and persevering through some pretty tough terrain. It's not much about racing but racing yourself to do the best you can.
"The guys coming here racing to win probably spend four to seven hours on a bike per day. Having kids and a family you can't do that. They need a separate category for racers with full time jobs and kids."
Smith is the owner of HealthSource chiropractic in Butte, is a race sponsor and president of the Highland Cycling Club.
Butte's Chad Godbout is entering the 50-mile event for the second time.
"It's probably one of the hardest things I have ever done," Godbout said. "I am an active person who works out all the time, but it is definitely something that takes things to a suffering extreme. Finishing it was one of the biggest accomplishments I have done in my life. It is a grueling climb. I am an avid mountain biker, but if you add up all the climbing and the temperature, you have to make sure your nutrition is perfect and you are prepared to race it. It is a comfortable suffering where if you under prepare it is just that much harder. If you over prepare it can also lead to injury with overtraining. It is something that is more of a challenge just to test your body and see how you will do."
As for the 100-mile racers …
"They are super human and I am an avid mountain biker," Godbout added. "The 100 people, when you think of how much ground they have to cover, they are amazing."
Wick thinks there could be big-time battles this year.
I'm going to keep an eye on the battle between Tinker Juarez and those on his back wheel," Wick said. "Matt Butterfield, John Curry, and Ben Parsons have all been having great summers. There are always the racers lurking in the shadows that might be getting overlooked, like Jesse Doll, Bill Martin, and Butte's Warren Smith. On the women's side, Lisa Curry is on fire; I'd like to see her break her own course record this year, a very doable feat."
Juarez and Lisa Curry are the defending 100-mile men's and women's champions respectively. Juarez holds the 100-mile record at 8:22.41, while Lisa Curry's 10:50:53 time is the women's record. Both were set in 2012.
Martin, who lives in Bozeman and is an academic software programmer for Montana State University, used to be a full-time professional cross-country racer on the New England circuit, but now competes on a recreational basis. He has competed in all of the previous editions of the Butte 100.
"It's very difficult for how short it is," Martin said. "This is relatively short if you think about the 24-hour turnaround. It is not really short, and this is difficult enough with all the climbing. I would be taxed to get done within nine hours. It is more of a challenge than many of the 24-hour races. The Butte 100 has come a long way.
Martin said that with the 24-hour races slowly losing some of their popularity, the 100-mile races are gaining attention.
"One-hundred mile races in general, there is a large circuit for and they have grown, and they seem to be the new cross-country race," Martin said. "It is one of the better races in the region. A lot of races you go around four times, 25 miles, this is just one lap. It is a big figure eight. It is unique in that respect."