Toward the end of the first "Rocky" movie, Rocky Balboa walks into his bedroom the night before his fight with Apollo Creed and admits to his girlfriend he can't beat the heavyweight champion.
But as he lies on the bed in the dark room, Rocky says the result of the fight with Creed doesn't matter.
"All I want to do is go the distance," Rocky says as the camera zooms closer and closer toward his face. "And if I can go that distance...I'm going to know for the first time in my life that I wasn't just another bum from the neighborhood."
As Butte boxing coach Leigh-Ann Whitworth recalled this movie scene, tears welled up in her eyes.
"That's the essence of the matches here," Whitworth said. "It's not about winning or losing, it's about having the courage, discipline, and strength to make history."
The boxing matches Whitworth referred to are set to take place Friday night in Butte at the Montana Golden Gloves boxing gym on Utah Avenue.
The reference to making history? That's because the four Butte women competing in those four Friday matches are on the first all-female fight card in Montana boxing history.
"It's been on my mind for a few years, but this year felt like a good one to make it happen," Whitworth said, noting that there have been all-female mixed martial arts fight cards across the state but never an all-female boxing card. "Where else should women make history than in Butte, America?"
Whitworth isn't a boxer herself but has been coaching men and women in Butte through the Montana Golden Gloves and Pink Gloves boxing gyms for years.
Pink Gloves is just for women and is focused on fitness and empowerment, not sparring, Whitworth explained. Montana Golden Gloves is where the fighting takes place and is where Whitworth's four female athletes will box on Friday.
One of Whitworth's athletes is Rayelynn Brandl, 47, who started boxing at the Pink Gloves gym seven years ago. Brandl, who is the director of Butte's Clark Fork Watershed Education Program, said she joined the gym shortly after experiencing some autoimmune issues that resulted in extreme allergies and inflammation throughout her body. Her doctors told her she needed to do more physical activity, and when Whitworth caught wind of the problem, she told Brandl to come to the women's boxing gym.
"I told her it would kill me," Brandl said, laughing. "After the first class, I was so exhausted, but I kept coming and started feeling better."
Over the past seven years, Brandl has held onto that feeling, consistently going to classes at the Pink Gloves gym. It wasn't until the summer of 2017 during Evel Knievel Days when she got the idea to take her boxing skills into the ring competitively. Three weeks later, she won her first fight.
"I worked everything I learned at Pink Gloves… My body knew what to do, and I won, even though my brain was like, 'What am I doing here?'" Brandl said, laughing.
In December, Brandl started training for her second fight. Going into the Friday match, she said she felt accomplished and proud because the team of women set to compete has worked really hard to get there.
"It's not about the fighting at all. That's just the icing on the cake," Brandl said. "It's about this personal feeling you gain."
For Brandl, that feeling helps her clear her mind and give her a sense of strength and resilience. For Ronnie Walker, 44, that feeling makes her feel like she can overcome anything.
Walker has been a part of the Pink Gloves gym for nearly nine years. In late November, the Walkerville native agreed to spar with some of the local women.
"I said I'd like to spar with the girls… I came into it with no intentions of fighting," Walker said.
But those intentions changed when Walker started feeling ill. She was soon diagnosed with lupus, a long-term autoimmune disease, and shifted her outlook on boxing competitively.
"I told Leigh-Ann, 'I think I am a fighter; it's in my blood,'" Walker said. "Literally everything in my body is fighting right now."
With that mentality, Walker started preparing for her first match on Friday. She said she feels both nervous and excited and that boxing in general has shown Walker that she's stronger than she thinks.
"It's kind of my own personal fight. I could dwell on my health, or I could overcome," Walker said.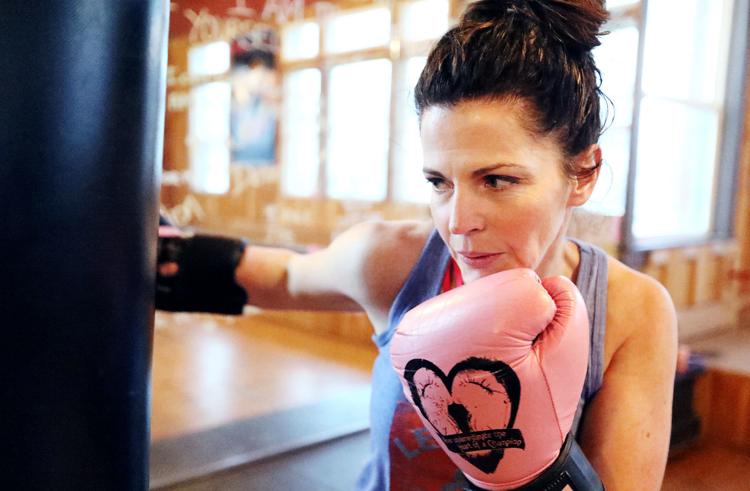 Walker also mentioned that boxing has become a sort of therapy for her, every punch to a bag allowing her to relieve daily stress. Boxer Amanda Guidoni, 31, expressed similar thoughts.
"It's my mental health plan," Guidoni said as her young daughter sat on her lap. "Boxing teaches patience and makes you a more humble and grateful person."
Guidoni has been with the Pink Gloves and Montana Golden Gloves boxing gyms for three years, set on fighting in the ring from the start. But despite her willingness, Guidoni said it took her two years to get her first fight.
"I'd have some lined up, but then they'd fall through… It's hard to find women to compete against," Guidoni said.
After scouring the state for competition, Guidoni said her first fight took place the week after her 30th birthday in Anaconda against a female boxer from Spokane. It was the first female boxing match in Anaconda history, Guidoni said. She lost by a split decision.
"It didn't matter that I lost; I was still grinning at the end," Guidoni said.
Friday will be Guidoni's fifth match. Her fight during the 2017 Evel Knievel Days was what inspired Brandl to start boxing in the ring, and Guidoni said she feels like she's started a ball rolling to include more women in the sport.
"When I started boxing, I thought it would be really cool to have more women in the sport. It was just a dream then, but now this is like the fruition of everything," Guidoni said of the all-female fight card. "I feel like this is the most important thing I've done yet."
Outside of boxing, Guidoni is a stay-at-home mom raising five kids. All of her children have either been adopted or are in her care as a foster parent.
"I like that my kids see me doing something for myself," Guidoni said, hoping they will feel empowered to do things for themselves when they grow older. 
Felicia Brazier, 30, will also compete on Friday night's all-female fight card. Like Guidoni, she also was set on fighting in the ring when she started with Montana Golden Gloves and Pink Gloves boxing five months ago.
For Brazier, a mother of three, boxing was her way of treating postpartum depression and anxiety.
"It's helped me mentally, spiritually, and emotionally," Brazier said. "The battle is really against myself."
Brazier explained that boxing for her is a mindset battle, causing her to question everything. In the ring, she really has to surrender her thoughts, and she said her biggest opponent is herself.
"I have to not listen to the doubts within myself about myself," Brazier said.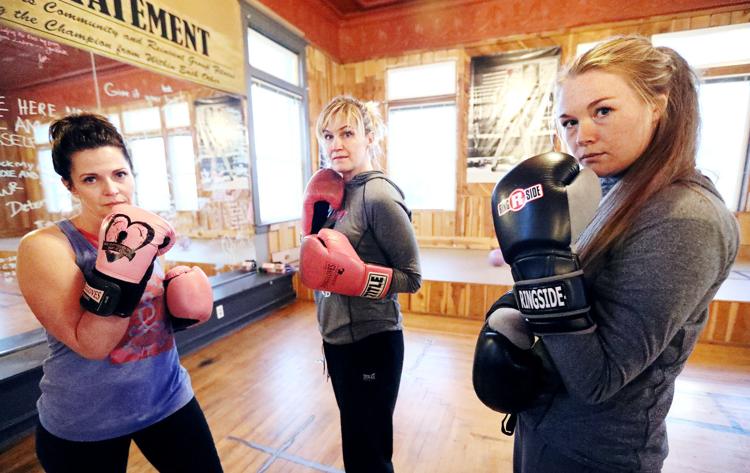 Brazier, Guidoni, Walker, and Brandl all expressed similar thoughts about the inner battle they fight when they enter the ring. They also talked about the larger battle of entering a male-dominated sport as women.
"We're taught as girls and women to take it, that we have to be nice and that we can't strike back," Brandl said. "I think it's important to give women this opportunity through boxing."
Whitworth build on her athletes' thoughts. She said there's an absolute stereotype against women boxers and that she's struggled as a coach in the male-dominated sport.
"There's this conception that beautiful women must be weak," Whitworth said. "These women are proving that women can be beautiful and strong. Beauty has nothing to do with how other people see you."
Whitworth hopes Friday's all-female fight card will start to break down this stereotype and inspire other women to step inside the ring.
"This sport is about respect," Whitworth said. "In doing this, I hope these women inspire other women to do what they have in their heart to do and to inspire them to do what they never thought they could."