BUTTE — Athletic trainers are always good conversation.
During one of last week's Shrine Game practices at Naranche Stadium, as players intermittently emerged from the locker room and took the field, I asked Erin Butori about her sunglasses.
The Butte Central alum and first-year Maroons AT had just finished taping her last pre-practice ankle and would be free for a while so long as no one got injured during practice (knock on wood).
The conversation was so easy and free-flowing I returned two days later with a list of questions. I did this despite knowing full well what Butori would later tell me: "I like to stay in the background and not be seen or heard."
That's how athletic trainers tend to operate. They're calm, low-key, and the less attention on them, the better.
So even though she was hesitant about the interview ("You want to talk to me?!"), Butori's friendly smile and easy-going disposition prevailed and 23 minutes of good-natured banter about sports medicine, trust between trainers and athletes, Butte, misconceptions of her profession, sports fandom and more followed.
Writer's note: All of Butori's answers are direct quotes, though this is not a complete transcript of the entire conversation. Information in parentheses was added for context. The order of some questions have been rearranged to keep answers regarding similar topics together and to improve the overall flow for the reader.
What's your background?
"I'm a Butte rat through and through. I went to K through eighth at Ramsey. I was a little country girl. Then I came to town, went to Butte Central, got a college softball scholarship (to University of Mary), went to Bismarck, North Dakota, for undergrad and then grad school in Missoula."
How did you get interested in sports medicine?
"I started this journey when I was in high school. I was fortunate enough to have an athletic trainer in high school. Chris Heard, who is my current boss at St. James (Healthcare in Butte), he was our athletic trainer at Butte Central. I got injured (ankle sprain) and kind of got to see the one-on-one and the background of things, the ins and outs of how to replace anatomy with tape and how to get people back onto the field safely.
"I got to see it first hand and it really sparked my interest in the field."
Why do you think that's such a common story for ATs?
"We were athletes. And so it's our way to keep us still in that athletic realm, I still like to be fit and on top of my game. So it keeps me fresh and in the moment.
"And who doesn't want to watch sports for a living? I'm a firm believer in doing what you love."
What did you study in college?
"My bachelor's is in athletic training and my master's is in health and human performance."
What was your first job out of college?
"My first year back to Butte I spent a year at Butte High, and then I was 10 years at (Montana) Tech, and then last year was my first year at Butte Central.
"We're all contracted through St. James, and then each school has a contract. Butte High has a contract for two athletic trainers, Central has a contract for one, (Montana) Western has a contract for three, Tech has a contract for three, East Junior High has one and Anaconda has one."
Why did you switch from Tech to Central?
"Ten years after traveling to Southern Oregon and Eastern Oregon … and COVID really got the best of all of us and our hats and roles changed. I lost my passion a little bit of being in that realm and ... being away from my family and traveling all the time. So needing to slow down and enjoy life a little bit really kind of opened my eyes."
Does working at the high school offer better work-life balance?
"Yep. Because they're in school all day versus when you're up at Tech, you're doing rehab with people, they're in and out from classes, so it's a full day. Where at high school they're at school all day so it's after school from 3:30 till 10, depending on the time of the year."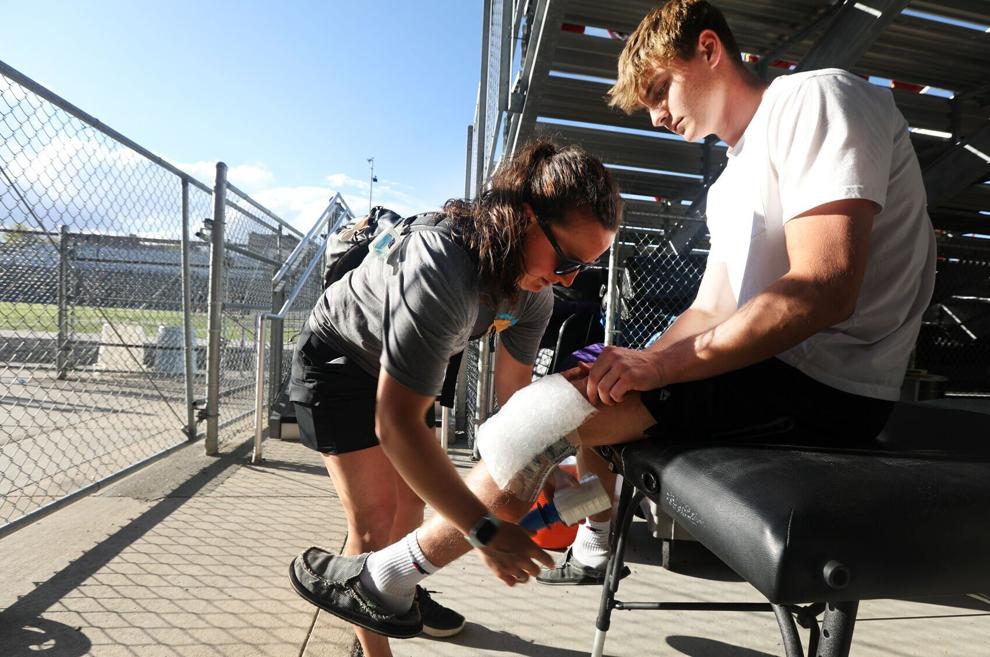 Shrine Game week involves three-a-days. How long are you here before and after each practice?
"It's anywhere from 45 minutes to an hour … but that depends on how many kids are hurt, how may kids are getting taped, how many kids need stuff pre-practice. As the week goes on that starts to increase."
How do you gain the trust of a new roster when you only have a week with them?
"Trust is the hardest thing. Not knowing them. Not knowing pain tolerances or how they handle things. But just kind of getting to know them on the sidelines, joking around and finding out, you know, 'What's happening next year, where are you going?' Just getting to know them on a personal level and then trying to communicate throughout practice and joke around and have fun and get to know them as much as they try to get to know me."
In my experience ATs are always very easy to talk to. Is that something you learn for the job or do you think most ATs have that trait before they get into the profession?
"I think we kind of come with it. You're personable, you like to interact with people and have fun with people. If you're not having fun at your job, then why are you doing it?
"I think that also comes a little bit with being a Butte kid. I'm usually a little bit more open and friendly, and try to be as open and friendly as I can. … I think we have a different personality a little bit. There's just something about Butte. We're willing to help out and reach out and do what we can, a little bit more of a caring spirit."
Outside of your job, are you a fan of sports?
"Yeah, I was fortunate enough to grow up with two older brothers that played football side-by-side at Tech (Tony and Wayne Butori). They were both offensive linemen and that really helped me. I really love to watch football. It's different for me, I watch football differently. I'm actually looking and watching the game completely different and watching how that knee is, or where things are falling.
"That's what keeps it interesting and fun, and going, 'Oh man, he didn't get hurt. He just pulled through, and that's amazing.'"
Are you ever able to watch sports from a fan's perspective or do you always see it through the lens of an AT?
"You kind of always have those glasses on. I still love to go watch a solid game of football, basketball, whatever it is. I like the camaraderie, a good game's a good game."
What are some of the biggest misconceptions of what you do?
"The biggest thing is most people think that we're glorified water girls or water boys. There's a lot that goes into it pre-practice, pre-season. Watching how they're landing. Gaining strength. All kinds of prehabilitation, preventing those injuries. Learning more that we're not just a trainer, we're not just here to get them into cardio shape.
"There's a lot more of strength, nutrition, sleeping right, all of those things are part of the hat that we wear."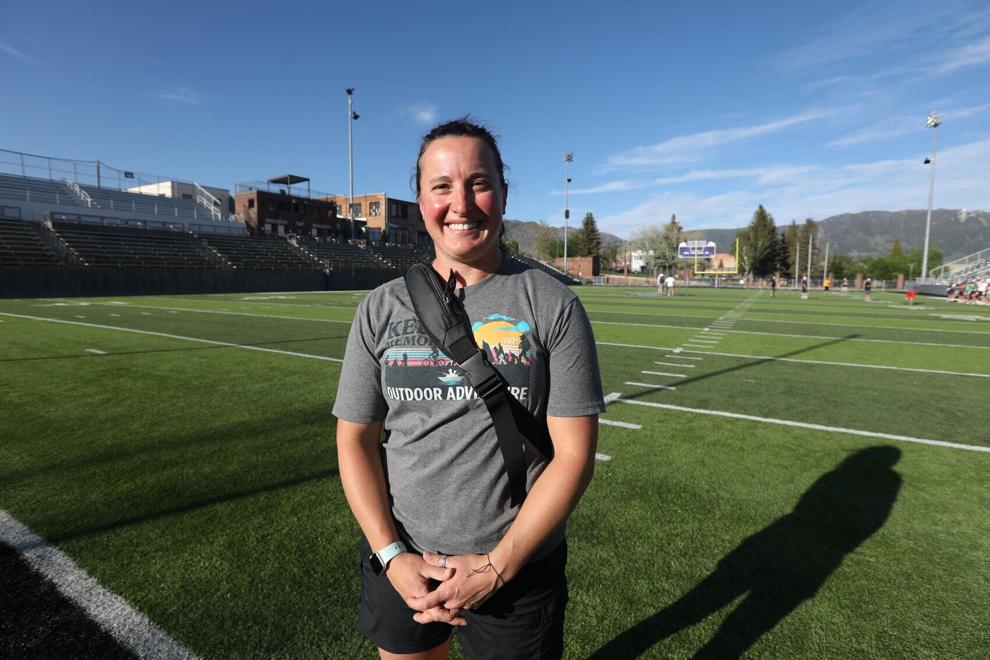 How do you stay current on advances in sports medicine?
"We do have 75 hours of continuing education that we have to maintain every two years for our certification. We have to stay up to date in our continuing education. Then those courses that we choose, it is up to us. So whether that's live in-person conferences or webinars that we're doing, or it's just amongst ourselves teaching each other ... kind of bouncing ideas off each other, reading articles, all those things."
What other duties or training are part of your job?
"We do get some psychology background as well. We need to know when things need to get referred out to go to a counselor or psychologist. That is a big component. And that's part of gaining the trust. I think for me, that's one of the biggest ones is that I love the most when kids can come to me and say, you know, 'I'm kind of just having a rough day or it's a rough week or my grandma's at home sick,' and they're coming to me and venting. We like to be that outlet so that they have somewhere to go release that and then get to practice and be able to enjoy it."
What's some simple advice you have for coaches or parents?
"The big thing is, don't WEBMD it, don't Google everything. Reach out to those that are educated. Thankfully, we're getting to the point where most schools in Montana have access to an athletic trainer. Reach out to those people who are educated in the field so that you're not just going, 'Well Google told me this.'"
How do you deal with coaches, parents or doctors who might have different opinions than you regarding an athlete?
"The biggest thing is keeping communication open between everybody. At times, is it hard? Yes. But everybody big picture wants you on the field or on the court. And so we're all working towards the same goal, so communication is the biggest thing."