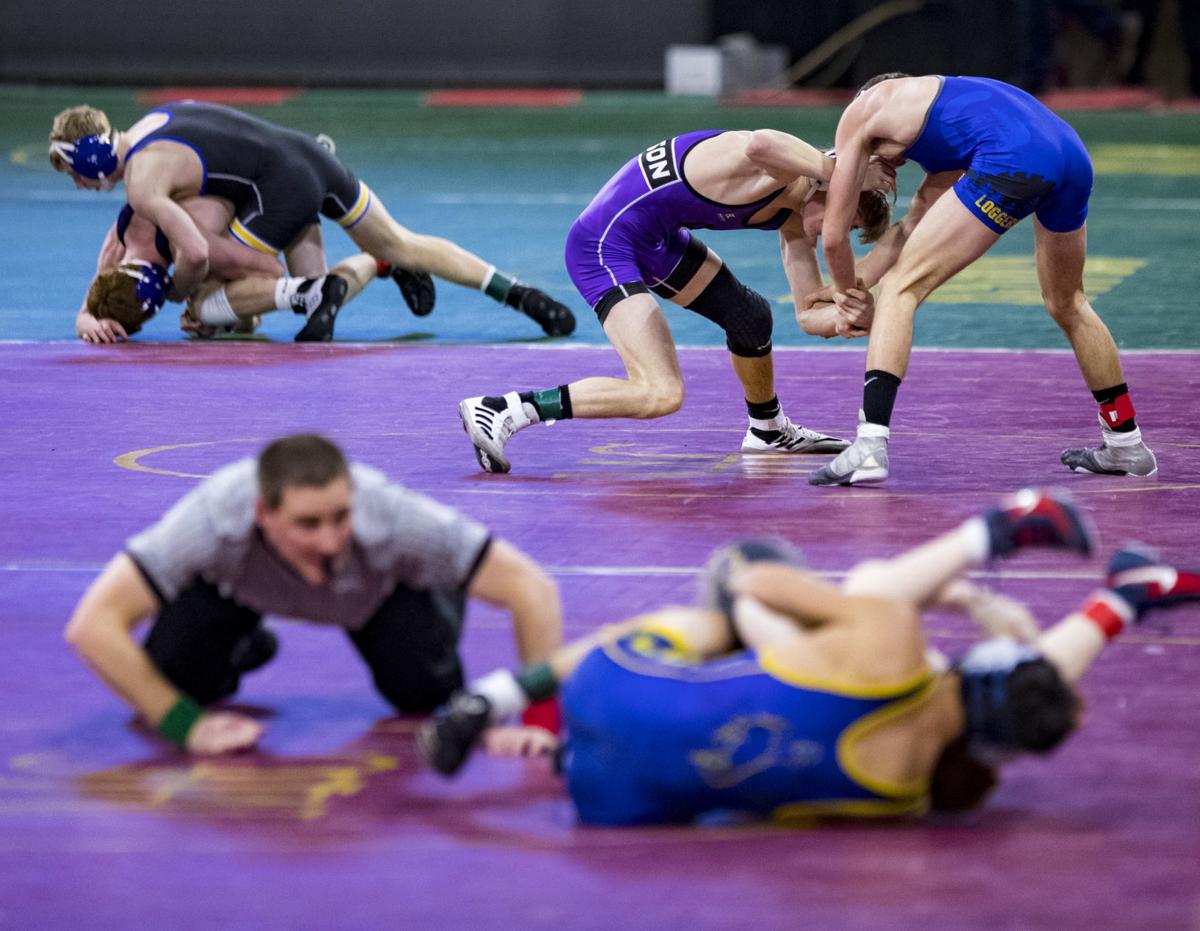 BILLINGS — The start of the state wrestling tournament was delayed Friday by technical difficulties related to using the trackwrestling.com live scoring system.
The state tournament, and divisionals, all use trackwrestling.com to track tourney results and post live updates online.
By the end of the first round and by the start of the first-round consolation and quarterfinal matches, the tourney was behind by an hour.
A computer and camera are placed on all 12 mats for live scoring and video streaming of the tournament.
"The first issue was all 12 computers weren't connecting to our main server," said tournament manager Brian Michelotti of the Montana High School Association. "And then later on in the round, our internal network was not operating functionally."
To fix the issue, all 12 matside computers were connected directly to the internet.
"We expect that to go well now through a wired connection at MetraPark," Michelotti explained.
Michelotti said wrestlers "would still get plenty of rest," between rounds.
In Class AA at 205 and 285 pounds, the first round was hand scored as the issue was being resolved. Organizers were on the phone with employees at trackwrestling.com to troubleshoot the problem.
"They were very helpful," Michelotti said.
Programs like trackwrestling.com have enhanced wrestling tournaments as fans can follow the scoring live on their tablets or smartphones while at the arena, and those who can't be at the venue can follow remotely.
However, from time to time problems can arise with computerized scoring at sporting events. It's all part of using modern technology.
"Anybody that has ever been to a wrestling tournament in today's day and age knows there can be internet site problems," Michelotti said. "We've had it happen at different events. Wrestling is so dependent on trackwrestling to make it work."
* When the technical issues were solved, there were immediate fireworks in the Class AA tournament, as Aaron Liscum, a No. 8 seed from Great Falls High, scored the first upset of the day, knocking off Josh Melton, the top seed from Kalispell Glacier out of the Western AA.
It was the start of a strong showing for the Bison who finished day one atop the leaderboard with 127 points. Liscum lost his next match but then beat Keagan Crosby of Sentinel, pinning him in just over a minute to advance to the next round of consolation matches Saturday morning, meaning the No. 8 seed is now one win from finding the podium.
Melton, the top seed, rebounded to win one match, yet lost in the last round of consolation Friday. Showing that once again, at state wrestling, just about anything can happen.
* For Corvallis' Kiera Davis, this weekend was all about an opportunity.
Davis, a 103-pound freshman, was the only girl to qualify for the tournament from Class A. She was pinned by Sidney's Owen Lonski in an opening-round match before being eliminated in a loser-out bout against Browning's Chris Hall.
"The fact that I was able to make it here is a big deal," Davis said. "I wish I was able to do better, but I guess it is how it is.
"I don't really think of the gender. I look at it more as, I want to get out there and do my thing and try my hardest, and the competition is what keeps me going."
Davis was one of seven girls to qualify for the tournament statewide. She was still sporting a bruise on her right eye, which she suffered last weekend in a divisional tournament match when Frenchtown's Landon Stewart, one of best in Class A at 103 pounds, executed a takedown.
"He picked me up and put my face in the mat," Davis said through a smile.
Next year, Davis will compete in what will be a newly implemented girls-only division at the state tournament. But she still plans to wrestle against the boys next season every chance she gets.
"I think to be a girl and to qualify for guys' state is a big accomplishment," she said. "I think it's awesome that we were able to show that girls can do this and be in competition with guys and still succeed."
* At 170 pounds, Shepherd's Nate Gorham is trying to become the Mustangs' first state champion since Tyler Gilfeather in 2004, according to coach Brian Reichenbach. Gilfeather is an assistant this year for the Mustangs.
Gorham is in the semifinals against Cameron Brusven of Shelby. Gorham is 40-1 with 29 pins said Reichenbach.
"Nate is very excited. That is his goal and has been all year," said Reichenbach. "He's very driven and very focused."
* Anyone that has come to the state tournament over the years has heard the chants of "Butte, Butte, Butte" inside the Metra. Whenever Butte High wins a match or gets a pin you can hear it erupt, and Friday there was maybe no chant louder from the Bulldogs faithful than when 138-pounder Scout Allen won his quarterfinal match and reached the semifinals for the first time.
"The cheering is awesome," Allen said afterwards. "That's what motivates you. You hear it during your match and I talk to kids from other teams and they will say, 'Man, your fans are incredible, I wish we had them.' It's pretty special to have all those guys. Hopefully, I will hear it two more times. That's the goal."
Allen, a senior, is guaranteed to place for the first time in his high school wrestling career, but if he wants to reach finals night, he will have to upset Leif Schroeder of Bozeman, who is aiming to become one of Montana's next four-time state champions.
"I don't have anything to lose," Allen said. "I'm not the returning state champion. We have wrestled before, so why not be the kid that goes out and pins him or beats him?"
* Tanner Sprenkle walked into First Interstate Arena on Friday and immediately felt comfortable.
Sprenkle, a Billings Senior alum, won three of his four state titles at Metra and was making his return as a first-year assistant coach at Billings Central. The Rams scored 16 points on Day 1, highlighted by Bo Hakert advancing to the semis at 285 pounds.
"Just walking around, it feels like home," Sprenkle said.
Sprenkle, who joined the four-timers club in Great Falls months after the fateful Father's Day tornado of 2010 rendered the Metra unusable the following February, aspires to be a head coach one day.
A technical instructor, Sprenkle sees potential for the Central program.
"The one thing I feel like Montana is missing a lot is hand fighting," Sprenkle said. "We've got to get better hand control, moving them, pressure forward, and I feel like a lot of us are laid back or just hanging ties. The thing I'm focusing on is moving them, moving them and hitting our shots with nice angles.
"I feel like in the near future we're going to be pretty tough if we get more boys to come out."
* Red Lodge, in its first year offering wrestling since the 1970s, had two wrestlers qualify for the state tourney in junior Riley Devries (120) and sophomore Malcolm Mann (205).
"We're absolutely happy," coach Nate Anderson said. "It went pretty well. We ended up with 11 boys and three girls at the end of the year. We kept our numbers up."
Red Lodge will graduate four seniors, two girls and two boys, said Anderson. He said five current eighth graders have expressed an interest in joining the team next year.
* Lyle Faulkinberry ended a brief retirement and became Harlem's head coach again this season.
Harlem qualified two wrestlers for sate in junior Lance Blackcrow (160) and sophomore Mikkel Rider (205).
The Wildcats did not have a senior on the team and Blackcrow is their only junior.
"I have everybody back next year," Faulkinberry said. "We had nine finish. I had five at divisionals and four were injured and couldn't wrestle."
Faulkinberry said with the addition of girls wrestling as a sanctioned sport next season, there are plenty of girls who plan on wrestling for the Wildcats.
"For girls, we'll have anywhere from six to 16 next year," he said.
This year one girl was on the team. Amelia Blackcrow (113) is Lance's sister.
Faulkinberry said the girls are excited to be a part of the beginning of a new sport.
"It's something new and a lot of history to be made," he said. "Some had older brothers wrestle for me and the fact they know they can wrestle with just girls and not boys (at state). That's been a big deterrent for girls. Now that they can wrestle just girls and win a state title, it will take off.
"Everything the girls do will be history for the school and it could be for the state of Montana. It will be fun being part of history taking off."
Overall, Faulkinberry is glad to be back working in the wrestling room. He had retired as Harlem's head coach after 28 seasons at the conclusion of the 2015 state tourney.
"It's been a good year and I'm glad to be back," he said. "The boys are adjusting to my style and expectations. Our last tournament was our best of the year. We got better every week. We are already looking forward to next year, although we are not done yet and have this weekend to go."
* There are plenty of stacked weight classes at the All-Class state tournament, but one of them happens to be in Class AA at 132 pounds. Not only does it feature reigning 120-pound champion from Helena Capital, Carson DesRosier, but also RJ Lowdog of Billings West, who advanced to the semifinals for the second year in a row, as well as Asher Kamppainen of Kalispell Flathead and Avery Allen, a freshman from Bozeman with a stellar record, not only in Montana, but nationally.
"This is a lot bigger than the in-season tournaments," Allen said. "But it's not really any different than any other tournament. I just try to wrestle the same and keep working."
Allen beat DesRosier earlier this season, while the Capital product also defeated Lowdog in a triple-overtime match earlier this season. Saturday morning, DesRosier and Lowdog will meet again, with a state title berth on the line.
"I am hoping that it goes a little better this time," Lowdog said. "I would be so happy reaching finals night. That has always been the goal for me, to make it to finals and make my family proud and my culture proud."
* East Helena and Lockwood made their respective tournament debuts as first-year schools in MHSA competition. Lockwood qualified three wrestlers for state while East Helena brought one.
Each team won a match in the first-round Class A consolation bracket: Lockwood's Austin Therriault at 285 and East Helena's Carlos Estrda at 170, both freshmen, will forever own the distinction of capturing his school's first-ever state tournament victory.
This was Therriault's first year of wrestling. He said he's come a long way.
"I really did have to work hard to get better. I was terrible at this," Therriault said. "Earlier in the year I was getting beat by our 120 pounder. I can't thank our coaches enough."
Lockwood is coached by former Billings Skyview standout Beau Malia, a member of the four-time champions club. East Helena's coach is Jeremy Shields.
"There's a lot of kids who wrestle for four years and they don't even make it to state," Malia said. "It's a hard learning curve, but a good learning curve."
* Forsyth is being coached by Ben Reilly this year after Scott Weber retired in the offseason.
The Dogies qualified two for the state championships, junior Camron Reilly (126) and sophomore Paden Vanattan (160). Reilly was a state champion as a freshman and finished third last year and is Ben's son. Vanattan placed fifth at state as a freshman.
"Things are going good," Reilly said. "We had a lot of numbers at the beginning of the year. We have a lot of young kids. We don't have any seniors on the team. We had a lot of kids who never wrestled before, so we are really young."
Reilly said 10 came out for wrestling this year and due to a "few nagging injuries," six wrestled at divisionals.
Aside from having his son on the team, Reilly's daughter Addy is a manager. Another son, Payne Reilly, is in eighth grade.
Reilly had previously coached at the AAU and middle school level in Forsyth. He is originally from Iowa. This weekend, Reilly's mom and mother-in-law traveled to Montana from Iowa to cheer on the Dogies.
"They enjoy it. Wrestling is in the family back there," he said. "Everyone is watching back home."
* Cody Taylor is the wrestling coach at White Sulphur Springs, which added the sport this year. He is the brother of Circle coach Ty Taylor.
Another Taylor brother, Justin Taylor, previously coached at Belgrade, while the youngest brother, Cade Taylor, coaches at the middle school and AAU level in Circle. A fifth Taylor brother, Troy, lives in Indiana.
"We all went to a country school to start and when my older brother, Justin, went to Circle High, they drug him in and that's when we started," Ty Taylor said. "We all fell in love, dad included."
The Taylor's father, Rex, taught his sons how to box after he learned in the Army.
"It was a way to get five boys to settle down," Ty said.
Now, Cody is teaching those in White Sulphur Springs how to wrestle.
Cylar Taylor, coach Cody Taylor's son, qualified for state at 170 pounds. He is a junior.
"My son, as a freshman in Bozeman, wrestled and did really well," Cody Taylor said. "And then we moved to White Sulphur Springs and they didn't have a program. I started a club and got 13 or 14 kids out and went to the board and got it through."
There are eight wrestlers on the team, including the coach's daughter Cabry Taylor, a sophomore.
Last year Cylar played boys basketball at White Sulphur.
"My brothers and I all wrestled and it's hard to watch your son play basketball when you were a wrestler," Cody Taylor said. "I had eight tough wrestlers with inexperience. They didn't win a lot but they worked hard and wrestled their butts off."
Get in the game with our Prep Sports Newsletter
Sent weekly directly to your inbox!