GREAT FALLS — The cool blustery weather didn't faze the Class B-C state tennis competitors during the first day of their tournament. They've been through much more this season than sprinkles and temperatures in the upper 50s.
The 78 girls and 48 boys have persevered through one of the most unusual seasons in recent history and most are at the state tournament because of personal dedication and some sort of community support.
Cut Bank spent their first month of the season inside the gym playing on rubber mats they have available to roll out on the floor. Others weren't quite as lucky.
"The beginning of the season was really rough due to the snow," said Maranda Hastig, Baker's first-year coach.
She and her assistant coach spent hours measuring and taping tennis court lines inside their elementary school gym so they could practice until the weather cleared enough for them to get outside.
In Forsyth, they snow-blowed three to four feet of snow to get to their two courts.
"We have run-down, terrible courts that are chipped and cracked and we go out there and make the best of it," said coach Melanie Martens. "It took a village to get to them, but we got it."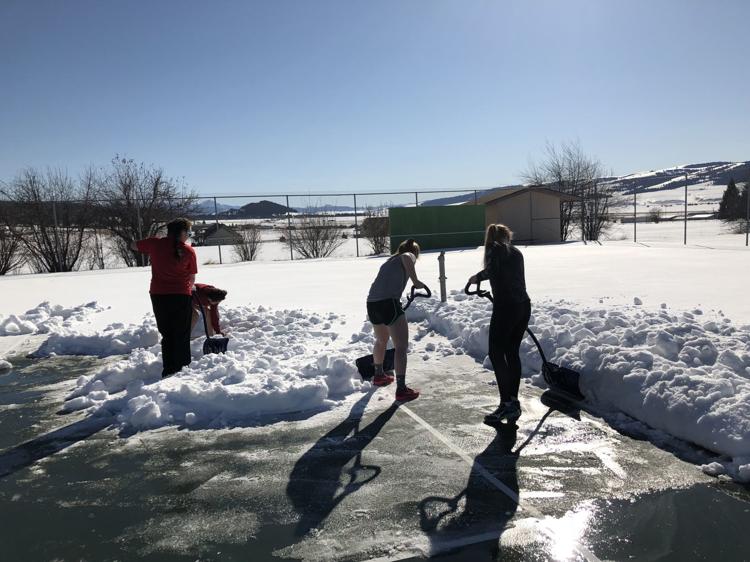 Philipsburg spent the first few days of practice shoveling snow and people from the community went over on their lunch breaks to help clear the courts.
Register for more free articles.
Stay logged in to skip the surveys.
"They're hardy," said coach Meredith Sauer. "They're Montana girls."
And once players were outside, they still couldn't catch a break.
"We only had four actual set matches out of 12. So I kind of scrounged around and found two more. It is an uphill battle trying to find (some), especially in Eastern Montana," said Martens. "A lot of (our divisional competitors) traveled to Choteau, Helena, Great Falls and we didn't get to any of them."
The Prospectors had three home matches scheduled, but were only able to hold one. They however were able to travel to Helena, Missoula and Whitehall.
But even divisionals weren't easy. In the South, they faced a two and a half hour delay while they squeegeed courts in the rain trying to get them dry. In the East, they were only able to hold two matches last Thursday before 40 mile per hour winds postponed the rest of the tournament for two days and moved it 73 miles northwest from Baker to Glendive.
"With our rough start at the beginning, they've done pretty well with perseverance and overcoming obstacles," Hastig said.
With rain in the forecast for the second day of the state tournament, obstacles are nothing new for these competitors.