POLSON —After a handful of rain delays and an extra morning of action, the Polson girls and Corvallis boys came away with top team honors at the State A tennis meet Saturday.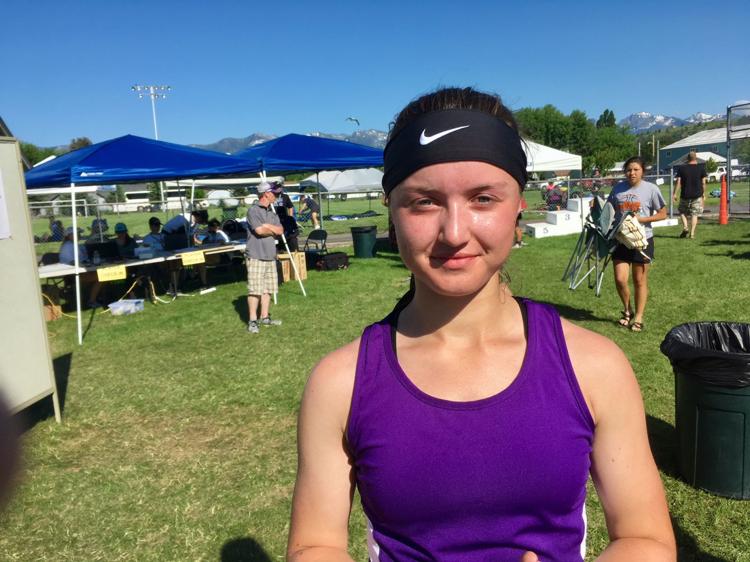 The Pirates emerged as undisputed girls' champion after Shae McGuinness won the singles title with a 6-4, 6-3 win over Olivia Fehr of Corvallis. The Blue Devil boys used third-place finishes in singles and doubles to earn a share of their fifth crown under coach Chris Maul-Smith, with Hardin and Whitefish.
For Polson 27-year coach Bob Hislop, it was state team title No. 4 and the first since 2012. The Pirates piled up 24 points to outdistance runners-up Belgrade and Hardin by seven.
"It's pretty amazing," Hislop told 406mtsports.com. "We fought weather and stuff all weekend but the kids just kept firing on all cylinders.
"We're blessed with some real nice kids, real talented kids here. We took a big hit yesterday losing the doubles (quarterfinal). But they're a resilient group, very athletic and like to compete, so it was very neat."
Hardin coach Mike Flamm doesn't mind sharing.
"I'm not greedy," Flamm said.
It's Hardin's first tennis championship for either the boys or girls. The Bulldogs, because they traveled the farthest to state, were allowed to take the first-place trophy with them; Whitefish and Corvallis will receive theirs later.
The Bulldogs rolled up most of their points in doubles, highlighted by Caleb Mason and Jonathan Noteboom, who took second behind Havre's Trey Murphy and Kennedy McKay. Overall, though, Flamm, who is in his 12th season with Hardin, credited the title as a "true team effort."
"We had eight kids (qualify) and we used a ninth" as an alternate, he said. "I thought it was pretty special that they were all a piece of it."
Hardin's boys previously earned state hardware by finishing second in 2017 and third in 2011.
Corvallis' Hislop summed up McGuiness' championship performance as "fantastic." Besides possessing smooth strokes, the unbeaten junior is a cerebral player who is not afraid to change her strategy in the middle of a match.
"The first set was pretty close today — we had matching scores for a while and then I think I got my head in the game in the last couple and I decided I was going to win it," McGuiness said. "The second set I was down for the first couple games, a mentally tough spot, and she was more driven because she lost a set.
"But I found my game again halfway through. It was a little windy and I was using that to my advantage, hitting with a lot of topspin down wind, which made for high bounces on (Fehr's) end."
Back in 2012 when the Pirates won the girls' title, they had nine state qualifiers and eight scored. This time Polson won with four, including the doubles duo of Kyler Lundeen and Berkley Ellis that took fourth.
"A huge part of the reason I wanted to win today was my team," McGuiness said. "I have senior friends who really wanted this. The girls hadn't won state in six years and I knew if I won it would get us in position."
The Corvallis boys were less certain of their status in the team race when they arrived at the Polson courts Saturday morning. They were able to forge a first-place tie with Hardin and Whitefish thanks to French foreign exchange student Marius Godard, who earned third place in singles with a 6-1, 6-4 win over Spanish foreign exchange student Manuel Gonzalez of Butte Central.
"It came down to Marius' match," said Corvallis veteran coach Chris Maul-Smith, who has guided the Blue Devils to five state team titles. "That was the key to this whole deal. I did not give one hint to him there was a possibility of this. He did a great job."
Credit also goes to the Corvallis doubles team of Caleb Warnken and Gabe DeLeo, who finished third on Friday night. Finishing first with just three players is tough to do, so the Blue Devils were a little surprised to learn that garnered a share of first.
"I was talking to some of the coaches and none of us could remember a three-way tie before," Maul-Smith said. "This is pretty awesome."
In girls' doubles, Belgrade's Brooke Gilbertson and Lily Reddick took top honors. They outlasted Makiko Reisig and Kate Murdock of Hardin in a marathon title match, 6-4, 4-6, 6-3.