POLSON — The surname Fehr has become synonymous with state tennis success in Montana.
Coach Mike Fehr has guided his Corvallis girls to two state team titles in 10 years at the helm. Sons Collin and Geoff both reached the State A singles final and another son, Spencer, coached an Anaconda boy to a State B-C singles title several years ago in Missoula.
But now it's time to move over, guys. Little sister Olivia carved out her own State A tennis niche Friday by punching her ticket into Saturday's girls' singles final with a 6-4, 6-0 win over Billings Central's Emma Putnam.
Fehr, a super-steady player with uncanny shot placement, reeled off eight straight games to end the match as the on-court temperature reached 85 degrees. Like her brother Collin, who has won the Missoula Marathon twice, heat doesn't seem to hinder Olivia.
"I got this feeling like I wanted it more," she said. "I've wanted to make it for so long that it just kind of came to me."
And what did Olivia have to say to big brother Collin afterwards?
"I'm better because I'm a girl," she joked.
Interestingly, Fehr will play the only girl she lost to all season, Shae McGuinness of Polson, in the state final. McGuinness, who topped Fehr back in March when there was still snow on the grass in Polson, won her Friday semifinal in straight sets over Raegan Smith of Livingston, 6-4, 6-3.
"She lost that first match of the year and then just resolved, 'I'm not doing that again,'" Mike Fehr said of his daughter. "I started coaching Livie when she was nine and I just can't tell you how proud I am of what she's accomplished as a tennis player.
"She played Putnam last year for fifth and sixth and lost, so there was some extra motivation there today."
McGuiness is looking forward to the rematch. And the chance to play it in cooler conditions Saturday morning.
"When it's hot like today sometimes it makes it a lot harder to think because everything is kind of like mushy and you can feel your head throbbing," she said. "You have to focus even more.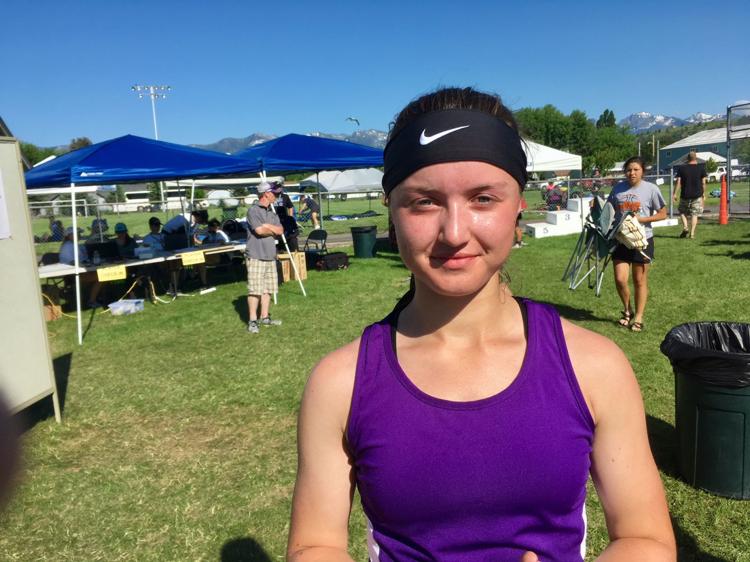 "Olivia is left-handed so her forehand equals my backhand and I like my backhand. Last time I played her we were both wearing like winter hats. I think it will be different for each player this time."
In girls' doubles, Makiko Reisig and Kate Murdock of Hardin will square off against Brooke Gilbertson and Lilly Reddick of Belgrade.
The boys' singles and doubles finals were played Friday night but, like the girls' meet, the final team standings will not be known until after all consolation matches are completed Saturday.
In singles, junior Brad Rakich topped off an unbeaten season with a pair of wins that netted him the first state tennis title by a Dillon boy. The three-sport athlete topped Marius Godard of Corvallis in a tight semifinal, 6-4, 7-5, then swept Brendan Buls of Whitefish in the final, 6-3, 7-5.
Rakich clinched the crown on his third match point.
"I think placing my shots and keeping him on the run was big," Rakich said of his match with Buls. "Usually when I'm ahead by a fair amount, that's when I go for it. But usually it's just keeping it controlled."
In the doubles final, Trey Murphy and Kennedy McKay of Havre stopped Hardin's Caleb Mason and Jonathan Noteboom, 6-4, 6-2. Noteboom was playing with an alternate partner since the boy he played alongside in divisionals did not make the trip, so to make the final was an accomplishment in itself.
McKay and Murphy came a long way since last year when they went 1-2 at state. They lost three times in the weeks leading up to the Polson showcase meet, including once to a Hardin team and twice at the mostly-Class-AA Helena Invitational.
"We've been playing together for four years so we know each other's strengths and weakness and we're like brothers," McKay said. "We get on each other a lot but it's mostly tough love. We get it done some way or another."
McKay felt his team's ability to maintain its poise with critical in the final.
"The key was to not be really scared I guess," he said. "You just have to go out and play how we did, hit our shots, get our serves in, be good at the net. We were nervous but we did it. That's all that matters."
Included on the list of matches that will be played Saturday morning is the boys' consolation final in singles between Godard and Manuel Gonzalez of Butte Central.