MISSOULA — The changin' of the colors may be the best way to describe Missoula's Class AA tennis scene as the 2018 season nears.
Hannah Worden, a State AA champion in doubles two years ago, transferred from Sentinel to Hellgate. Connor D'Angelo, who reached the singles consolation final in last year's large-school showcase meet, transferred from Hellgate to Sentinel.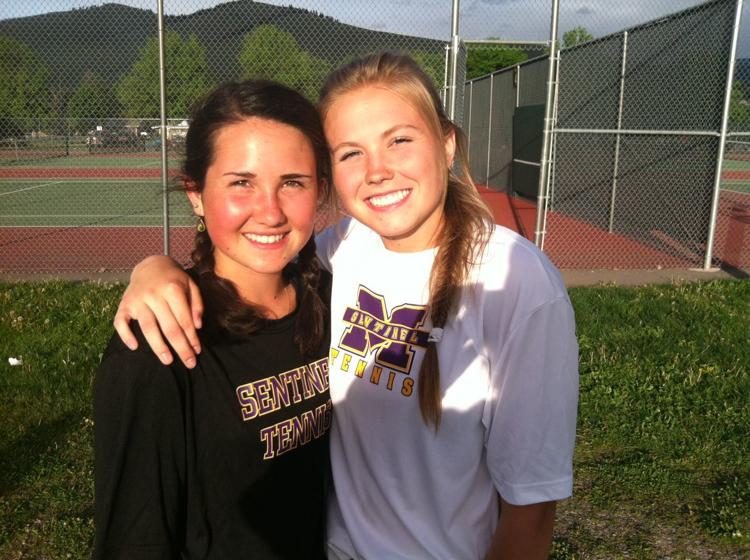 Plus there's Fisher Richardson, who helped win a State B-C boys' state doubles championship for Loyola Sacred Heart last May before transferring to Hellgate. And don't forget about those couple of Big Sky players that have transferred to Helena.
The upshot is the Knights should be extra good on the girls' side and the Spartans should be extra salty in boys' competition. Although that's not to say Hellgate is going to give an inch on the boys' side, especially with the return of senior Jesse Howard, who went to state as a sophomore and attended art school in California as a junior.
"Most of my guys played all summer and all fall with me and continued on in the winter — those that weren't playing basketball and other sports," Hellgate fourth-year coach Brian Hanford said. "The boys have been working really hard and we've got a really deep team."
Joining Howard on the list of boys to watch for Hellgate are Cole Tolleson-Knee, Henry Stahl, Wyatt Brown, Austin Moseley and Henry Ledyard.
"I've got seven or eight guys that are all comparable," noted Hanford, whose has a total of 18 boys with varsity experience. "I'm real excited to have Jesse (Howard) back. He and Cole (Tolleson-Knee) are seniors.
"Everyone is going to play singles this year and everyone is going to play doubles. It's important for the doubles guys to play singles. It helps their serve, their return game. It makes them mentally stronger. It's a tough game. A lot of them don't want to play singles but they're going to this year."
Next Tuesday is a day to mark on your calendar because the Hellgate boys will battle Sentinel in what promises to be an entertaining dual meet. Led by veteran coach Jenn Keintz, the Spartans boast three players that reached the quarterfinals in state singles last May, including D'Angelo, Jake Treece and Cody Curtis.
D'Angelo was the most pleasant surprise among Missoula boys at state in 2017. He ended up taking fourth, winning four of six matches.
Ethan Violette is also back for the Spartans after placing third in state doubles last season. Violette, who worked hard on his game this winter, entering several United States Tennis Association adult singles and doubles events, will likely be paired with Curtis in doubles.
Others who will make an impact for the Sentinel boys include Aiden Watson, Jackson Olsen, James Thomas, Sam Olsen, Jack Johnston, Zach Roosa, Nash Sauter and Will Larson.
"Our boys' team is deep and we have quite a few combinations to play with," Keintz noted.
Not to be outdone, the Missoula Big Sky boys have a force to be reckoned with in singles in Liam Johnson. He reached the quarterfinals of the state singles draw last May.
"Liam has been playing hard all summer and winter and I think he's going to have a good season," Eagles coach Katie Degrandpre said. "Dayton Evans and Dylan Sandry have also looked good in practice.
"Part of our boys' team is maturing, which is a good thing. We're looking for a better record from them."
Hellgate should also be tough in girls' dual meet competition. In addition to Worden, who took top honors in State AA doubles as a freshman and made up half of Sentinel's third-place team last year, the Knights have a ringer in singles in 2017 state semifinalist Olivia Panarella.
"Olivia is super excited," Hanford said. "It's my fourth year with Liv and Kate Koenig, which is real exciting. I had them as freshmen. They're playing well."
Hanford also returns two-time state singles qualifier Maya Nguyen-Haberneski and Maya Heffernan, who narrowly missed out on a state berth last year. Hanford will fill out the rest of his lineup with a promising group that includes some freshmen.
The Sentinel girls team return state singles qualifier Meredith Murdock.
"We have a young team without much experience, but we might surprise some people by the end of the season," Keintz noted. 
Big Sky will look to Jade Sautter to lead a young but hungry group.
"She has been playing all winter and has improved a whole bunch and she's a senior this year," Degrandpre said. "Our girls' team is going to be very new. We have at least 11 new girls and graduated 10 seniors."
As for the state landscape, defending team champion Bozeman will once again be the team to beat in girls' and boys' competition.
"I think my boys' team is going to be right in there," Hanford said. "I think we can compete with anyone.
"It's going to be tough to beat Bozeman, but we'll see what's out there. On the girls' side, it's probably the same. I'm excited for sure and there's great players in Missoula."