BELGRADE – After finishing second at the State B-C softball tournament two of the past three seasons, Huntley Project finally earned the trophy they sought.
The Red Devils defeated two-time defending champion Florence-Carlton 8-5 and earned their first state softball title in school history.
"We were all dialed in," Huntley Project senior Mollee Krum said. "We knew that this was the game we wanted to be at."
That's not to say they didn't have a little fun, though, sporting funny headwear and sunglasses in the dugout as their rally gear and adhering to their pump-up jam pregame routine. But they came well-rested and ready.
"I think we all tried to keep it light. We were playing music on the bus kind of jamming out just trying to keep the nerves down and just get ready for our game," Krum said. "I think we were all pretty dialed in. We were ready to go."
They watched the end of the third-place game from the top of the bleachers and then took the field knowing they were facing an opponent they had defeated Friday morning and one they had met in this same game a year prior as the Falcons earned their second consecutive title.
"That's a great program. We have tons of respect for Florence," Huntley Project coach Tim Bastian said. "It's kind of a program you look at how to build something where the kids have confidence that they can compete with anybody and we were hoping we'd be able to compete and luckily we were."
The second-round loss Huntley Project gave Florence meant that the Falcons had to come back through the bracket and win two final games against the Red Devils to earn their third-straight B-C championship.
"If we could have won that first game, it would have been tough, but they gave it everything they had and I'm proud of them," Falcons coach Rob Ralls said. "Huntley is a heck of a team and we put up a valiant effort."
Fresh off a 12-2 third-place win over Plains-Hot Springs, the Falcons got the scoring started when Kasidy Yeoman made it home from second base after a wild throw trying to pick her off.
But the lead wouldn't last.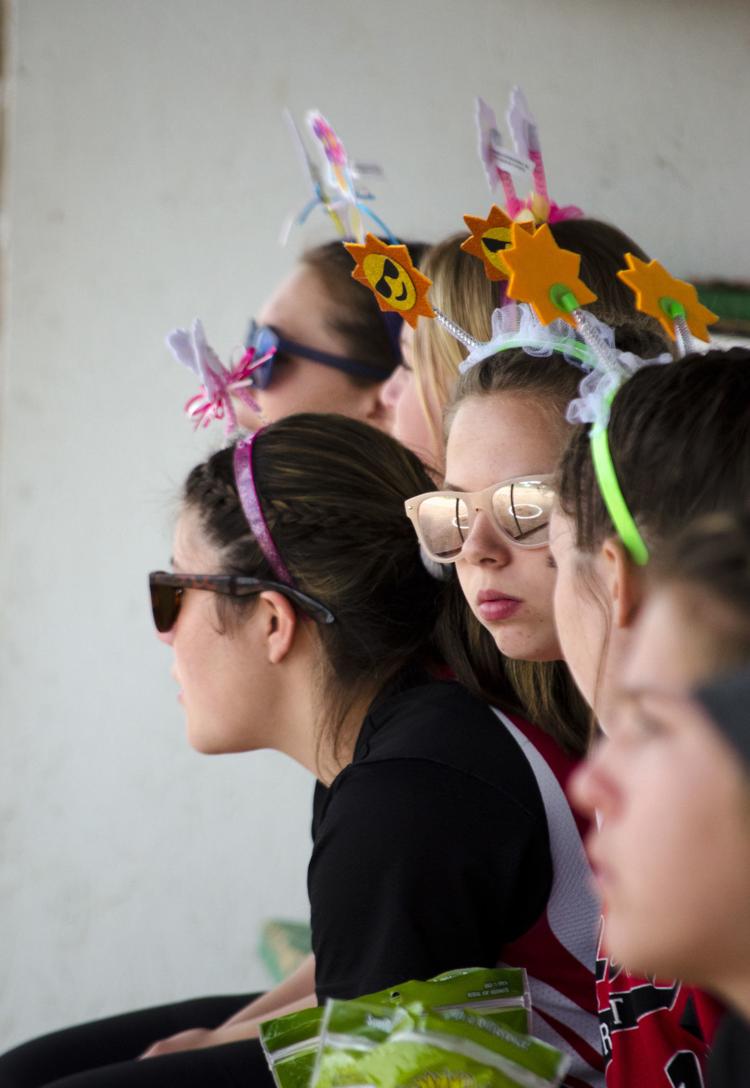 Huntley Project's Sara Sumner hit a home run to get the Red Devils a run and then Kasey Jones earned an RBI off a triple for a 2-1 lead after three innings.
Defensively, Krum stepped up in left field and caught all three outs of the bottom of the third.
Florence starting pitcher Kylie Kovatch got into a jam in the fourth inning and was replaced by Yeoman. Huntley Project promptly loaded the bases and Ralls returned Kovatch to the circle to get out of the inning with the Red Devils lead up to 4-1.
However, Florence wasn't going away and scored two in the bottom of the fourth inning to cut the lead to 4-3.
"I really think that (determination) was what made the score what it was because we really wanted to push it to a second game," Florence senior pitcher Shannon Byrne said. "We definitely played our hearts out even though we were exhausted."
The Falcons went to Byrne to start the fifth inning, but Krum again delivered for the Red Devils, this time with a long home run to center that just missed hitting the scoreboard to push Huntley Project ahead 5-3.
"We knew if we won, we were trying to rotate some pitchers and try to get to that second game, but it didn't work out," Ralls said.
In the sixth, Florence made another pitching change to bring Kovatch back in after a single batter and Huntley Project wouldn't let up. The Red Devils scored another run to make it 6-3 with time starting to run out if the Falcons were going to defend their state title.
Mackenzie Little, who came in off the bench, and Kasidy Yeoman both earned RBIs in the bottom of the sixth to close the gap to 6-5.
"We were just right there on the cusp," Ralls said. "I kept thinking we were going to have that big inning like we've had all year. It's nothing for us to score seven or eight runs in an inning, you know; I just kept waiting for that."
But a couple wild throws in the top of the seventh allowed Krum and Rylie Wadman to slide into home on two separate at bats off of RBIs from Angel Henry and Wadman to increase the Huntley Project lead to 8-5.
"That was huge to get that momentum started again," Bastian said.
From there, the Red Devils did what they've done all tournament. They turned to junior pitcher Addy Hultgren and she delivered just what they needed by striking out Kovatch and Bryne before grabbing the final out.
"I was talking to her dad, our assistant coach, and said, 'That's the way to end it – two strikeouts and a comebacker," Bastian said.
"Once you get late into the tournament, we rode a horse through four games and she threw well the whole tournament."
Hultgren threw every single pitch of the state tournament for the Red Devils and finished with 42 strikeouts.
"Addy is a heck of a pitcher and there's four or five batters that are extremely good and that's a great team," Ralls said.
Comparatively, the Falcons' struggled with injuries this season, particularly in the pitching circle, requiring them to use a combination of four pitchers.
Byrne suffered a high ankle sprain during a game in Frenchtown at the end of April and didn't return to the field until a limited role last weekend at the western divisional.
"There was no way I wasn't playing this weekend," Byrne said. "So I just did everything in my power and in my doctor's power to make it back out here."
Byrne is part of a senior class who earned two championship trophies, a runner-up and a third-place trophy during their careers.
"I placed all four years in my high school career and so that's just crazy to me. Not a lot of people can say that," Byrne said.
But both schools have had quite the run of success in this year alone and it served as interesting bookmarks to the 2018-19 school year. The Falcons earned three girls trophies with three runner-up finishes, including in girls basketball. But the Red Devils earned two state championships this year, both over the Falcons, in volleyball and softball. 
So after the game and photos had been taken as a rain storm started to come through the Gallatin Valley, Huntley Project's Tim Bastian obliged his team with a celebratory run around the bases and slide into home.
Krum was one of the first to set up to video with her phone from the other side of the plate. And because she has won two state championships with the Red Devils, she was most looking forward to what she knows awaits them when they return home.
"That's where it gets cool, just driving through our hometown and then it's just the best feeling ever," Krum said. "It's exciting and I'm really excited now to celebrate it with my team in softball as well."
Florence-Carlton 12, Plains-Hot Springs 2 (third-place)
The only Class C co-op in the state B-C softball tournament had three goals coming into this season.
"To leave it all out there, play with no shame and just play together have fun," junior centerfielder Sydney Jackson explained.
After a tough loss to Huntley Project on the second day of the tournament, they knew that to make it back to the championship they'd have to go through a Florence team who was also trying to fight their way back to defend their two previous titles.
The Falcons used a 10-run fifth inning to overwhelm the Trotters and make their third-straight trip to the championship with a 12-2 win in six innings.
Florence coach Rob Ralls said, "I told (my team) last night to be prepared to play three games today and that's what we were hoping."
Trotters' coach Michele Bangen knew what they were up against so she decided to mix it up in the pitching circle putting freshman Celsey VonHeeder there and moving senior Kassidy Kinzie, who had pitched the previous three games of the tournament, to short stop.
"Our whole game plan was if we can leave Celsey in we thought they were going to hit Kassidy. And we got to that point where we were like we're going to try to switch it up because of the speed difference to see if we could throw them off," Bangen said. "It didn't go in our favor."
But it wasn't all smooth sailing for the Falcons.
Kenzie Angle actually hit a home run for Plains-Hot Springs in the top of the third inning to give them a 1-0 lead until the fifth inning.
"We knew we had a tough game (in the championship) so we were just trying to conserve," Ralls said. "Our goal was to try to jump out on Plains and get Shannon out of the game, but it didn't work that way until late."
They got on base, continued to work their way around the bases, Emily Kinnaman hit a homerun and the Falcons kept going. Kinnaman finished the game with three RBIs. Natalie Dulac and Jaidyn Larson each had two.
Even with a pitching change, and then back in the fifth inning, the Trotters struggled to stop the onslaught.
When the inning ended, Florence led 10-1.
Plains-Hot Springs added one more in the sixth before Florence tacked on two more to end it.
"We played our hearts out. They left it all out there and that's all I can ask of them," Bangen said.
And her junior centerfielder from Hot Springs agreed.
"It's going to help us juniors next year set high goals because we've been here before, we know what it's like," Jackson said. "Now we just need to work harder so we can improve our goal next year and hopefully get to that state championship game."
Get in the game with our Prep Sports Newsletter
Sent weekly directly to your inbox!