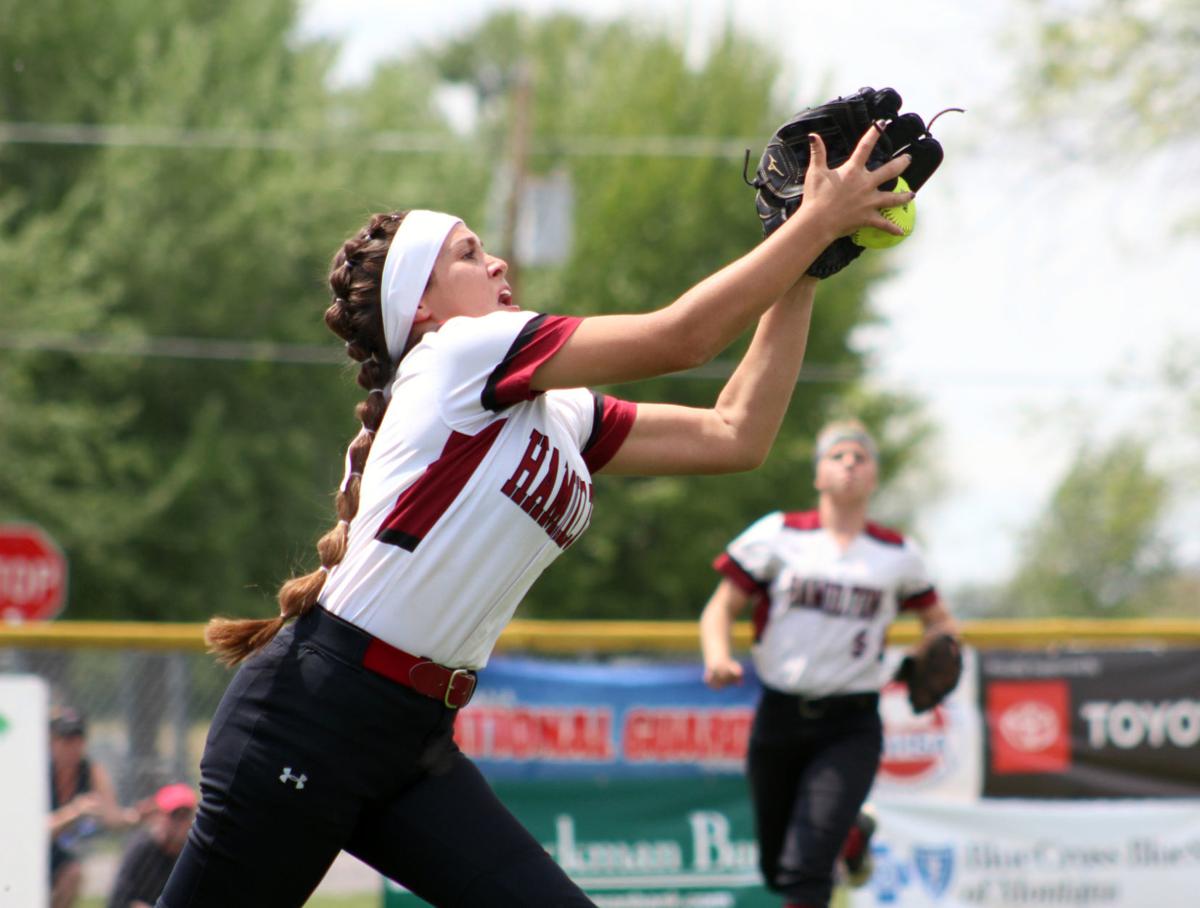 POLSON — The path to Jorden Taggart and Olivia Zepeda's heroics in Hamilton's 2-1 victory over Polson in a State A softball undefeated semifinal on Friday couldn't be more different — even though it started in the same Kindergarten classroom.
"We've known each other since (we were 5 years old) so we've got each other's back in life, and I know I can count on her in the field, too," Zepeda said of her pitcher, a fellow senior. "She's my best friend."
Taggart was lights out in the pitching circle. Hamilton's ace, who has allowed just three earned runs across three games at state and has worked all 21 innings in Polson, gave up just one unearned run to the Pirates in the top of the first inning. Polson got on the board following a one-out double from Kaylanna DesJarlais, whose courtesy runner, Anna Vert, scored on an error.
From there, Taggart scattered three hits the rest of the way.
"Jorden threw a great game, kept us on our toes a lot," Polson coach Jamie Hanson said. "We had our chances. We hit it hard. We probably didn't make enough adjustments against her."
The dominance from the Bronc pitcher isn't surprising. She's been a stalwart in the circle and in the lineup for Hamilton during her entire career, even as an ACL injury her sophomore year cost her time.
"The injuries, I've had to come back stronger and work through it, and I think it's just prepared me for this state tournament," Taggart said after improving to 18-3 in the circle. "This whole season has prepared me for this moment with my team."
But Taggart still needed a run after the first-inning hiccup, and she got it from her longtime friend — someone who likely wasn't on anyone's softball radar a season ago.
Zepeda hadn't played softball before this season since she was 12 years old. The spark-plug left fielder is a standout athlete — she was all-state in soccer this season — but the No. 8 hitter was batting just .125 for the season.
With Madison Johnson on second base and with two outs in the bottom of the second, Zepeda came through with an RBI double that knotted the score, 1-1.
"I wanted to do well for my team even though I haven't played for forever," Zepeda said. "I just focused because I wanted to get it done for them. Just keep two hands on the bat and I can hit the ball."
From there, Taggart continued to throw up zeros on the scoreboard, matching Polson starter Lauren Vergeront and reliever Katelyne Druyvestein in lockstep.
The Broncs, though, broke through with an unearned run in the sixth inning as an errant throw from Pirates shortstop Josie Caye allowed Maggie Ringer to score from second base.
Taggart threw up one more zero in the top of the seventh, sending Hamilton into the undefeated final game against two-time defending state champ Belgrade at 9 a.m. Saturday. It'll be the first meeting this season between the teams who played in last year's title game.
Belgrade 3, Frenchtown 1
Belgrade pitcher Erin Elgas sprinted from the circle to the area near the right-handed batter's box, dodged a Frenchtown runner along the way and gave her catcher a hug before high-fiving teammates.
The Panthers still had one more inning to play as they tried to beat Frenchtown on Friday, but the momentary celebration was deserved in the undefeated semifinals of the State A tournament.
Elgas had just struck out back-to-back batters with the bases loaded and Belgrade clinging to a two-run lead as she overcame the hurdle on her way to throwing a gem that lifted the Panthers to a 3-1 win. The two-time defending state champions advanced to the undefeated final to face Hamilton.
"She came out and pitched with an intense drive," Belgrade coach Andrea Folkman said. "From the get-go, she decided that this is what was going to happen. We needed that."
Elgas finished the game with 19 strikeouts and struck out 14 of the first 16 batters she faced. She didn't allow a hit until Frenchtown junior Hallie Habeck broke up the no-no with a two-out solo home run to center field in the fifth inning to cut Belgrade's lead to 3-1.
The Broncs managed just four hits, drew three walks and stranded seven runners on base in their third meeting with Elgas this season.
"Her velocity, she's the only one around that has that kind of velocity," Frenchtown coach Eli Field said. "She moves the ball well. She spots the ball well. She spins the screwball and curveball and drop, and she's got a little bit of a change. She's a good pitcher. That's flat out what it was.
"You could see when she really needed to, her best pitch is some kind of a little rise ball that's up in the zone that she was throwing exceedingly hard. That's a tough pitch to handle for any level of hitter — high school, college, whatever."
The Broncs got a feel for Elgas and started off the sixth inning with three of the first four batters reaching on singles to load the bases with one out. Elgas responded by striking out power hitter Taylor Garren on four pitches. Then the real battle begun.
Elgas fell behind 2-0 on Claire Bagnell but quickly evened the count at 2-2 before Bagnell fouled off back-to-back pitches. After a third ball to load the count, Bagnell stuck with Elgas and fouled off three pitches in a row before she went down swinging.
"That was a pretty scary inning," Elgas said. "I just had a good head space coming into today. My catcher was working hard back there. We were both focused, so that was helpful. I knew I had to keep throwing strikes. As long as I could do that, something good was going to happen."
In the circle, Bagnell kept Frenchtown in the game by limiting the potent Belgrade offense to three runs. That's tied for the fewest runs the Panthers have scored against Class A schools as they improved to 21-0.
Belgrade managed five hits against Bagnell, one of which came when Kenna Thomas homered to left field on Bagnell's first pitch of the game. Olivia Cook made it 2-0 in the third when she hit a home run to left field. Haylee Curry's RBI sacrifice fly in the fourth put Belgrade up 3-0.
"There's not a lot of kids around that can slow them," Field said. "Claire's no slouch. She made big pitches when she needed to. I can't fault our effort. We fought and hung in there."
Consolation third round
Frenchtown 12, Livingston 9
Frenchtown scored nine runs in the second inning to erase an early 3-0 deficit and held off a Livingston rally to earn a 12-9 win. The Broncs secured a top-four finish at state, eliminated the Rangers and will play Polson in the loser-takes-fourth place game at 9 a.m. Saturday.
Layne Bauer and Claire Bagnell had two RBIs apiece to lead the Broncs, and Cassidy Moen hit a solo home run. Livingston rallied from a 12-3 deficit with four runs in the sixth and two in the ninth. Josie Jesson had a two-run home run for the Rangers.
Polson 11, Columbia Falls 0
Polson bounced back from its loss to Hamilton with an 11-0 win over Columbia Falls to guarantee itself a top-four finish at state and knock out the Wildkats. The Pirates move on to face Frenchtown, which they beat 11-8 in their lone regular-season meeting.
Polson scored in all six innings of the game that ended via the 10-run rule. Paige Noyes, Lexy Orien and Savanna Carpentier each drove in two runs in the wins, while Josie Caye scored four times.
Consolation second round
Livingston 16, Stevensville 14
Livingston outscored Stevensville 11-1 over the final four innings to earn a 16-14 victory in the nine-inning, second-round consolation game. The Rangers trailed 13-5 heading to the fifth inning and scored three in the sixth and five in the seventh to forces extras.
The teams traded one run each in the eighth, and Livingston scored the deciding two runs in the top of the ninth on Danielle Babcox's solo home run and Shannon Nelson's RBI single. Babcox couldn't hide her excitement as she gestured in triumph while rounding first base.
"All the teamwork and trust we've built this season, and just to finally be able to whack it over and get us over the top," Babcox said, explaining her overflowing emotion.
Skylar Higgs paced Livingston with three RBIs, while Babcox, Skye Ingram, Marissa Taylor, Reagan Frantz had two RBIs apiece. Haley Kampka and Ashlin Hiller had three RBIs each for Stevensville.
Columbia Falls 14, Ronan 0
Columbia Falls kept its hot bats going in its second game of the day, posting a 14-0 win over Ronan, which was eliminated in the consolation second round. The Wildcats tallied 19 hits in 39 at-bats, and five players had at least three hits.
Columbia Falls pitcher Savvy Ellis limited Ronan to three hits in seven innings. She walked one and struck out five.
Consolation first round
Stevensville 4, Lewistown 3
Ashlin Hiller's right arm came in handy during Stevensville's 4-3 win over Lewistown in a first-round consolation game. The senior not only had two assists from right field, but she pitched the Yellowjackets out of a jam in the bottom of the seventh inning to earn the save in relief of starters Sarah Morrison.
Stevensville took a 4-1 lead into the final frame, but Lewistown scored twice and had runners on second and third with two outs. Hiller got a called third strike on a 3-2 count with a changeup that froze Lewistown's Libby Jenness.
"I was really nervous to throw the change, but I knew that I needed to trust myself, (catcher Dani Trangmoe) and (assistant coach) Chris Newman that he knew I could throw it there. It worked."
Livingston 7, Hardin 6
Livingston, the Central A third seed, eliminated Eastern A champ Hardin with a come-from-behind victory in the consolation first round. The Rangers scored three runs in the sixth inning to erase a 6-4 deficit on their way to a 7-6 win.
Livingston's Danielle Babcox had two solo home runs, her second one coming in the three-run sixth inning. The Rangers also scored on an error and Shannon Nelson's one-out double in the frame.
Columbia Falls 17, Miles City 7
One day after struggling at the plate, Columbia Falls erupted at the plate and eliminated Miles City with a 17-7 win via the 10-run rule. The Wildkats had four players with at least three hits as they tallied 21 hits in 40 at-bats during the first-round consolation game.
Columbia Falls blew open the game with seven runs in the third inning to take an 11-1 lead. Miles City scored six runs in the fifth and sixth innings to pull within 12-7, but the Wildkats closed the door with five runs in the bottom of the sixth.
Ronan 15, Laurel 2
Ronan the Northwest A third seed, knocked out Laurel, the Eastern A No. 2 seed, with a 15-2 victory in the first-round consolation game. Ronan's Liz Bluemel finished with six RBIs and ended the game via the 10-run rule with a walk-off gland slam in the fifth inning.
The Maidens had 11 hits while their freshman pitcher, Kiara Sherman, held Laurel to four hits and didn't give up an earned run in five innings. Emilie Corley added three RBIs for Ronan.
Frank Gogola covers Griz football and prep sports for the Missoulian. Follow him on Twitter @FrankGogola or email him at Frank.Gogola@406mtsports.com.
Get in the game with our Prep Sports Newsletter
Sent weekly directly to your inbox!