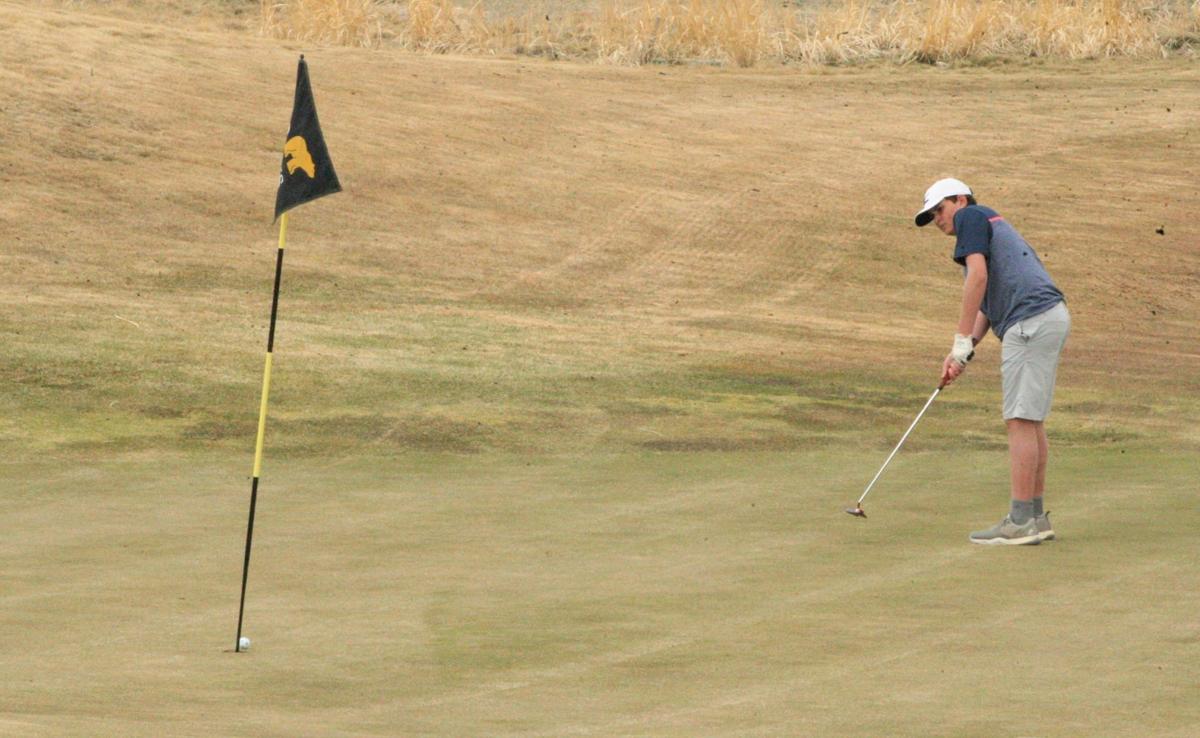 ANACONDA — High school golf returned to Old Works on Thursday just before the weather came through the area. 
"It was great. Old Works did a fantastic job getting ready for us," said Anaconda coach Mark Torney. "We had about four inches of snow on Monday. But the staff did a fantastic job getting the golf course ready."
The Copperheads' girls took first place in Class B, carding 479. Manhattan finished eight strokes behind at 487. Townsend came in third with a 492, while Bigfork finished at 495. 
"Our newer players that are playing in their first year with the program, they played pretty well today," Torney said. "They're improving as we get closer to divisionals and hopefully state. So that's nice to see that their scores are getting better and they're getting a lot more comfortable. It was a good team win. Everybody stepped up and played well, but it's nice to see those girls improving as we get towards the end here."
Missoula Loyola's boys coasted to a Class B team win as the Rams combined for a 338. Jefferson was next at 381, followed by Anaconda at 388. Townsend and Eureka rounded out the top-5 with 394 and 396, respectively. 
"I think the boys did pretty well considering the weather and everything," said Jefferson coach Anna DeMars. "A lot of them haven't seen Old Works before and Old Works is a tough course."
Jefferson's Celi Chapman was dominant on the girls side, as she bested the field by 10 strokes with an 87.
"She was upset (with how she played)," DeMars said of Chapman with a chuckle. "That's just how she is, which isn't a bad thing. She wants to be the best that she can be, and she's going to get there because she works so hard on her game."
Next was Thompson Falls' Ellie Baxter with a 97. Seeley Swan's Bethany Hoag took third with a 103. Eureka's Kyla Bohne and Manhattan Christian's Grace Aamot tied for fourth at 105.
Loyola's Zeke Boos topped Bigfork's Colin Wade by two strokes for first place in the boys division. Boos shot a 77 and Wade a 79. One stroke behind Wade was Manhattan Christian's Caiden Hill at 80. Thompson Falls' Kade Pardee and Loyola's Kaden Matheny tied for fourth at 81. 
Manhattan Christian swept the Class C team titles. The boys topped Superior (291) by nearly 50 strokes, as the Eagles carded a 246. Manhattan Christian's girls were the only Class C girls team to submit a score, which was 327. Class C team scores are the top three scores. 
Matthew Kiewiet is the sports editor for the Montana Standard and sports betting columnist for 406MTSports. Email him at matthew.kiewiet@406mtsports.com or follow him on Twitter @mattkiewiet406.