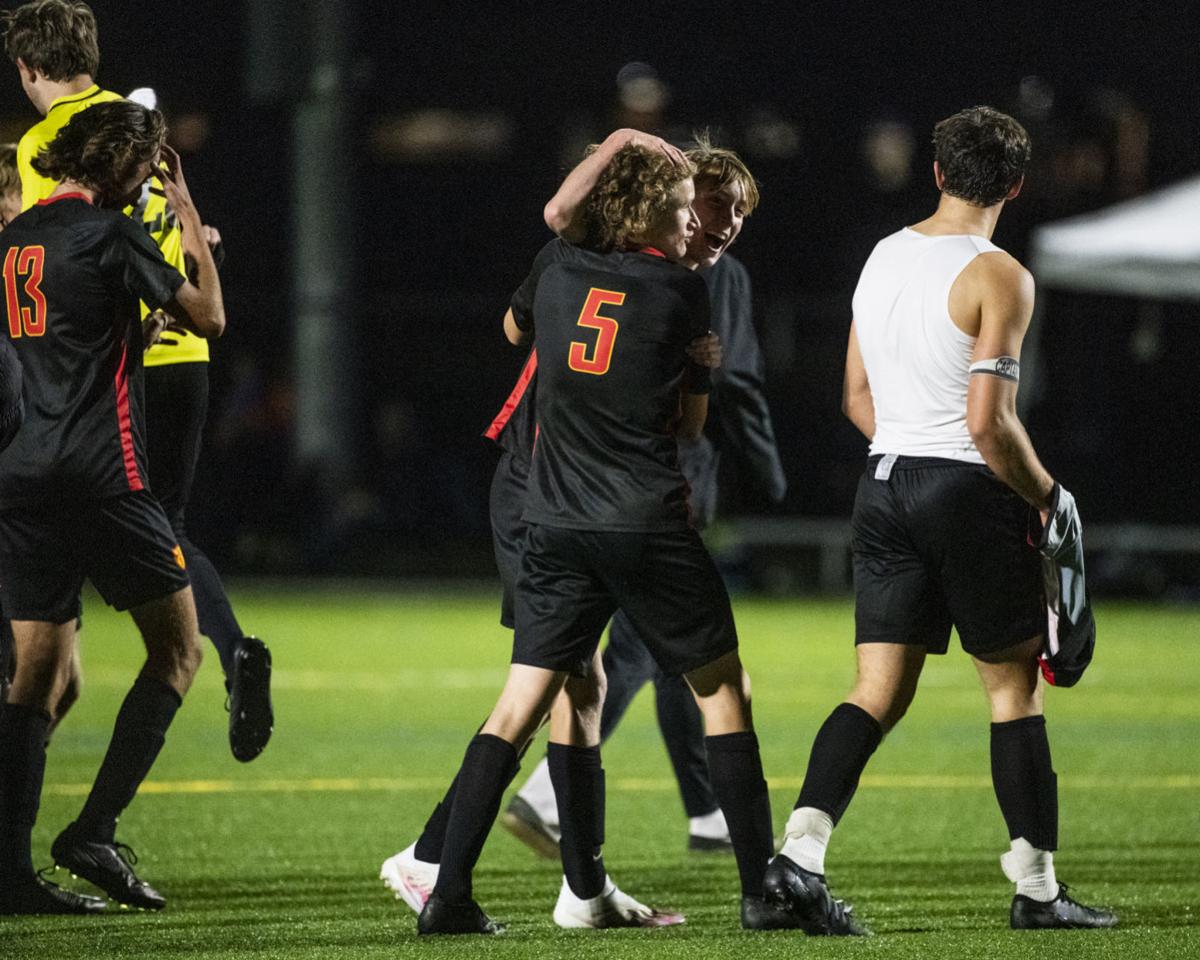 Editor's note: Will be updated as we receive results.
Football
• Riley Waters ran for three touchdowns and Boston Peters tossed two TD passes as Sidney overpowered Lewistown 39-7. Peters connected with Jaxson Franklin with 11 seconds remaining in the first half to give the Eagles and 18-7 lead. Tate Weiferich hauled in Peters' second scoring strike in the third quarter and then Waters tacked on his second and third TDs in the blowout. Sidney clinched the fourth seed out of the Eastern A and will open the plays against Hamilton, No. 1 from the West. 
• On Monday, Avery Uecker ran for three touchdowns and Baker scored 27 second-quarter points in thumping Wolf Point 43-7. Uecker's 46-yard jaunt started the scoring in the first quarter, and he added runs of 2 and 8 yards in the next frame as the Spartans took a 35-0 halftime lead. Austin Wilson accounted for the Wolves' only score with an 85-yard run in the fourth quarter.
Volleyball
• Paige Bartsch led with 16 kills, 10 blocks and two aces, and Dani Bartsch added 11 kills and two aces as top-ranked Helena Capital matched the unofficial Class AA record for consecutive victories at 66 with a 25-17, 25-10, 25-11 win over Missoula Sentinel. Audrey Hofer had 24 assists for the Bruins, who equaled the unofficial mark set by Billings Senior from 2006-10. The official record is 65 by Senior through the '09 state championship, and the Broncs' first win of 2010 has never been officially submitted to the MHSA. Capital's record won't be official either until officially submitted to the MHSA. 
• Cindy Gray pounded 11 kills, Maria Stewart added eight kills and 31 assists, and Taylor Moore provided 12 assists to lead Billings Central to its 25-16, 25-12, 25-17 sweep of Lewistown. Hailey Welsh had nine assists, seven digs and two aces, Brooke Weinheimer chipped in with nine digs and Riley Anderson offered seven assists for the Golden Eagles.
• Bailey Graves had seven kills and two aces, Sophia Timm added 16 assists, 15 digs and three kills, and Kenya Fike chipped in with six kills for Laurel in a 25-21, 25-20, 25-18 loss to Miles City. No statistics were reported for the Cowgirls. 
• Jadyn Pluid and Katie Schmidt each had six kills, and Schmidt added 17 digs in Eureka's 25-20, 25-3, 25-12 sweep of Troy. The Lions also received 20 assists and five aces from Kamber Brown, and five blocks from Reena Truman.
• Josie Hasler led the way with 18 kills, 17 digs and two blocks, Cearra Oblander provided 15 kills and two aces, and Macee Murphy helped with 46 assists and 20 digs as Huntley Project lost a rare set but regrouped to down Colstrip 19-25, 25-19, 25-16, 25-21. Addie Casterline led Colstrip with 16 kills, nine digs and two blocks, Baily Egan had 10 kills, 30 digs and six assists, and Abby Baer provided seven kills, 33 assists, 16 digs and two blocks.
• Abrianna Nielsen had 10 kills, and Rachelle Glaser had 16 assists, six digs and four aces to lead Glasgow to a 25-16, 25-12, 25-14 sweep of Harlem in one of two matches between the two teams. Alaynee Hawley had five kills, and Jessica King added seven digs and four assists for the Wildcats. 
• Grace Lekvold had a big day with 19 kills, 18 digs and three aces, Ryleigh Backman added four blocks, and Kylee Anderson helped with 18 assists as Scobey rallied past Savage 20-25, 25-15, 25-16, 25-18. Teah Conradsen led Savage 10 kills, Alexia Papka provided 18 digs and Taryn Hagler chipped in with 22 assists.
• Josie Thomas had nine kills, nine digs and two aces, and Veronika Macy added seven kills and eight digs to lead Gardiner to a 25-18, 25-15, 25-9 sweep of White Sulphur Springs. Leah Veress helped with five kills and six digs, and Ellie Reinertson provided five kills, seven digs and two blocks for the Bruins. 
• Draya Wacker led the way with 10 kills, nine digs, five aces and two blocks, Finn Riksmann added eight kills, 10 digs and three aces, and Kelsey Thurston provided eight kills for Melstone in a 25-8, 25-20, 25-15 sweep of Harlowton.
• Abby Clark popped five kills and had four blocks, Aspen Giese added four kills and two digs, and Maci Molinario helped with nine assists, three kills, three digs and two blocks for Fort Benton in a 25-16, 25-18, 25-16 loss to Choteau. No statistics were reported for the Bulldogs. 
Soccer
• Samuel Robinson scored first and Drew Johnson scored a minute later and top-seeded Bozeman (15-1-1) moved past No. 3 Missoula Sentinel 2-0 in the semifinals to earn a berth in the state title game Saturday. The Hawks have pitched 11 shutouts this season. They will play host to unbeaten Missoula Hellgate.
• Lars Thorne-Thomsen scored in the 39th minute off an assist from Beckett Arthur and defending state champion Missoula Hellgate made it stand up in a 1-0 victory over Kalispell Glacier in a semifinal. The Knights, who have won five state titles in the past nine years, will make their seventh consecutive appearance in the championship match Saturday at Bozeman. 
• Raegan Brisendine's goal in the 95th minute lifted No. 2 seed Kalispell Glacier from the West to a 2-1 semifinal victory over No. 2 Bozeman from the East for its first-ever berth in the state title match. Emily Cleveland broke a scoreless first-half tie with a goal early in the second half for Glacier (13-4-0). That tally was matched about 10 minutes later by Bozeman's Sami Murphy. The Hawks, who finished 11-3-3, saw a 16-match unbeaten streak end. Glacier will face the winner of Wednesday's match between Missoula Hellgate and Helena.
Get in the game with our Prep Sports Newsletter
Sent weekly directly to your inbox!