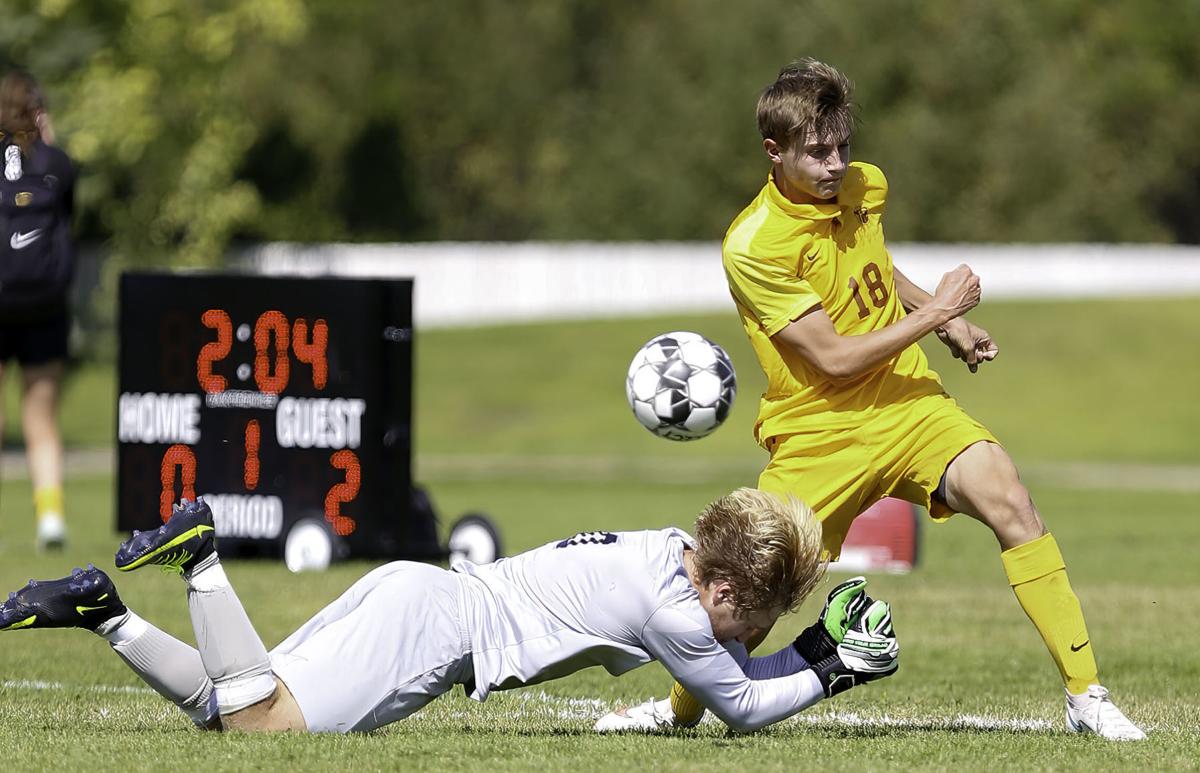 Editor's note: Will be updated as we receive results.
Football
• Keaton Potter scored two touchdowns, including the game-winner in overtime, as Lewistown rallied past Class B Bigfork 22-14 in a game scheduled after the Golden Eagles' scheduled encounter with Hardin was canceled. Potter's 1-yard run came on the heels of a 1-yarder with 1:15 to play in the fourth quarter by Seth Norslien and his two-point conversation knotted the score at 14-all and sent the contest into overtime. Potter also scored on a 38-yard run in the second quarter. George Bucklin had a 6-yard score for Bigfork, which built its lead to 14-6 on a 4-yard run by Cormac Benn in the second quarter. 
• Nelson Smith ran for two touchdowns — including the game-winning 21-yard run with 7:35 to play in the game — and threw for another, and Tanner Davis ran for one score and caught a pass for a TD as Darby rallied past Victor 30-22. The Tigers trailed 22-16 when Smith tied the game with a 9-yard run with 3:33 remaining in the third quarter. Davis caught a 30-yard TD pass to open the scoring and had an 11-yard scoring run in the second quarter for Darby, which pitched a second-half shutout. Victor scored twice on fumble recoveries and a 21-yard run by Robert Crosbie. 
• Bridger Vogl scored three touchdowns, Aiden McDaniel ran for two and threw for one, and Kaimen Evans ran for one, threw for one and caught one as seventh-ranked Belt overwhelmed Great Falls Central 69-0. Vogl caught a 37-yard TD pass from Evans to open the scoring, then also ran for scores from 10 and 42 yards out. McDaniel tossed a 39-yarder to Evans and ran for TDs from 18 and 17 yards. Evans had the pass to Vogl, reception from McDaniel and a 62-yard jaunt on the ground. The Huskies led 42-0 after one quarter and 56-0 at halftime.
• Ty Kuntz threw four touchdown passes to help Custer-Hysham defeat Fromberg 63-19. Gavin Haug scored two touchdowns for the Rebels, one on a 55-yard kickoff return and another on a 50-yard fumble return. 
• Kyle Lawson scored four touchdowns and kicked four extra points as No. 2 Hot Springs boosted its record to 2-0 with a 51-0 win at Gardiner. Lawson ran for three scores and caught a 16-yard pass from Jack McAlister, who also had a 4-yard scoring jaunt. 
• Valier topped Heart Butte 53-34 behind six touchdowns by Brody Connelly, who had rushing TDs of 23, 13, 27 and 12 yards, and also caught 18- and 60-yard scoring strikes from Tyler VanDenBos. Rylee Gabbard and Cam Stoltz also scored for the Panthers. Thomas "Bearcub" Young Running Crane scored on runs of 50 and 44 yards for Heart Butte. Dillon Kipp had a 6-yard scoring run and 28-yard scoring strike to Jordan Calf Looking for the Warriors. Kipp had 10 tackles, as did Natoyi Kipp. 
• Stanley Jarvis scored six touchdowns in Sunburst's 55-37 victory over North Star. Jarvis' 53-yard run opened the scoring in the first quarter, and he added TD runs of 47, 10 and 1 yard. He also caught two touchdown passes.
Volleyball
• Emma Anderson was dominant with 13 kills and three blocks to lead Kalispell Glacier past Missoula Big Sky 25-13, 25-20, 25-11. Kaylee Fritz had 28 assists and four aces for the Wolfpack, who also received 15 digs from Morgan Hernandez. Hadlea Fred had five kills and two blocks, and Kami Cutting contributed 11 assists for Big Sky. 
• Bozeman defeated Billings Skyview 25-18, 22-25, 25-23, 26-24. Bella Bryan had 13 kills and six blocks for the Falcons, who received 11 assists from Sydney Rude and 10 assists from Talle Ketchum. Renzie Pond had 11 digs and Hayden Baumberger seven blocks. Skyview defeated Bozeman Gallatin in five sets on Friday.  
• Billings West had three players in double digits for kills as the Golden Bears edged Bozeman Gallatin 16-25, 25-19, 20-25, 26-24, 15-5. Sydney Pierce led the way with 19 kills, followed by Kaitlin Grossman (14) and Kourtney Grossman (11). Taylor Graham had 27 assists and 11 digs, and Kate Nienaber added 15 digs. Ryann Eddins led Gallatin with 23 kills and Makya Albrecht had 10 kills and 13 digs.
• Billings Senior split with the Great Falls schools in Eastern AA volleyball. The Broncs defeated Great Falls High 16-25, 25-12, 25-12, 23-25, 15-10 behind 12 kills each from Anna Whitney and Liv LaBeau. Ashtyn Swingley had 23 digs for the Bison and Kendall Bergstrum had 13 kills. Great Falls CMR defeated Senior 25-13, 25-14, 25-17 as Lauren Lindseth had 14 kills and 14 digs. Ashley Bough had 14 digs for the Broncs. Both Great Falls schools swept Belgrade on Saturday.
• Ronan took down Browning in straight sets, 25-15, 25-5, 25-9. Ronan had 27 kills, led by 10 from Madeline McCrea. Olivia Clairmont chipped in 2.5 blocks and Rylie Lindquist had seven digs. The Maidens had 14 aces as a team.
• Shelby Smith and Rylee Belcourt had nine kills apiece, and Demi Smith and Emily Rehbein added seven each as Frenchtown outlasted Dillon 25-23, 17-25, 25-22, 23-25, 20-18. Rehbein also had eight aces, Smith added four blocks and Izzy Cahall had 26 of the Broncs' 39 assists. Ainsley Shipman topped the Beavers with 16 kills, and Lauryn Peterson had three aces and two blocks. 
• Dillen Hoerner was tops with 11 kills, Hannah Schweikert added 27 assists, and Mady Hoerner provided 10 digs and four aces as Columbia Falls remained unbeaten with a 25-18, 25-16, 25-17 sweep of Stevensville. Aliyah Anderson had eight kills for Stevi, which also received 13 assists and six digs from Maddie Weber. Columbia Falls has lost only one set in five matches, at Libby on Tuesday. 
• Brittany Kaufman's 15 kills helped Glendive beat Lewistown 25-18, 25-22, 14-25, 25-22. Madison Wahl added 14 kills for the Red Devils. Taylin Trafton's 10 kills paced Lewistown. Glendive improved its overall record to 3-0.
• Josie Hasler had 10 kills and 13 digs, Macee Murphy contributed six kills, 17 digs 15 assists, and Greta Peterson added five kills as Huntley Project overpowered Red Lodge 25-12, 25-14, 25-14. Josee Krum had a solid day with three kills, three aces, two blocks and eight digs for the three-time defending state champion Red Devils. Liddia Fontaine had 10 kills and 10 digs, Audrey Fontaine had 20 assists and two blocks, and Macelyn Lauritzen added 13 digs for the Rams.  
• Makenna Bushman pounded 19 kills, had eight digs and added three blocks, and Skyler Wright contributed 11 kills and 10 digs as Joliet kept rolling by sweeping Shepherd 25-17, 25-14, 25-16. Annika Bushman had a big day as well with 15 blocks and five kills, and Merrin Schwend chipped in with 38 assists, eight digs, three aces and three kills. 
• Trinity Wilson and Kennedy Vogl joined forces for 25 kills as Townsend bumped off visiting Fairfield 25-20, 21-25, 26-24, 25-21. Wilson led the way with 15 kills and Vogl added 10. Both had two blocks apiece. The winning Bulldogs also received five aces and 18 digs from Alleigh Burdick, along with 36 assists from Emily Bird. Kyler Bake had eight kills and Emma Woods four aces for Fairfield.
• Anaconda defeated Thompson Falls 3-1 to improve to 4-0. Scarlette Schwindt paced T-Falls with 17 kills, 10 assists and an ace. Jody Detlaff chipped in with nine kills, five blocks and an ace.
• Blythe Sealey had eight kills, 19 assists and 16 digs, and Meghan Eiselein contributed eight kills for Roundup in a 25-11, 25-12, 25-10 sweep of Columbus. Bella Klein provided 11 digs and Ivy Canfield three aces for the Panthers. Brooklyn Wylie had six kills and 16 digs, and Trista Teeters added three kills and 15 digs for Columbus. 
• Florence used four sets to get past Eureka 22-25, 26-24, 25-22, 27-25. Florence's Kasidy Yeoman had 11 kills and Kolbi Wood had 20 digs. Rhianna Hawkins five aces and eight blocks for the Lions.
• Talise Becquart led with seven kills and 12 digs, Kiersten McCully fashioned six kills and three digs, and Leah Clay had four kills and three aces in Troy's 25-22, 25-21, 17-25, 25-15 loss to St. Ignatius. 
• Maddison Underdal dominated at the net with 23 kills and two blocks, Jori Clay produced six kills and Vivi McDermott led with 20 assists in Shelby's 23-25, 25-23, 25-17, 25-16 victory over Conrad. Hayden Dugan had four kills and five blocks, Audrey Taylor seven aces and Brae Eneboe 16 assists for Conrad. 
• Donna Longan dominated with 16 kills and two aces, and Liv Wangerin helped with 10 kills and two blocks as Plentywood swept past Wibaux 25-5, 25-10, 25-12. Shayla Fawcett had five aces, Kate Simonson four aces and Ashtyn Curtiss 23 assists and three aces for the Wildcats. Shanel Bertelsen powered Wibaux with six kills, 11 assists and a block. 
• Visiting White Sulphur Springs swept past Harrison 25-20, 25-15, 25-21 behind the 10 kills, seven digs and five aces of Cabry Taylor. The Hornets' Daisy Fisher chipped in with five aces. Allena Bacon led Harrison with six kills. Teammate Sophie Mitchell added four aces.
• Philipsburg mounted a comeback and downed Seeley-Swan 14-25, 15-25, 25-18, 25-21, 15-10. It was the Blackhawks' first loss of the season and they are now 4-1. Klaire Kovatch had five aces, 11 kills, four digs and three blocks for Seeley-Swan.
• Olivia Isakson's 18 kills and three blocks helped make the difference in Augusta's 25-10, 25-14, 25-4 sweep at Dutton-Brady. Rylee Shalz also came away with four aces, 11 assists and three digs for the winning Elks. Dutton-Brady's MacKaela Pulver was credited with four kills and 10 digs. 
• Jaylin Lewenight had four kills, five blocks and three aces in Lincoln's 25-22, 25-18, 25-13 loss to Valley Christian. 
• Draya Wacker had 10 kills, Kayla Kombol added eight assists and four kills, and Koye Rindal contributed 13 assists, nine digs and three kills in Melstone's 25-15, 25-16, 25-19 loss to Hobson-Moore-Judith Gap.
• Kenzie Pitts led with 10 kills, Emma DeVries chipped in with 10 digs and four aces, and Bentley Bertolino had 22 assists to lead Roberts past Absarokee 25-10, 25-4, 24-14. Maggie McDowell had two kills for Absarokee, which also received 13 digs from Keara Young, two blocks from Izzy Gurie and three assists from Tandy Planichek. 
• Charlo took down Hot Springs 25-14, 22-25, 25-18, 25-15 as Kassidi Cox had 18 kills. Connor Fryberger and Carlee Fryberger each had 10 digs for the Vikings. Katelyn Christensen led the Savage Heat in three different categories.
• Delaney Kellam's 13 kills and five blocks sparked Chinook past visiting Highwood-Geraldine 22-25, 25-19, 25-15, 25-22. Lilly Surber's nine aces and 14 digs also helped highlight the victory by the Sugarbeeters. 
• Adie Woodhall was all over the court with nine aces, eight assists seven kills and a block to lift Denton-Geyser-Stanford to a rugged 28-26, 27-25, 25-10 sweep of Winnett-Grass Range. Sydney Von Bergen added 19 digs and Kara Reed eight assists for the Bearcats. Easton Hanson produced six kills, three aces and five digs, and Shani Browning added six kills, four aces and a block for the Rangers. 
• Lindsay Lawrence powered 20 kills and three aces, Ava Kreider had four blocks and Sophie Kreider fashioned 23 digs for Jordan in a 25-21, 25-13, 25-12 victory over Broadus. Ryan Rachel added seven assists for the Mustangs. Zeason Schaffer topped Broadus with five kills, eight assists and two aces, and Aspen Krantz helped with eight digs and two blocks. 
• Sabrina Wing's 12 kills led the way and Lindsey Paulson contributed four blocks as Belt slipped past Simms 25-15, 15-25, 25-22, 27-25. Maddie Osterman had 32 assists, Anna Pethal 17 digs and three aces, and Kylee Permann four aces for the Huskies. Kodiann Lynn led Simms with 10 kills, nine digs and three blocks, Nina Okes had eight digs and Lilly Woodhouse three aces. 
• Lima swept West Yellowstone twice, winning the opening match 25-5, 25-6, 25-9 and taking the nightcap 25-20, 26-24, 25-21. Gracie Bravado was the kills leader in both matches for the Bears, notching four in the opener and six in the second go-round. Darcy Perenoud was the aces leader with three and five. Bravado also had five digs and two blocks in the first match.
Soccer
• Reggie Duce and Beckett Arthur each scored two goals and Missoula Hellgate dominated Helena Capital 6-0. Jonah Teasdale and Marcus Anderson also scored for the Knights, who ware 6-0 and have outscored their opposition 39-4. 
• Max Burke scored twice, including the go-ahead goal on his blocked penalty kick, and Bozeman Gallatin earned the program's first win by downing Belgrade 3-1. Will Mauritsen scored the Panthers' goal for an early 1-0 lead.
• Billings Senior remained unbeaten and strengthened its grip on the Eastern AA with a 2-0 win over Bozeman. Trey Draayer had both goals. It's the third straight win for the Broncs (5-0-1) since a scoreless draw with Billings Skyview. Bozeman (4-1-0) entered the match undefeated, but fell four points behind the Broncs in the league standings. Senior has yet to allow a goal this season.
• Carmen Anderson and Grace Gibson-Snyder scored two goals apiece and Missoula Hellgate broke open a close match in the second half for a 6-1 victory over Helena Capital. Lucia Baker had two assists for the Knights, who led 2-1 at halftime. Jaymee Sheridan scored the Bruins' only goal.
• Olivia Collins scored four goals and Bozeman Gallatin cruised past Belgrade 5-2. Maria Matosich scored the Raptors' other goal. 
• Ashton Kelsey and Charlize Davis both scored two goals as Billings Skyview defeated Great Falls CMR 6-0. Kylie Swanton also scored, and Natalie Beck, Ave Roberts and Kylee McCoskery had assists. The Falcons also were the recipients of an own goal.
• Corvallis beat Stevensville 4-1 as Luke Sangster and Chris Gonzalez each had goals in the first half. Gonzalez added an assist on Sangster's goal and had three assists total, with Aiden Gregoire and Ian Wilson also scoring for the Blue Devils. Cole Olson had Stevensville's lone goal. 
• Frenchtown demolished Libby 9-0 as Mayson Palen had three goals and Braydon Simpson had two. Jeff Jacobs had a goal and two assists for the Broncs.
• Corvallis downed Stevensville 2-0 as Madison Henry had a goal and assisted on a score by Sydney Wolsky. Rylee Herbstritt assisted on Henry's goal.
Cross Country
• Brynnli Poulsen took the girls title for Hamilton at the Hamilton Complex Invitational and CJ Purcell took the boys title for the Broncs. Poulsen won with a 19:56.85 while Purcell came in in 17:07.05. The Broncs won the boys title with 19 points and were followed by Corvallis (56), Dillon (106) and Stevensville (209). Seeley-Swan took the girls title with a 56, edging second-place Dillon (70). Emily Maughan paced the Blackhawks with a time of 22:07.85, finishing fifth.
• At the Cougar Ridge Trail 5k in Polson, Karli Owens took the girls title for Polson in 23:10 and Ronan runner Brant Heiner took the boys title with a 17:42. Ronan, Charlo and Arlee were not able to field full girls teams, so the Pirates were the lone points-scorer with 19. Ronan (22) edged Polson's 38 in the boys team race. 
• Bozeman's Stirling Marshall-Pryde was the boys individual winner but Belgrade was the team winner in the four-team Bozeman Invitational. Marshall-Pryde's time of 16:38:83 outdistanced Belgrade's Sam Nash, who finished in 17:18:58. The Panthers edged Bozeman Gallatin by two points. On the girls side, Gallatin took the top four spots and topped Great Falls CMR by 14 points.
Get in the game with our Prep Sports Newsletter
Sent weekly directly to your inbox!