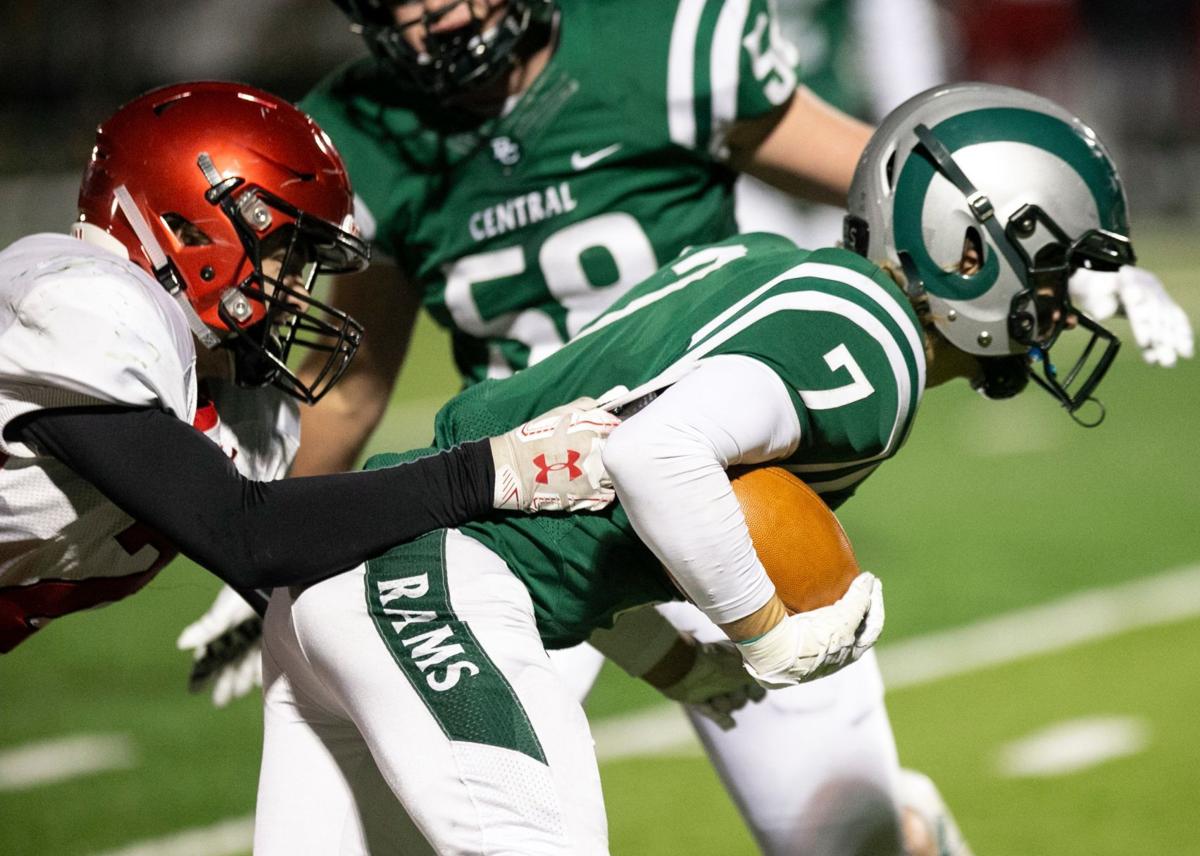 Football
• Hayden Ferguson threw two touchdown passes in place of injured starting quarterback Kaden Huot, and also ran for 121 yards as Helena opened its postseason with a 34-7 trouncing of Great Falls CMR at Vigilante Stadium in Helena, Logan Brown scored three TDs -- including an 80-yard kick return -- and rushed for 68 yards for the Bengals (6-4). But the story of the game was Helena's defense, which stifled the Rustlers and got two interceptions from Ben Swanson. Bryce Miller's 30-yard TD reception from Raef Newbrough accounted for CMR's only score.
• Kaidyn Craigle ran for TDs from 3 and 4 yards out and Bridger Grovom tossed three TD passes as Helena Capital spoiled Belgrade's inaugural foray into the Class AA playoffs with a 49-10 rout. The Bruins led 28-0 after one quarter and 42-0 at intermission. Riley Burman broke the Panthers' scoring drought with a 5-yard run in the third quarter and John Mears kicked a 30-yard field goal.
• Connor Ryan caught four touchdown passes and Demarcus Carr rushed for two more scores as Billings West toppled Kalispell Flathead 55-22. Zach Tallman also caught a touchdown pass for the Golden Bears, giving quarterback Josh Erbacher five on the night. Ryan finished with 254 receiving yards and Carr ran for 119. Erbacher was 24 of 18 for 330 yards. Tanner Russell rushed for 94 yards and one score, and Chance Sheldon-Allen threw a touchdown pass and caught another for the Braves, who were within 23-15 late in the third quarter before West reeled off 28 unanswered points.
• Preston Jones got Missoula Sentinel off and running with an 86-yard return on the opening kickoff, Dayton Bay and Zac Crews each threw two touchdown passes, and the Spartans opened their playoff bid with a 45-7 rout of winless Billings Skyview. Bay threw the first to scoring passes, from 7 yards to TJ Rausch and then 30 to Caden Paulson. Crews followed up with encores of 4 yards to Jaime Jacobson and 7 to Peyton Stevens. Cam Dirnberger was 5-for-5 on extra points and booted a 36-yard field goal. Skyview's score came when senior Tristin Edwards -- who is afflicted with a joint disorder -- was allowed to run 89 yards untouched with his team chaperoning him in the fourth quarter. 
• Jake Rendina scored two touchdowns and Kalispell Glacier, which trailed by four points at halftime, rallied for a 33-24 win at Great Falls. Braedy Santen put the Wolfpack ahead for good with a rushing TD in the third quarter and Rendina followed shortly thereafter with another score from 6 yards out for a 27-17 lead. The Bison pulled within three points before Glacier put the game away and then sealed it with an interception. Rendina's first TD, from 11 yards out, pulled Glacier within 14-13 in the second quarter by Great Falls' kicked a field goal just before intermission for a 17-13 lead. 
• Carter Ash caught two touchdown passes, newly minted Montana Griz commit Asher Croy ran for one and Kenneth Eiden IV scored a fourth as Bozeman had little trouble with Missoula Big Sky 27-3.  Ash's 8-yard reception gave the Hawks a 7-0 lead after one quarterback and Eiden made it 13-0 in the second quarter on a 10-yard run.
• Marcus Wittman threw for two touchdowns and intercepted two passes to lead Billings Central (7-2) to a 45-13 win over Eastern A opponent Glendive (3-6). Wittman completed a 9-yard touchdown pass to fellow junior Derek Damjanovich and connected with Charlie Parkan for an 11-yard score. Damjanovich also rushed for TDs from 30 and 3 yards outs, and junior Michael Hayden scored on runs of 7 and 3 yards. The Red Devils scored their first TD on a 27-yard pass from sophomore Parker Buckley to junior Brodie Eckert with 9.2 seconds left in the first half, cutting their deficit to 31-7. Senior Nelson Crisafulli ran into the end zone from 1 yard away with 7.1 seconds left in the game.  
• Trey Fisher scored six touchdowns, five coming on run plays and one on a pass reception, as Thompson Falls steamrolled to a 55-20 playoff win over visiting Twin Bridges. The Bluehawks scored five unanswered touchdowns in the middle quarters. Fisher had runs of 3, 1, 38, 35 and 1 yard, and also caught an 8-yard pass from Dakota Irving. Trystan Harmon threw for one of Twin Bridges' scores, a 53-yarder to Bryce Nye, and ran for the other from 28 yards out.
Volleyball
• Top-ranked Helena Capital (20-0) continued to roll by pounding Kalispell Flathead 25-10, 25-12, 25-14 behind 11 kills and two blocks from Paige Bartsch and seven kills and six digs from sister Dani Bartsch. Audrey Hofer had 26 assists for the Bruins. Madi Davis had three aces and three blocks for Flathead. 
• Missoula Big Sky beat visiting Butte 31-29, 25-23, 21-25, 25-22 as. Beth Hicks had 20 kills and four blocks. Nikki Cathey had four aces and 41 digs for the Eagles.
• Olivia Labeau's 12 kills and Hailie George's 26 digs helped highlight Billings Senior's 19-25, 25-22, 25-23, 25-16 victory over visiting Great Falls. The Broncs also received seven blocks from Bailey King, along with 19 assists and four aces from Jensen Keller. Kaitlyn Gilbert provided 10 kills and four aces for Great Falls.
• Cassidy Strizic had 13 kills and three aces, and Maci Reopelle provided 17 assists, 20 digs, two blocks and three aces to lift Butte Central to its 25-15, 25-18, 17-25, 26-24 victory over Frenchtown. The Broncs received 15 kills and three aces from Addy Tode, and 17 assists and four aces from Maddy Eggars. 
• Shelby advanced to the championship with three victories, including a 3-2 slugfest over Choteau to end the day. The Coyotes opened by defeating Rocky Boy, 26-24, 25-11, 25-14, and then Fairfield, 25-19, 23-25, 25-21, 25-19. Choteau had advanced with a win over Great Falls Central, 25-12, 25-13, 25-14. 
• Keely Fossum led with eight kills, Rachelle Glaser added 14 assists and Laura Ross contributed three blocks and two aces to power top-seeded Glasgow to a 25-16, 25-18, 25-17 sweep of Harlem and a berth in the title match. Sarah Billmayer had eight kills and Taeshon Scheaffer added 22 assists and 12 digs for the Wildcats. The Scotties will await the winner of Saturday morning's Wolf Point-Harlem showdown.
• Tori Nygaard had seven kills and six aces, and Lindsay Nefzger pitched in with 24 assists to guide Wolf Point to a marathon 18-25, 25-20, 25-16, 22-25, 15-7 win over Malta. Carly Garfield had nine kills and five blocks for the M-ettes. 
• Colstrip outlasted Baker 25-19, 25-22, 17-25, 25-16 for the championship. The Fillies had 47 kills, nine blocks and 10 aces. Baker arrived at the finale by winning two matches Friday, first over St. Labre, 25-22, 26-24, 26-24, and then against Forsyth, 11-25, 25-17, 25-17, 23-25, 21-19. Forsyth finished third and St. Labre fourth. No further details were provided. 
• Addy Hultgren had 30 assists and two aces, and Josie Hassler added 10 kills as defending state champion Huntley Project continued its winning ways with a 25-7, 25-7, 25-8 sweep of Shepherd. Jayda Carroll had two kills and Lyndsey Kale two blocks for Shepherd. Huntley Project faces Joliet on Saturday in the unbeaten semifinal match.
• Joelle Luoma led with nine kills, four aces and two blocks as Joliet kept rolling with a 25-19, 25-12, 25-21 victory over Roundup. Shayla Webber added 15 digs and 13 assists for the J-Hawks. Chloe Cota topped the Panthers with 11 kills and Blythe Staley contributed 25 assists. 
• Chloe Cota was tops with 17 assists and 15 digs, and Blythe Sealey added 28 assists, six aces and the team's only block as Roundup advanced with a 25-18, 25-13, 23-25, 25-15 win over Columbus. The Cougars received eight kills from Brooklyn Wylie and 11 assists and 21 digs from Reed Johnson. Roundup faces Shepherd in the fourth-place game Saturday morning.
• Aubrey Allison buried 17 assists and Kylie Lemburg added 30 digs and three aces to power Shepherd over Red Lodge 25-8, 25-22, 23-25, 25-16 in a loser-out match.
• Lyndsay Kale had 11 kills, Kylee Coates 24 assists and Kylie Lemburg 22 digs to fuel Shepherd's 25-14, 25-18, 25-18 sweep over Columbus. Brooklyn Wylie topped the Cougars with eight kills, and Brenna Rouane had four aces and a block.
• Chloe Cota put down 13 kills, Kaytie Newman had a whopping 15 blocks and Blythe Staley pitched in with 29 assists for Roundup in its 25-18, 25-19, 25-11 toppling of Red Lodge. Bailey Binando had 21 kills and the Rams' only block, and Liddia Fontaine added seven kills. 
• Townsend defeated Jefferson for the second time Friday, 27-25, 25-18, 26-28, 25-19, to win the championship. The Bulldogs downed the Panthers 25-16, 25-22, 25-13 in the first match of the day. Jefferson made it back to the final by overcoming Manhattan in the third-place game. Three Forks finished fourth, missing divisionals for the first time since 2004. 
• Plentywood and Westby-Grenora were the unbeaten survivors after the second day of action. Plentywood defeated Froid-Lake to advance to the semifinals, 25-14, 25-15, 25-12, and Westby-Genora outlasted Saco-Whitewater-Hinsdale, 25-15, 25-19, 20-25, 20-25, 15-11. Fairview and Scobey both won two matches Friday to keep their hopes alive. 
• Wibaux topped Ekalaka twice to win the district crown, winning the title match 25-10, 25-18, 29-27 after taking the opening showdown 25-14, 29-27, 25-10. Ekalaka defeated Jordan, 24-26, 25-16, 14-25, 25-23, 15-8, in the third-place match. The Mustangs had downed Circle 25-15, 25-13, 22-25, 17-25, 15-5 to advance. 
• Carlee Blodgett starred with 20 kills, seven digs, seven aces and seven blocks to lead Reed Point-Rapelje into the third-place match with a 19-25, 25-21, 25-22, 21-25, 15-11 slugfest win over Absarokee. Abby Schladweiler's 15 assists set up most of Blodgett's kills. Kennedy Ekwortzel had 10 kills, and Keara Young added 30 digs and five aces for the Huskies. The Renegades will face Roberts on Saturday morning for the right to meet Bridger for the district crown.
• Kennedy Ekowrtzel and Keara Young shared top honors with seven kills apiece and Kaiya Holmquist pitched in with 21 assists for Absarokee in a 25-21, 25-19, 25-21 sweep of Park City. Makayla Harper's seven kills and four aces led the Panthers, who also received six assists and 18 digs from Jaden Boardman. 
• Carlee Blodgett's 18 kills and eight digs led the way as Reed Point-Rapelje held off Custer-Hysham 12-25, 25-17, 25-23, 13-25, 15-10. Annie Schneider's four kills and 10 digs topped the Rebels, who also received six kills and nine blocks from McKenzie Morrison.
• Kennedy Ekwortzel was the primary offensive threat with nine kills, Kaiya Holmquist had 21 of her team's 22 assists and Paige Steffenson scored five aces to carry Absarokee over Plenty Coups 25-14, 25-14, 25-14. Kessa Gutierrez had three aces and two blocks for Plenty Coups.
• McKenzie Morrison led with four kills and nine blocks, and Hanna Yochum had six of Custer-Hysham's nine kills in the Rebels' 25-14, 25-18, 25-15, romp over Fromberg. Dacey Robertson led with five kills, and Cassy Torres added 11 digs and three aces for Fromberg. 
• Dyauni Boyce led with 12 kills and four blocks, and Trinity Edwards added 11 kills and two aces to propel top-seeded Roy-Winifred into the championship match with a 25-16, 25-17, 25-11 rout of Hobson-Moore-Judith Gap. Leisetta Hartin had five kills, and Danielle Horan added three blocks and two aces for Tri-Cities.
• Draya Wacker had a big match with 21 kills and 16 digs, and Koye Rindal pitched in with seven kills, 20 assists and three aces as Melstone advanced with a 26-24, 21-25, 25-17, 25-18 victory over Harlowton-Ryegate. Karlie Lane had 12 kills, 24 digs and three blocks, and Alexis Hagl contributed 13 assists, 18 digs and two blocks for the Engineers. Melstone faces Hobson-Moore-Judith Gap on Saturday morning for a chance to face Roy-Winifred in the final.
• Koye Rindal knocked down 26 kills, had 26 assists and added three aces to power Melstone to a marathon 25-21, 25-21, 21-25, 23-25, 15-8 win over Grass Range-Winnett. Kayla Kombol was big with 17 kills, 17 assists and 21 digs for the Broncs. Hanna Matovich's 15 kills, 36 digs and two blocks led Grass Range-Winnett.
• Sydney VonBergen was tops with eight kills and 16 digs, and Kara Reed also had 16 digs for Denton-Geyser-Stanford in its 25-6, 25-21, 25-13 sweep of Broadview-Lavina. Hailey Fiske had four of the Pirates' seven kills and Berlin Sanguins added two of the team's three aces. 
• Alexis Hagl was everywhere with six kills, six assists, 12 digs, two blocks and four aces for Harlowton-Ryegate, which downed Denton-Geyser-Stanford 25-21, 25-13, 25-16. Hagl had plenty of support from Keeley Chrest, who added nine kills and nine assists. Sydney VonBergen had 12 kills, 21 digs and four aces for DGS.
• Delaney Kellam pounded 19 kills and added three blocks, and Ginger Hauer contributed 36 assists and three aces as Chinook cruised to the district crown with a 26-24, 25-13, 21-25, 27-25 victory over North Star. Olivia King had 11 kills and Jade Wendland added five aces and two blocks for North Star. 
• Tatum Hull had 12 kills and two blocks, and teammate Emma Wickum served nine aces for Chester-Joplin-Inverness in a 25-23, 25-15, 11-25, 26-24 victory over Box Elder. The Bears were paced by Zayna Hendersen's nine kills and two blocks.
• Big Sandy's Seanna DeMontiney had 11 kills and teammate Alicia Bjornestad chipped in two aces as the Pioneers defeated Chester-Joplin-Inverness 25-19, 21-25, 25-19, 18-25, 15-12. Molly Nelson had 30 digs and two aces for Chester-Joplin-Inverness.
• Alicia Bjornestad had three aces, two blocks and seven assists to lead Big Sandy's 25-12, 25-12, 25-10 sweep over Hays-Lodgepole in a morning loser-out match. Sierra Chandler led Hays-Lodgepole with a kill, a block and an ace.
• Simms took the crown by down Augusta for the second time in the day, 25-17, 25-19, 25-19 in the final. Simms had downed the Elks 25-7, 25-22, 25-19 earlier. Augusta defeated Power, 25-17, 25-19, 25-16, in the third-place match after Power had downed Valier 25-19, 17-25, 25-15, 25-22 to advance. 
• Eliana Kuperus tallied 11 kills and two blocks, and Taylor DeVries chipped in with all 29 of her team's assists plus four aces as Manhattan Christian capped a perfect district run with a 25-9, 25-23, 25-16 rout of Gardiner. It's the Eagles' first district championship since 2011 and it ended the Bruins' string of seven consecutive crowns. Maddie Luidahl's 20 digs helped set the table. Josie Thomas led Gardiner with seven kills, 13 digs and two aces. 
• Kiersten Van Kirk put down 14 kills, and Taylor DeVries was on top of her game with 27 assists and three aces for Manhattan Christian in a 25-13, 20-25, 13-25, 25-15, 15-12 marathon win over Gardiner that served as a tuneup for the teams' championship rematch in the evening. Josie Thomas had 15 kills and two aces, and Lanie Powell offered 27 digs and two aces for the Bruins.
• Josie Thomas led with 14 kills, and Lanie Powell contributed 25 digs and three aces for Gardiner in its 25-17, 25-17, 25-16 comeback sweep of Lone Peak. Dounia Metji had three kills and a block for the Bighorns.
• Shelby Klein had eight kills and four blocks, and Kennedy Davies added six digs and six aces as Ennis ran away with the district championship with a 25-14, 25-15, 25-12 sweep of Philipsburg. Riley Robinson had 14 assists for the Mustangs. 
• Hannah Bradshaw fashioned nine kills and six aces, and Rylee Hilmo contributed 10 assists and 12 digs as Drummond advanced by thumping Twin Bridges 25-17, 26-24, 25-16. Callie Kaiser's eight kills and three blocks led the Falcons.
• Hannah Bradshaw led the way with eight kills and seven digs, and Rylie Hilmo chipped in with five aces to lift Drummond past Harrison-Willow Creek 25-13, 25-15, 25-14. Dana Lerum had five aces, three kills and a block for the Wildcats. 
• Callie Kaiser was tops with 10 kills and added seven of her team's nine blocks in Twin Bridges' 25-10, 25-6, 25-22 rout of Sheridan. Avery George added five assists for the Falcons. Brooke Grow had six kills and a block for the Panthers. 
• Albertson-Superior beat Valley Christian in the championship 25-18, 13-25, 26-24, 25-14 as Bailey Milender had 11 digs and three aces. Ellie Hover and Taylor Vance each had 10 kills for the Eagles. 
• Klaire Kovatch put up 10 kills and four blocks, and Sariah Maughan added nine kills as Seeley-Swan outlasted Lincoln 26-24, 21-25, 25-14, 25-27, 15-10 in an early match. Emma Stevenson added 25 digs and five aces for Seeley-Swan.
• Carlee Fryberger led her team in kills yet again with 13 and Connor Fryberger was the key set-up person with 20 assists as Charlo rebounded from an earlier loss to Hot Springs for a 25-22, 25-14, 26-24 win to earn the Vikings another shot at the Savage Heat for the championship. Destiny Manuel was again tops in digs with 26. Katelyn Christensen had six kills, seven blocks and two aces for Hot Springs. 
• Carlee Fryberger led with 14 kills and Connor Fryberger added 26 assists as Charlo moved into a championship rematch against Hot Springs with a 25-21, 25-13, 25-21 sweep of Noxon. Destiny Manuel's 31 digs helped the Vikings. Riley Richter was the star for Noxon with five kills, nine assists and 17 digs. 
• McKenzie Cannon was among the leaders with 13 kills and eight blocks, Sydney Jackson added 27 assists and Sage Jackson contributed 23 digs to lead Hot Springs over Charlo 28-26, 25-22, 20-25, 25-19. Carlee Fryberger had 13 kills and Connor Fryberger 31 assists for the Vikings.
• Kylee Altmiller was tops with eight kills and both of her team's blocks, and Miera Loberg contributed three aces as Plains outlasted St. Regis 25-15, 25-13, 20-25, 25-15. Kylee Thompson had five kills and a block, and Baylee Pruitt added 18 assists and three aces for St. Regis.
• Emily Brown had seven kills, Riley Richter 16 assists and Avery Burgess four blocks to lead Noxon to a 25-17, 15-25, 11-25, 25-22, 15-13 marathon victory over Plains. Kylee Altmiller had 18 kills and two blocks for Plains, which also received 18 assists and six aces from Dakota Butcher.