BUTTE — Just a few months removed from lining up at shortstop for the Anaconda A's baseball team, Luke Jensen takes the football practice field in Butte.
At Butte Central's open scrimmage on Saturday, a smattering of athletes fielded catches from quarterback Cade Holter. Returning all-state player Clay Fisher was one, all-around athlete Thomas McGree another. But Jensen, a wide receiver/quarterback/playmaker last year for the Anaconda Copperheads, is the newest athlete capable of big plays for the Maroons after transferring to Central a few weeks ago.
"My dad has been working in Butte for 20 years," Jensen said, explaining the move. "And my mom just got a new job in Butte so we decided to come over here to Butte Central to give me better opportunities for academics, and spiritually."
Now a senior, Jensen began last season as a wide receiver, but filled in at quarterback when Braxton Hill, now with the Montana Griz, suffered an injury.
This year, Maroons head coach Don Peoples has eyes on Jensen to play part in a deep pool of receivers and backs that will be relied on to get this team over the hump, and deep into the playoffs.
"He'll be a multipurpose guy," Peoples said. "We'll line him up all over the field, and he's really a good defensive player also, so he'll do some great things for us."
As far as the transition from the team he grew with to a brand new sea of faces, Jensen said it's been nothing but positive.
"So far I'm really vibing with the guys, they're just like me," he said. "It seems like a really tight-knit group of guys. It's like we're brothers almost.
"They've took me under their wing and it's really been a great experience all around."
And on leaving behind that Copperheads team ahead of his senior year, surely it's bittersweet. But for Jensen, his old teammates and pals in Anaconda understood and supported his move some 27 miles across I-90.
"They were my brothers the last three years in high school," he said. "It was tough, but luckily they were all understanding and understood why. There was no bad or negative outcome, so it was a good choice.
"I'll definitely miss those guys. I'll have to catch a game with them."
Jensen's name will likely find itself next to big numbers in the stats column, but not to be overlooked is fellow transfer Tyler Duhame, a lineman hailing from Red Bluff, California.
Duhame took a majority of first-team snaps at center for the Maroons on Saturday, but his experience at Red Bluff High School, roughly two hours north of Sacramento, had been on the defensive side of the ball.
You have free articles remaining.
Keep reading for FREE!
Enjoy more articles by signing up or logging in. No credit card required.
Though entering his first year at Butte Central, Duhame is no stranger to The Mining City. He attended Emerson and East in middle school, and made the move back after growing tired of The Golden State. And its weather.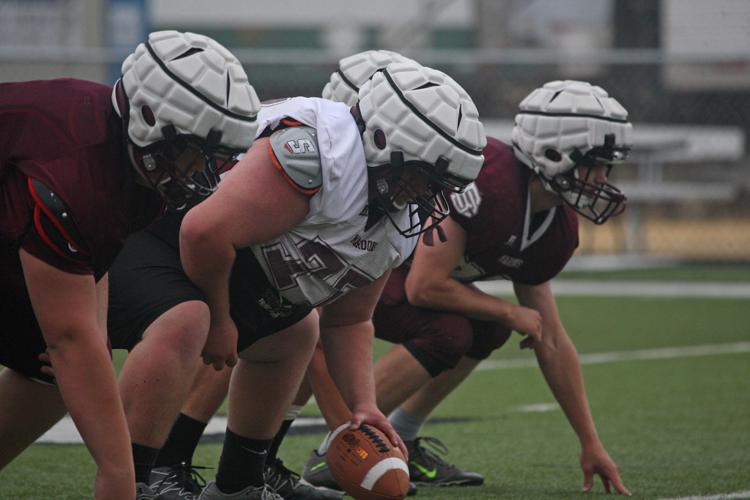 "I just really didn't like it down there," he said. "I realized why I left in the first place. A big factor was I don't like the heat at all. Down there in the summer it's reaching 120 on a hot day. I didn't want to be there anymore."
Duhame is among the biggest players on the Maroons side, adding some much needed size to the offensive line in front of the slew of playmakers on the roster.
For Peoples, the Californian has already shown his resolve in battling through a summer injury, and is a welcome addition to a team vying to make another run into the Class A state playoffs.
"He's great, we're really proud of him because he had a back injury from a summer job," Peoples said. "I don't think anything serious but he was really stiff and had a hard time moving last week.
"We've got to get him out here and get him in shape, but he's a big, strong kid so we're excited to have him."
As far as how these two additions shuffle into the fold at Butte Central and help their chances at playing late into November, we'll soon enough find out.
But the two don't mince words when describing goals: It's getting to the title game.
"There's a lot of talent on this team, I don't know if I'd say more (than Anaconda), but there's more athletes. It's going to be a good year this year," Jensen said.
"Anything can happen, but our goal as a team is to play in the state championship."
Likewise for Duhame, who doesn't waste words when responding to fluffy questions about goals.
"All the way," he said. "That's always the goal. That's always what you want."