DILLON — On Friday nights throughout the fall, Brad Rakich can be found on Class A football fields catching passes in his No. 82 Dillon Beavers football jersey.
A few times a week, though, with no bright lights shining over him, Rakich sheds his shoulder pads, ditches his cleats and steps off the field.
Then he picks up a tennis racquet.
"I usually go hit after football practice," Rakich said, taking a break from defensive back drills at a recent practice. "I usually go hit at least until it's dark for about an hour, at least two, three times a week."
It's not often one of the better football players at a school is also its top tennis player come spring. But in Rakich's case, he's not just the best tennis player at Beaverhead County High School — he's among the best in the Treasure State.
Proof? As a junior last spring, Rakich won his first Class A singles championship. He didn't lose a match all year. He dropped just two sets.
And now in the fall, Rakich is one of the best two-way players on the athlete-heavy Dillon football team.
He's caught three touchdown passes, and on defense he's recorded two interceptions and one fumble recovery.
At practice, where in drills Rakich and the defensive backs take quick, choppy steps and start-and-stop movements with eyes on the ball, Rakich says the risk of injury on football field doesn't outweigh the benefit it provides him in tennis.
"One of the reasons I'm so good at both is because all year, and during basketball too, I'm getting all that conditioning and lateral movements," he said. "I definitely think playing cornerback helps the short breaks, getting that lateral motion, it definitely helps in tennis."
Picking up the racquet 
Rakich's state championship in the spring capped off a six-year full circle for tennis in Beaverhead County. Because just six years ago, Dillon fielded its first boys team.
And it began with Brad's older brother, Todd.
"His senior year was the first year we had (boys tennis) here," Rakich said. "My mom was fundraising for three years."
And that came to be, Rakich remembers, because Todd happened upon a couple tennis racquets as a child after growing fond of the sport watching it on television.
"He bought a couple tennis racquets at a garage sale and we kinda started hitting. Then I really got into it during middle school. In sixth grade I was really into it and I was practicing all summer."
Before Rakich headed to Polson for the state tournament last May, his coach Lois Woodard remembered the beginning of his tennis tenure unfolding that way, too.
She said she began working with Brad when he was in sixth grade, the first year of Dillon's program.
"We worked all summer long when he was finishing middle school," Woodard said in May. "He has a goal and a love for tennis, it's his favorite sport."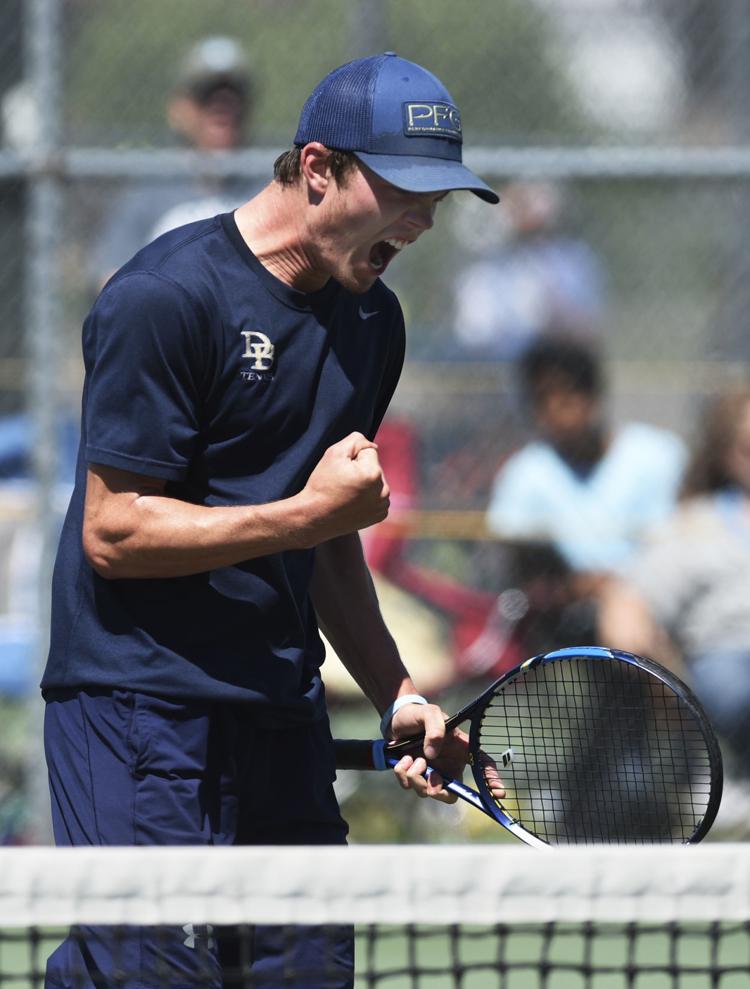 Tennis remaining Rakich's primary sport through high school is an achievement in itself. While he's been an integral part of the football team, he's also one of the top basketball players in Dillon. Before he tasted gold in tennis, he raised a Class A state championship plaque as a sophomore, alongside Troy Andersen and Tanner Haverfield.
"It's a different sport," he said of tennis. "You're kind of all alone instead of in basketball where you're with your buddies and all that."
And those buddies sure didn't follow him to the tennis team in the fall. He said when he was younger, his football and basketball pals would tease him a bit about his passion for tennis.
But that teasing quickly dissipated as Rakich sliced through the state with racquet in hand.
"Now that I've been putting in the work, and since I won state last year, they kind of recognize that's a big part of helping them out with basketball and football," he said.
It all fits together
Woodard said in the spring there was a notable change in the way Rakich carried himself on the court.
She said he came back a more mature player with a grasp of his emotions. He had a tendency to be "hot under the collar," and that, she believed, is what held him back as a sophomore.
"One of his unspoken goals was to rise above that," she said. "And he really has."
Emotions in check and year-round conditioning aside, head football coach Zach McRae noted how the experience of a top-level tennis player uniquely renders on the football field.
"I think in an individual sport that tennis is, when you screw up in tennis, I can't imagine you can point the fingers anywhere but yourself," McRae said. "You can see that transition from tennis, where he's been an elite tennis player just by doing his job over and over and over again, and that's translated to the field.
"In big moments he's been coming up with big plays, and I think when you're a well-rounded athlete, and you get in those moments, it doesn't feel as big as it might for others."
Before his final basketball season turns into his last high school tennis campaign, Rakich and company have a chance to contend for a football state championship. It begins Friday night, when No. 4 Dillon hosts No. 5 Whitefish to kick off the Class A playoffs.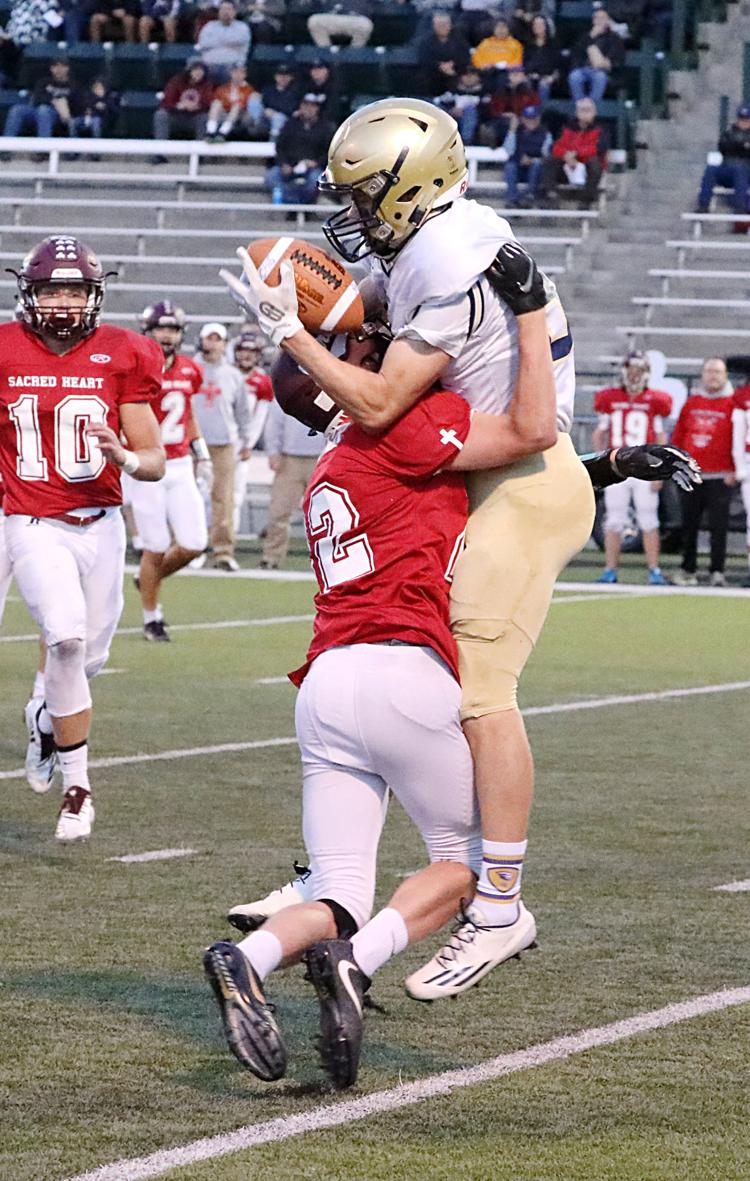 And no matter when it ends, Rakich will make the transition from hitting tennis balls on a court after practice in the fall to hitting against the high school gym's wall through the winter.
He's hoping to make a decision about where he'll attend college — and play tennis, naturally — in the coming months. He noted the University of Montana and NAIA Morningside College in Iowa near the top of his list.
But before he packs his bags and checks out of Beaverhead County, he'll have a second crack at a state tennis championship in the spring, and with that he'll have left an early legacy for the young Dillon boys program to chase.
 Beavers host Whitefish in playoff opener 
Last Friday, Dillon had a chance to enter the postseason with the Southwest A title and a bye week.
Now, a week removed from a 40-0 loss on the road to division champion Hamilton, the Beavers have no choice but to take it a game at a time.
Just like every other playoff team in the state.
"We understand that everybody in the state is now on a one game season," head coach Zach McRae said of bouncing back from last week's loss. "It gives us another good learning opportunity, with it being playoffs this week, we have no time to sulk, we've got to get up and play a good Whitefish team."
No. 4 Dillon (6-2, 4-1) is set to host No. 5 Whitefish (5-4, 3-2) at 7 p.m. tonight at Vigilante Stadium. The winner will play Eastern A champion Billings Central in the second round.
The Bulldogs are led by senior quarterback Mark Anderson, who has amassed 1,271 yards and seven touchdowns through the air this season.
Dillon boasts an athletic core on offense, led by junior quarterback Justus Peterson who has 1,461 passing yards and 12 touchdown throws.
"They are athletic at QB and they love to run the ball," McRae said. "Defensively they just absolutely fly around. It's not too much different schematically from anything we've seen this year, but it's going to demand our best as any playoff team you play does."