Corey Freeman has been hired as the next head football coach at Deer Lodge.
A Deer Lodge graduate, Freeman went on to play for Montana in 1992, according to the team's media book. Freeman was an assistant under Pat Munson, who took the program over in 2014 from legendary coach Al Cutler.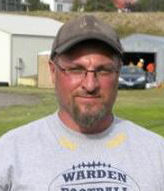 The Wardens went 0-8 last year during a tough season that ended with two-straight shutouts. Deer Lodge scored in double-digits just twice and its closest game was a 27-22 loss to Anaconda.
A tough year, but there's a feeling around the community that Freeman will be able to find some success.
"Corey played football here and played football for the Griz, he's been in the system, he's come through the program and he'll do an outstanding job for the Wardens," said Don McDermid, who recently retired as Athletic Director at Deer Lodge and has known Freeman for quite some time. "It's exciting to have him here at the helm for Deer Lodge during this upcoming season."