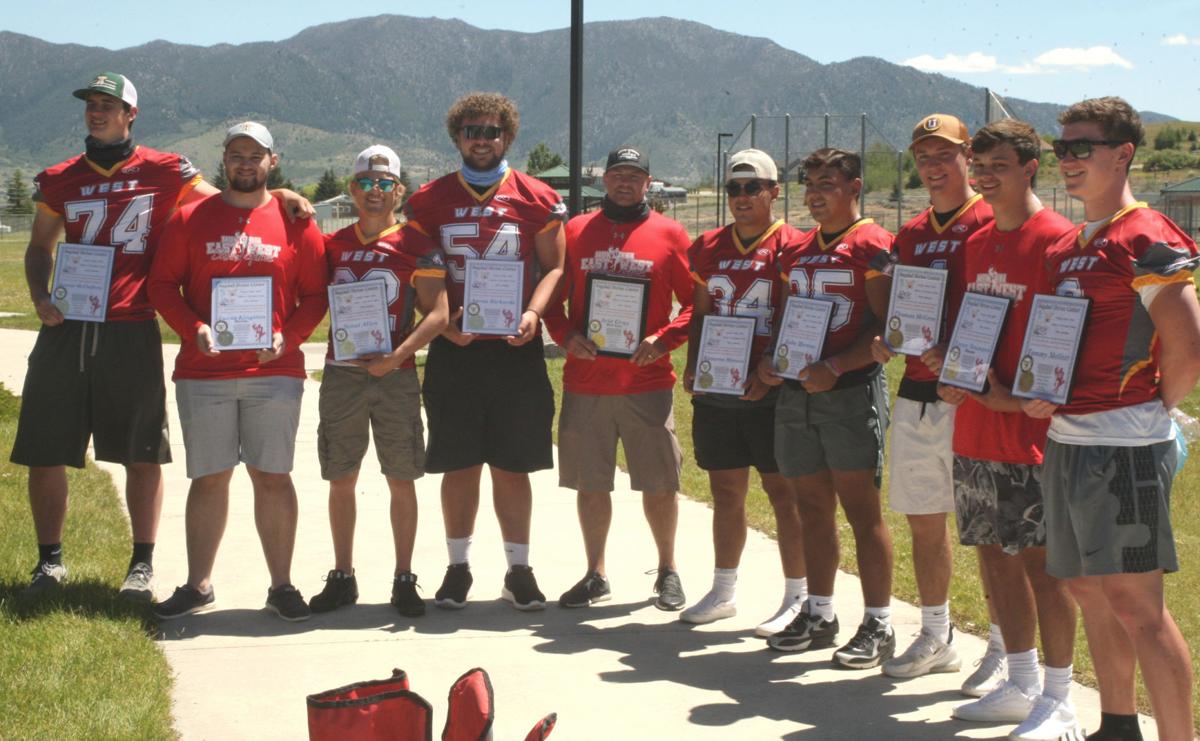 BUTTE — There were several reasons to smile in the Mining City Saturday.
A sense of normalcy and community, for one. A warm, sunny day graced Copper Mountain as members of the Butte community came out with masks and social distancing regulations in mind.
But the true achievement of the day was why Butte High and Butte Central players and families were out tossing cornhole bags.
Even before the first boards were laid out and the event's silent auction began, Tommy Mellott and members of the Bulldogs and Maroons had raised $46,000 for the Shriner's Hospital for Children in Spokane, Washington, electing to make the most of the cancellation of the Montana East-West Shrine Game, which was scheduled to take place on July 18.
"Looking at the last couple months," Tommy Mellott said. "Everyone's been sitting at home, isolating from everyone else and following the protocols, and there's a reason why people are out here. There's a reason why they're here, wearing their masks and being careful and social distancing, but it's just energizing to see everyone out here. It's exciting to be a part of something where there's a community together, it's not just being separate from everyone."
That reason is not just to honor their players, but to rally behind their cause and display the unique pride and sense of community one finds in Silver Bow County.
But it didn't happen overnight. It comes after the frustration of losing a key part of being a senior class football player in Montana, and having to come to terms with that loss. Then, the players of Butte High and Central decided to focus on the positives.
"It's crazy how everything's gone," said Central grad and Montana State Bobcat Aaron Richards. "Can't really control it so it's nice to get back to somewhat normal… I was looking forward to playing with Tommy, Kobe and Kameron [Moreno] and all the Butte guys. It got taken away but it's still been a fun day to hang out with them and play some cornhole."
Spearheaded by Tommy Mellott, members of both programs rallied behind the idea, especially once the West team organizer for the East-West game, Jeff Hartwick, brought up the fact that the Shriner's Hospital wouldn't be receiving a donation due to cancellation.
"That's what Jeff told me," Dina Mellott, Tommy Mellott's mother, said. "'I just feel really bad about the Shriners, now that they're not going to make any money this year.'
"Tommy said, 'Well, what can we do?' It kind of just started from there."
And while Tommy Mellott got the ball rolling, it's also a part of the Mining City's culture, which shows up in both his teammates as well as in the Maroon side of Butte.
"They're all really good kids, this whole class," Dina Mellott said. "They are just phenomenal. For Butte High and Butte Central to come together, they're all friends."
Dina Mellott, along with Camy Allen and Jackie Neumann, mothers of Butte's Scout Allen and Central's Trevor Neumann, ran with the idea, helping organizing the event and its silent auction.
Between the silent auction, team fees for the cornhole tournament and outside donations, the total donation is likely to eclipse the $50,000 mark, a testament to the dedication of the Bulldogs and Maroons, as well as the community surrounding them.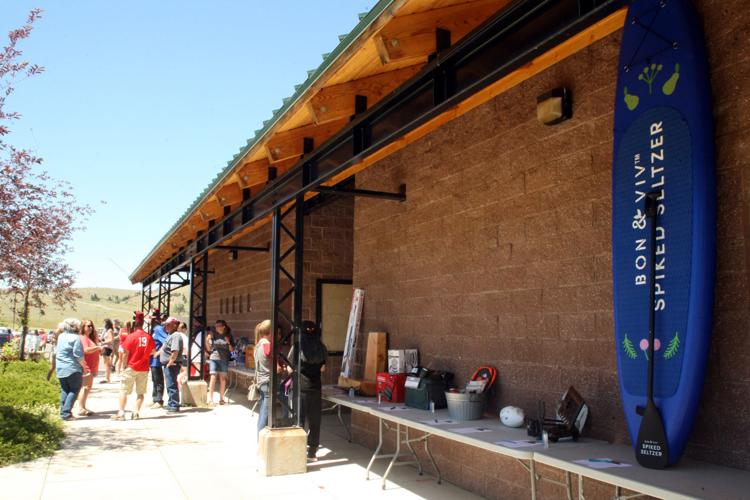 Not to mention that the event is doing this all in the guidelines provided by Montana Gov. Steve Bullock's recent mask mandate, while also following other practices to ensure the event isn't just supporting a good cause, but doing it safely.
"We've got masks, gloves and are sanitizing the boards after every round," Jackie Neumann said. "Most everybody showed up with masks, we didn't have to pass out many, they've showed up with their own masks and it's really nice."
It also helps that the event happened to be centered around fun. There may not be a game more closely associated with tailgating than cornhole, and tossing bags for a good cause certainly helps, says Butte's Scout Allen.
"You can't beat this," Allen said. "Butte's a great community and we're coming together to raise money for the [Shriner's Hospital for Children,] which we weren't able to do for football. We got together and it's been a great turnout. Butte has our backs, for sure."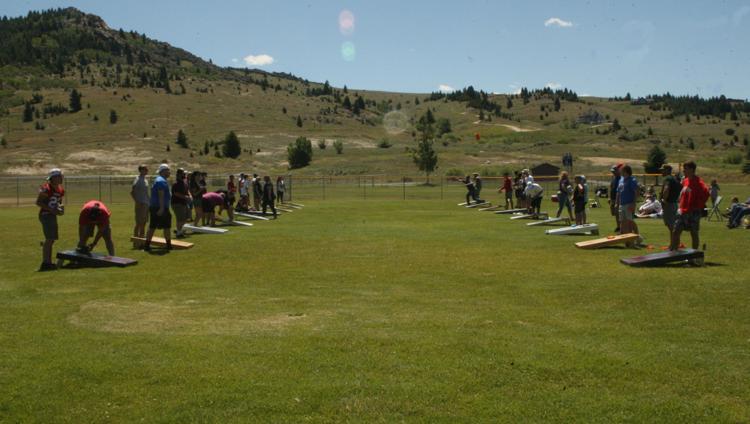 Allen's words bring another level of depth to the event. While it's purpose was to raise money for an important cause and be a replacement for the East-West game, it's also a send-off for both those who are staying in the Mining City or going elsewhere.
With just days left before players begin reporting to Montana State, Tommy Mellott knew that this was something to savor. The Bobcat is excited for the next step, but is appreciative that he and fellow players in the Butte community could enjoy a rare chance at normalcy.
"It's kind of a last hoo-rah," Tommy Mellott said. "Before we split apart and go our separate ways. That's kind of how it was for us, the football players, both Butte High and Butte Central. The shrine game was supposed to be an opportunity for us to be together and build relationships before we split apart.
"Me and Aaron [Richards] and the other guys that are leaving Butte. It would've been nice to play one more week with your teammates, but this is the next best thing and what we can do right now. It's been really important to make the most of our time and that's what we're doing right now."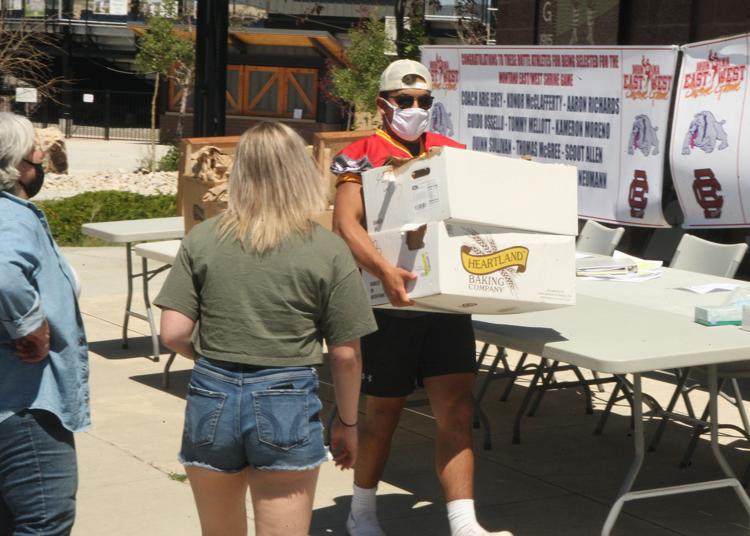 It's the definition of bittersweet. The Bulldogs and Maroons have lost an important part of their senior years, but have made something out of loss, both in terms of the cause but also their last summers before college.
Either way, whether the next steps take place in the Mining City, Bozeman, Missoula, wherever, one thing remains the same: Butte's pride.
"Today shows that the people in our community really care about other people," Tommy Mellott said. "They care about the general health of everyone and taking care of people. It speaks a lot about the people here and I feel really blessed to say that I'm from Butte, Montana."
Get in the game with our Prep Sports Newsletter
Sent weekly directly to your inbox!