Montana Gov. Steve Bullock stood by local public health officials amid pushback against rules barring spectators from school events like sports in some counties, including Yellowstone. 
"The ability for local jurisdictions to be more restrictive should continue," Bullock said during a Thursday press conference. 
That same morning, a Billings doctor attended a Yellowstone County Health Board meeting to advocate for athlete safety — which includes allowing parents at games, he said.
Yellowstone and Lewis and Clark counties effectively barred spectators, recommendations they said were in line with recommendations from local school officials. Other counties, like Butte-Silver Bow and Cascade, have limited spectators to two or three per participant, and barred visiting teams' spectators. 
Bullock applauded the work of officials like Yellowstone County Health Officer John Felton. 
"They're professionals," he said. "We need to work with them as they continue to do their work as we continue to navigate this crisis."
Sen. Steve Daines, who is running against Bullock, weighed in on the debate Thursday with a tweet. 
"As a dad of 4, I can't imagine missing out on watching my kids play sports," he said. "I've heard from parents across MT and they want leadership on this issue NOW. It's time for Gov. Bullock to step up and work with parents, coaches, schools & health officials on a plan for this season."
The public email account for Billings Public School trustees has received several requests to expand spectator access.
"I urge you as a board to do everything in your power to find a compromise on the issue of spectators at Yellowstone County school events," wrote parent Brian Draayer. "Our time with our children is precious."
He compared the circumstances of sporting events to other large events held in Billings, calling the school event rules a "double standard."
"A significant majority" of Yellowstone County athletic directors preferred no spectators, he said.
The spectator restrictions were discussed again during a Thursday morning Yellowstone County Board of Health meeting.
Dr. Steven Klepps, an orthopedic surgeon who works as a sideline doctor during AA football games spoke against the spectator rules. On the Zoom video stream most of Klepps remarks were inaudible, but he spoke with The Gazette later to review the points he raised.
He pointed to how the restrictions seem inconsistent in light of things like bars remaining open. In particular, Klepps said he is concerned about what would happen if an athlete gets injured, especially if they need to go to the emergency room, or are from out of town.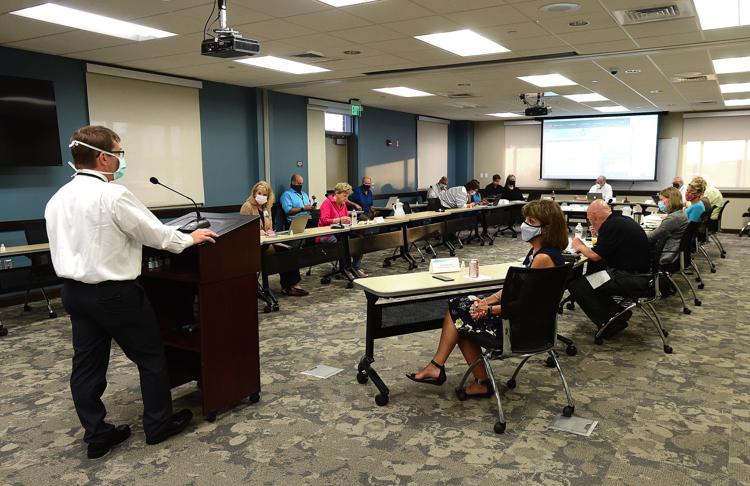 "When you're covering games, you know, you stabilize these kids, get them to the sidelines, but then you really rely on their parents to take over from there," he said. 
He said that then raises practical concerns and potential liability issues. He wondered if the alternative would be parents waiting nearby in town, tracking down another family, or sending an injured athlete to a hospital with a coach, or by an ambulance ride that could cost thousands of dollars.
"Most ERs don't want to have a 16-year-old kid unattended with an injury by themselves. My guess is you'd have to have a plan, coaches or athletic trainers or something. Even then, who's going to come pick them up?"
Ultimately Klepps said even though he disagrees on this issue, he supports what local health officials are trying to do. 
"We all have our perspectives. I totally respect what the public health people are trying to do and that they're doing what they can to slow this disease. This just seems like it's a little inconsistent. But that's not my main point. My main point is to take care of these athletes."
He also said that he believes attendance should be done with appropriate restrictions like social distancing, and that he has had multiple parents tell him they would be willing to volunteer enforcing those rules at games.
Felton discussed schools and the spectator restrictions later in the meeting. He emphasized that he did not make the decision on his own, but in coordination with athletic directors who wanted an enforcement component, which is why it was issued as a health officer order.
"One of the comments I've gotten many times is where did you go to medical school?" Felton said. "If a lot of the pediatricians in town got to make this call there would be no sports whatsoever."
He added that there are a lot of strong opinions on the topic before reiterating something he said Monday, that officials need time as they try to learn and better understand the virus as it relates to schools.
"For most school districts in Yellowstone County we're on day four of school. We already have multiple cases in multiple schools among staff and students. We don't know if we can make it through to two to three weeks even having schools open," he said.
"We hope we do," he continued. "That's got to be the most important factor, is can we keep schools open. Athletics are an important part of school and so we do need to keep those available but in the safest way possible. There's clearly differences in different counties. I think when we look at Yellowstone County, we look at half the active cases in the state, half the hospitalizations in the state. We are not like everybody else. In my belief it's just not rational to say someone else did something else so you should."
Concerned about COVID-19?
Sign up now to get the most recent coronavirus headlines and other important local and national news sent to your email inbox daily.