MISSOULA — Hunter Meinzen will spend the next few months landscaping lawns and working construction.
That's his idea of a summer break after earning All-American honors last weekend in Greco-Roman competition at the United World Wrestling Cadet U23 World Team Trials in Akron, Ohio.
To put it another way, the 16-year-old Meinzen is tougher than a springtime climb to snowy Lolo Peak. He reminds us all there are still teens out there capable of toting the legacy in a state tamed by hardscrabble types.
"I love that wrestling teaches you life skills," said Meinzen, who also doubles as a running back for the Missoula Big Sky Eagles. "If you can get through wrestling, you can get through anything in life, because it's like the toughest sport ever. It's just 1-v-1 and you can't blame anyone else."
What separates Meinzen from most of the other 2018-19 Montana state wrestling champions is his willingness to travel great lengths to find stiff competition. To push himself harder and harder in a sport where losing feels sort of like getting whupped in a playground fight.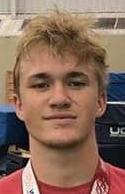 "I don't get down about a loss," offered the junior-to-be, who posted a 4-2 record in Greco bouts and a 3-2 Freestyle mark in Akron. "For me it's more like when I lose, 'I've got to get back, got to work harder and improve.'"
Considering the Akron tourney is one of the toughest in the country — Bozeman's Chance McLane earned Greco All-American honors last spring and will wrestle at Oklahoma State this coming school year — placing in the top eight at 71 kilograms (156.5 pounds) was a big step. Hunter appears to be on track in his push to earn an NCAA Division I scholarship.
Give a big assist to his parents, Les and Stacey, and the small town they call home, Florence. Stacey helped organize a raffle to defray travel costs to Akron and Les has been Hunter's coach since he was 5 years old.
The father-and-son team is a throwback to simpler times. Dad's perspective helps make it work.
"He's always in my corner when we go to out-of state tournaments and he's still my coach," Hunter offered. "Some people say it's not good to have your dad in the corner as a coach. But we have a good enough relationship where we can collaborate with each other and not get too heated in a match."
Earning a college scholarship is obviously a big leap from thriving as a high school sophomore. Meinzen has two intangible assets that complement his physical skills.
First, you can't keep him off the mat. As a freshman he broke the tibia in his right leg playing football but still managed to take second at the state wrestling meet at 138 pounds.
Second, the 5-foot-7 dynamo is humble.
"Everything can be improved," he said of his wrestling, which has already caught the attention of college scouts. "Just start with my stance and go from there — motion, strength, everything really. I'll try to get in the weight room this summer, get some muscle on."
Between the grass mowing and nail pounding in his near future, Meinzen figures to get stronger and make a smooth transition from 145 to 152 pounds next winter. He also plans to have a little fun this summer.
"I should get a good tan going."