MISSOULA — Former Montana women's basketball player and assistant coach Jace Henderson has been hired to coach the Missoula Big Sky varsity girls basketball team.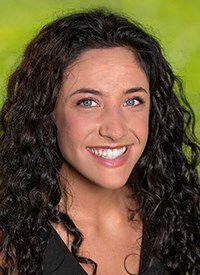 Big Sky athletic director Sabrina Beed confirmed the hiring on Friday morning. Henderson, a Billings product, served as a Lady Griz assistant coach this winter under interim head coach Mike Petrino.
"We are very excited to welcome Jace," Beed told the Missoulian and 406mtsports.com. "She will be an amazing addition to Big Sky athletics.
"We are confident that she will take our program in the direction we expect it to go and will serve as an exceptional role model to our student athletes and community."
Henderson was a five-year student athlete at Montana, playing one year of volleyball before spending the next four on the women's basketball team.
Three times she was voted by her teammates as the Shannon Green Most Inspirational Player and twice was voted the team's Mary Louise Pope Zimmerman Most Valuable Player.
"The Missoula community has a special place in my heart and I just wanted to stick around and I didn't want to get out of coaching," Henderson said. "What I believe is important as a coach and player is to show up every day with the best attitude you can have and give it your all.
"I'm really looking forward to working with the Big Sky administration and student-athletes. They've built a great community there, focused on challenging athletes and helping them grow as people and players." 
Henderson was named second-team All-Big Sky Conference as a senior, when she averaged 12.0 points and 8.6 rebounds per game. She shot 56.1% that season, the second-best performance in Lady Griz history.
"Jace is a natural leader, a terrific basketball coach, and most importantly she's a quality person who will dedicate herself with energy and passion for her players," Petrino said. "This is a great hire by Big Sky."
"Jace's strengths are her ability to connect with people, her basketball IQ, and her knowledge and experience with player development. She has a very bright future as a basketball coach."
Henderson is a 2014 graduate of Billings Senior. Her dad, Brian, was the women's basketball coach at Rocky Mountain College in Billings for 13 seasons.
Bill Speltz is Missoulian Sports Editor and has served as Sunday columnist the past 15 years. Do you have a story idea? Email Bill at bill.speltz@missoulian.com.