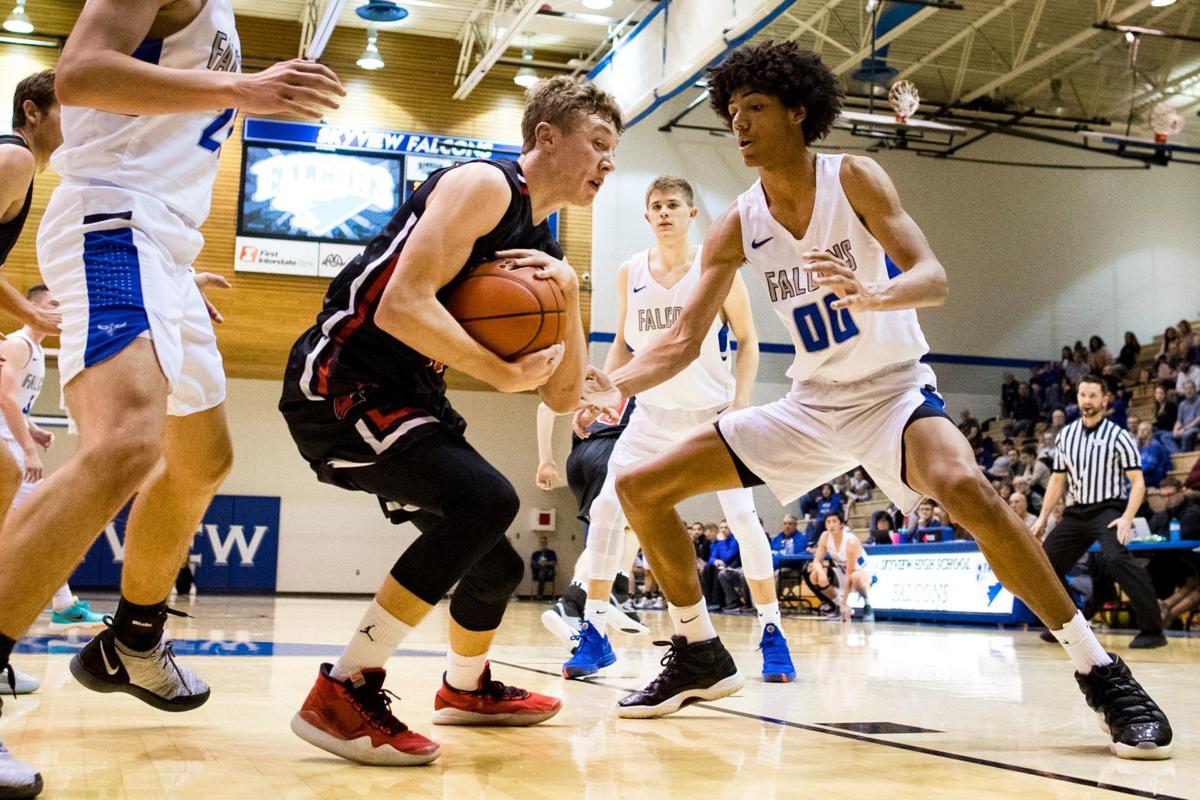 Editor's note: Full Court Press will be continually updated through the night as results arrive.
Boys Basketball
Class AA
• Alex Germer led with 15 points, Hayden Kolb added 14 and Tony Frohlich-Fair was next with 13 to lead Missoula Sentinel over Kalispell Glacier 51-35. Weston Price led the Wolfpack with 10 points. The Spartans led by three points at halftime but pulled away with a 16-6 third quarter. 
• Hayden Ferguson scored 10 points and Dexter Tedesco added nine as Helena outlasted foul-plagued Butte 46-42. Butte led by eight points at halftime but the Bengals scored the first eight points of the second half to even the score and the game was knotted at 38-all entering the final eight minutes. Andrew Booth and Billy Kelly scored 12 points each for the Bulldogs.  
• Carter Ash scored 15 points and Jackson Coles added 14 as the defending Class AA champion Bozeman Hawks defeated Billings Skyview 57-50. Skyview led 34-30 after the Falcons' Cam Ketchum went on a personal 11-2 run right after halftime, but the Hawks countered with a 10-0 run and never trailed again in improving to 4-2. Ketchum finished with a game-high 22 points, and Julius Mims added 17 points and 12 rebounds for the Falcons. Bozeman hit eight 3-pointers and Skyview made seven.
• Abe Johnson scored 21 points and top-ranked Missoula Hellgate kept rolling with a 77-52 thrashing of No. 3 Helena Capital, reaching a season high in points in the process. The Knights are 8-0 and off to their best start in five years. Johnson scored 14 points in the first half as Hellgate built a 44-25 lead. Rollie Worster added 20 points for the Knights and Cam LaRance added 12. Bridger Grovom scored 19 to lead Capital, 15 on 3-pointers. 
Class A
• Cade Baker and Devin Shelton were co-scoring leaders with 10 points apiece and 10 players scored for Frenchtown in a 67-46 romp over Corvallis. The Broncs led 22-8 after one quarter. Hank Rugg and Zack Baker each added eight points for Frenchtown. Caleb Warnken topped all scorers with 18 points for the Blue Devils. 
• Gator Yelenich scored 17 points and Braden Harrington added 15 to help No. 2 Butte Central hold off Livingston 53-39. The Maroons held a five-point lead after three quarters, but Yelenich and Harrington combined for 18 fourth-quarter points to help put the Rangers away. Livingston's Sage McMinn led all scorers with 20 points and Brendon Johnson chipped in 12. 
• Cole Truman was Dillon's lone double-digit scorer, but the Beavers had nine players score in a 48-33 win over Stevensville. Dillon led 35-17 at the half. Kellen Bellar scored 15 points to lead Stevensville.
• Polson used balanced scoring to post a win at Columbia Falls 63-50. Xavier Fisher scored 11 points and Trevor Lake added 10 for the Pirates. Allec Knapton and Dillon Shipp each tallied 13 points for the Wildcats.
Class B
• Rhett Reynolds and Logan Leck tag-teamed it again on the scoreboard for Shelby in a 66-51 win over Great Falls Central. Reynolds scored 24 points and Leck 21 for the Coyotes, who built a seven-point lead after one quarter and 14 by halftime. Tanner Parsons added 11 points for Shelby.
• Cory Chaney scored 14 points and Eureka withstood a late rush by Thompson Falls for a 50-49 victory. The Lions led 39-29 entering the fourth quarter, but Sidney Akinde scored eight of his game-high 22 points in the fourth quarter and Jack Green added all seven of his points as the T-Falls rallied. Cody Burk added 10 points for Thompson Falls.
• Cody Tanner led Arlee with 20 points and Billy Fisher added 12 points in the Warriors' 71-58 victory over Charlo. The Vikings were led by Tucker Love and Coyote Nagy with 10 points each.
• JW Bonomo scored 15 points, Rylan Kuntz had 13 and Mike Lira popped in 12 for Forsyth in a 47-36 victory over Baker. The Dogies trailed by two points at halftime but rallied with an 11-3 third quarter.
Class C
• Sam Leep scored a game-high 19 points and teammate Caiden Hill Contributed 13 points to lead the top-ranked Manhattan Christian Eagles over Shields Valley. Dylan Flatt had 13 points and Aiden Jenkins had added 10 to pace the Rebels.
• Clarence Stewart led with 17 points, Brendan Falls Down had 14 and Zane Plainfeather added 10 as Plenty Coups kept rolling with a 60-44 rout of Park City. The Panthers received 14 points from Caleb VanDoren and 10 from Austin Dennis. 
• Sloan McPherson pumped in 26 points and Gage Bloesser added 13 as Savage rolled over Brockton 58-25. Savage raced to an 18-5 lead after one quarter and built the margin to 31 at halftime. 
• Tel Lunde and Colten Miske each scored 19 points as Wibaux dropped Custer-Hysham 49-25. The Longhorns raced to an 18-4 lead after one quarter. Preston Long led the Rebels with 11 points.
• Jordan Anderson's 23 points led the way and Gabe Smith followed with 18 to carry Darby to a 68-39 romp over Drummond. The Tigers led 24-4 after one quarter and coasted from there. 
• Tyler Wivholm was the top scorer with 16 points and Ayden Hobbs helped with 12 as Froid-Lake rolled past Bainville 76-45. Jesse Strickland topped the Bulldogs with 10 points, and Derek Bowker and Samuel Butikofer added nine.
• Walker Doman led four players in double figures with 18 points and Winnett-Grass Range blew out Geraldine-Highwood 68-35. Derrik Zimmerman scored 17 points, Jacob Jessen added 16 and Cy Nunn had 10 for W-GR. Orrin Harris topped the Rivals with 12. 
• Ryan Roth scored 18 points, Clint Darlington helped with 13 and Kade Strutz chipped in with 12 to lead Big Sandy over North Star 52-47. The Pioneers built a 27-13 halftime lead and held off a second-half push by the Knights. Hayden Massar's 21 points led all scorers for North Star, and Caden Rettig added 11. 
• Led by Ethan Bell's 14 points, 11 players scored for Chinook and the Sugarbeeters ran away from Turner 67-24. Reese Elliott added 10 for Chinook. Austin Welsh scored 11 points but only three players scored for the Tornadoes.
• Jayce Tande scored 17 points and Brayden Cromwell 14 as visiting Scobey fought off Glasgow 62-56. The Scotties stayed close behind the 25 points of Keigan Skolrud. Kobe Sibley contributed 19 points for Glasgow. Scobey led 29-18 at halftime, but Glasgow scored 38 points after intermission to make things interesting.
• Grady Gonsioroski had the hot hand with 29 points and Blake Lien and Caleb Senner each pitched in with 12 in Richey-Lambert's 59-44 victory over Culbertson. 
• Owen Mercado scored 26 points and Seeley-Swan bolted to a 23-8 first quarter lead and built it from there for a 72-35 romp over Lincoln.
• Bryan Mask led the scoring with 17 points and Danner Haskins pitched in with 10 for Alberton-Superior in 46-26 rout of Victor. Skyler Webberson topped the Pirates with eight points. 
• Zacc Degele scored 22 points and Ashton Campbell had 21 to lead Absarokee to a 69-32 romp over Fromberg. The Huskies led 31-11 after one quarter and 55-16 at intermission.
• Dallin Nelson was on fire with 27 points, Caden Smerker added 18 and Kaidin Thibert contributed 17 for Simms in its 82-39 rout of Valier. Brody Connelly topped Valier with 18 points. 
• Kyle Pederson and Cayden Klatt led a balanced Lustre Christian attack with 11 points each and the Lions rolled past Frazer 68-13. John Hotomanse's six points topped the Bearcubs.
Girls Basketball
Class AA
• Dani Bartsch scored 14 points and Mara McGinley added 12 as No. 2 Helena Capital pulled rank on No. 1 Missoula Hellgate 51-45. Capital jumped to a 17-9 lead after one quarter and kept the Knights at arm's length from there. Bailey Sayler scored 15 and Addy Heaphy 14 for Hellgate. 
• Three players scored eight points each and three-time defending state champion Helena held off a late Butte push for a 43-40 win. The Bengals led 29-21 entering the final eight minutes. Kylie Lantz, Emily Feller and Abby Marcille all scored eight for Helena. Butte's Mackenzie Tulty took game scoring honors with 22 points, and Haley Herron added eight. 
• Third-ranked Missoula Sentinel (6-0) used an 18-0 run in the third quarter to jump in front of Kalispell Glacier en route to a 61-53 win. Glacier pulled within a bucket with four minutes left but the Spartans went 7 for 10 from the foul line down the stretch. Montana State commit Lexi Deden scored 18 points for Sentinel. Jayden Salisbury and Challis Westwater added 11 apiece. Glacier's Aubrie Rademacher led all scorers with 20 points.
• Mandy Moy scored 12 points to lead Kalispell Flathead to a 33-19 victory over winless Missoula Big Sky. Alexis Knight and Corbyn Sandau each scored five points for the Eagles. 
Class A
• Hannah Schweikert and Lakia Hill each scored 16 points and No. 4 Columbia Falls raced to a 23-point lead after one quarter en route to a 61-28 thumping of Polson. Maddie Robson scored 14 points and Josie Windauer added 11 for the Wildkats. 
• Lauren Demmons led all scorers with 16 points and Claire Bagnell chipped in with 14 to lead Frenchtown over Corvallis 47-36. Madeline Gilder topped the Blue Devils with 15 points and Isabel Evans added 10. The Broncs led by a point at halftime but pulled away with a 15-2 third quarter. 
• Hamilton scored eight unanswered points in the fourth quarter to finish off host Whitefish for a 58-41 win. Ashlee Searle paced the Broncs with 16 points. Jadi Walburn and Gracie Smyley each had 12 for the Bulldogs.
• Savannah Toms led the way with 18 points and Karsen Murphy added 16 to lead Glendive to a 55-37 triumph over Lewistown. 
Class B 
• Maddison Underdal led with 19 points and Shelby had too much second-half firepower in a 65-28 rout of Great Falls Central. The Coyotes led 33-17 at halftime and were up 20 after three quarters before breaking it open in the final eight minutes. Bailey Johnson scored 11 points and Brook Luly added 10 for Shelby.
• Bailey Finn led three players in double figures with 14 points and No. 7 Big Timber raced to a big early lead and toppled Jefferson 55-24. Alyssa Boshart scored 12 points and Emily Cooley added 11 for the Herders.
• Kenna Pitcher scored 37 points, 23 coming in the second half, as Fairfield overwhelmed visiting Conrad 62-34. Pitcher, who knocked down six 3-pointers, helped the Eagles put up 36 second-half points in racing away from Conrad. Brae Eneboe scored 11 points for Conrad. Kate Murack chipped in with 10.
• Jessi Jordan topped Colstrip with 14 points and Jenna Sanders contributed 11 as Colstrip outlasted Lame Deer 59-44. The Fillies led 36-22 at halftime and coasted from there. 
• Lyndsey Kale's 20 points led the way and Shepherd used a huge fourth-quarter rally to down Red Lodge 44-41. The Fillies trailed 37-28 entering the final eight minutes before going on a 16-4 scoring spree. Liddia Fontaine scored 14 points for Red Lodge. 
• Kendall Lynn scored 12 points and Three Forks came away with a rugged 30-27 win over Townsend. Sterling Owens scored nine points and Peyton Vogl had eight for the Bulldogs. 
• Lindsey Hein pumped in 21 points and Shay Donley added 11 to lead Forsyth to a 57-24 rout of Baker. The Dogies used a 19-5 run in the third quarter to pull away in the second half.
Class C
• Jenna Rust scored 21 points, Elizabeth Field added 20 and Kiarra Brunelle contributed 17 as Westby-Grenora clobbered Fairview 70-33. The Thunder trailed by two points after the first quarter but pulled away with a 21-8 second quarter and then outscored the Warriors by 17 points in the third.  
• Desani Nesbit and Sydney Dethman each had 11 points and Froid-Lake held off Bainville 44-19. Kiylee Kellis' seven points topped the Bulldogs. 
• Haylie Conradsen led three players in double figures with 24 points and Savage coasted past Brockton 62-21 in a battle of Warriors. Savage led by 22 points at halftime and blew it open with a 26-3 third quarter. Reghan Prevost scored 14 points and Teah Conradsen added 11 for Savage. 
• Sarah Maughan and Klaire Kovatch each scored 13 points to lead Seeley-Swan past Lincoln 60-24. The Blackhawks pitched a 12-0 shutout in the first quarter, led by 16 points at halftime and ran away from the Lynx with a 25-8 third quarter. Aspen Conley and Rose Mercer added 10 points each for Seeley-Swan. 
• Sydney Phillips led all scorers with 17 points and Drummond rode a strong start to a 59-34 victory over Darby. Rylee Hilmo chipped in with 12 points for the Trojans. Darby received nine points from Gracie Lang.
• Layni Schieffer scored 22 points and Wibaux raced to a 25-0 lead after one quarter en route to downing Custer-Hysham 53-21. Sister Marni Schieffer added 12 points for the Longhorns. Brooklyn Ragland led the way for the Rebels with nine points.
• Kiersten Van Kirk was tops with 16 points and Manhattan Christian started fast in a 49-27 win over Shields Valley. The Eagles led 14-3 after the first quarter and by 19 points at halftime. Grace Aamot had nine points and Eliana Kuperus eight for MC. Aspen Sanderson led the Rebels with 12 points. 
• Sarah Billmayer led with 18 points and eight Turner players scored in a 63-19 romp over Chinook. The Tornadoes led 25-7 after on quarter. Shyan Krass was next with 12 points and Dakota Krass added 11 for Turner. Allison Powell topped the Sugarbeeters with nine points. 
• Lauren Krenning scored 15 points and Courtney Herman added 14 points to lead Richey-Lambert over Culbertson 45-33. The Cowgirls received 13 points from Makena Hauge.
• Ellie Meeks scored 18 points, Jonna McCullough added 11 and the duo scored four of Geraldine-Highwood's eight points in overtime in the Rivals' 48-47 edging of Winnett-Grass Range. Tia Stahl was a one-person wrecking crew for W-GR, scoring 36 points -- including all seven of her team's points in OT. Stahl was the only member of her team with more than three points. 
• Gracee Lekvold nailed four 3-pointers en route to a game-high 20 points in Scobey's 52-29 win at Glasgow. Teammate Kortney Nelson also helped fuel the victory with her 13 points. The Spartans were up 27-19 at halftime, but went on a game-breaking 11-4 surge in the third quarter. 
• Hot Springs cruised to a 50-26 win at Noxon. Katelyn Christensen scored 15 points to lead the Savage Heat. Avery Burgess paced the Red Devils with 10 points.
• Kaitlyn McColly was tops with 18 points and Kia Wasson had 10 to lead Saco-Whitewater-Hinsdale to its 46-29 win over Dodson. Melony Fetter's 15 points topped the Coyotes.
• Kenzie Hereim scored 13 points and Ashtyn Tome and Aspyn Myrstol each scored eight as White Sulphur Springs downed the Ennis JV 37-28.
• Janessa Willekes pumped in 26 points and Taylee Sawyer added 13 for Simms in a 58-52 win over Valier. The Tigers trailed by six points after one quarter but outscored the Panthers 28-13 to take a nine-point halftime lead. Emma Valdez scored 18 points and Erica Ramsey added 13 for Valier. 
• Carlee Blodgett led three players in double figures with 13 points as Reed Point-Rapelje toppled Broadview-Lavina 37-24. Ciara Fagone added 12 points and Lily Herzog 10 for the Renegades.
• Cassie Green and Emmah Baughman each scored 13 points and Darby Haskins added 12 to lead Alberton-Superior to a 52-18 win over Victor. Four players scored four points for the Pirates.
• Keylandra St. Marks scored 22 points and Kaydin Sibley added 21 -- combining for all but eight of Frazer's points -- to lead the Bearcubs past Lustre Christian 51-49. Amber Reddig and Alexa Reddig each scored 15 for Lustre, which also received 10 points from Aubri Holzrichter. 
• Sierra Nagle scored 14 points, Kayli Haynie added 12 and Haven Taylor chipped in with 10 as Circle sailed past Nashua 65-37.
20-Point Club
42: Drew Ouradnik, Billings Christian
37: Kenna Pitcher, Fairfield
36: Tia Stahl, Winnett-Grass Range
29: Grady Gonsioroski, Richey-Lambert
27: Dylan Sanner, Roundup
26: Sloan McPherson, Savage
26: Owen Mercado, Seeley-Swan
26: Janessa Willekes, Simms
25: Keigan Skolrud, Glasgow
24: Haylie Conradsen, Savage
24: Rhett Reynolds, Shelby
24: Garett Diekhans, Fort Benton
23: Jordan Anderson, Darby
23: Gabe Adams, Kalispell Flathead
22: Mackenzie Tulty, Butte
22: Layni Schieffer, Wibaux
22: Cam Ketchum, Billings Skyview
22: Sidney Akinde, Thompson Falls
22: Zacc Degele, Absarokee
22: Keylandra St. Marks, Frazer
21: Jenna Rust, Westby-Grenora
21: Abe Johnson, Missoula Hellgate
21: Ashton Campbell, Absarokee
21: Kaydin Sibley, Frazer
20: Elizabeth Field, Westby-Grenora
20: Edward Murnion, Jordan
20: Lyndsey Kale, Shepherd
20: Sage McMinn, Livingston
20: Gracee Lekvold, Scobey
20: Rollie Worster, Missoula Hellgate
20: Aubrie Rademacher, Kalispell Glacier
20: Dyauni Boyce, Roy-Winifred
Wrestling
• Billings Skyview won the 62nd Annual Cowboy Invitational in Miles City. Skyview scored 188.5 points and Billings West placed second with 176. Billings Senior was third with 157. Individual champions in Miles City were: 103, Hunter Ketchem, Skyview; 113, Braxton Scheeler, Miles City; 120, Tanner Cook, Columbus-Absarokee-Park City; 126, Drake Rhodes, West; 132, Colten Fast, Glasgow; 138, Idren Peak, Senior; 145, Parker Seeley, Moorcroft; 152, Adin Gibson, Livingston; 160, Rylin Burns, Colstrip; 170, Nelson Crisafulli, Glendive; 182, Rowdy Pfeil, Moorcroft; 205, Brenner Bushfield, Skyview; 285, Journey Grimsrud, Huntley Project.
• Sidney won the 30-team Bismarck Rotary for the second straight season in Bismarck, North Dakota. The two-time defending State A champion Eagles scored 295.5 points. Bismarck High School was second with 223.5 points. The Eagles slipped past Bismarck by one point (213-212) last year. Aden Graves (145), Jett Jones (195) and Brodey Skogen (220) claimed titles for the Eagles.
Swimming
• Bozeman's girls and boys took first at the Bozeman High School Invite. The girls scored 295.50 points. Great Falls CMR was second with 214 and Billings Central was third with 190.50. The Bozeman boys dominated the pool with 369 points, with Great Falls second with 282 and CMR third at 208. Great Falls' Isaac Woldtveldt had a standout day by taking first in the boys 200-yard freestyle (1:52.87), first in the 50 freestyle (22.85), first in the 100 butterfly (55.45) and second in the 100 freestyle (50.54). Bozeman's Erin McKinney took first place in the girls' 100 freestyle (56.85) and first in the 100 butterfly (1:04.50). Catherine Russo of the Butte also took home two first-place finishes, in the 200 freestyle (1:58.09) and in the 100 backstroke (1:00.84).
Get in the game with our Prep Sports Newsletter
Sent weekly directly to your inbox!