Two new basketball coaches have arrived in Whitehall, but the path Mike Moulchin and Mecklen Davis took differ greatly.
Whitehall superintendent Hannah Nieskens confirmed the additions of Moulchin as the boys basketball coach and Davis, a former Montana State Bobcat, as the girls basketball coach after the departures of previous coaches Zach McLean and Kelly Nieskens.
For Moulchin, his new role as the head coach of the Trojans was initially one he planned to share with McLean.
"Zach did a great job this year," Moulchin said. "He only had seven kids on the team. I thought I was going to work with Zach this year, but he decided to step down."
Moulchin cut his coaching chops primarily in Las Vegas, most notably at Clark High School. There, the new coach of the Trojans took a team that went 18-88 over the previous five seasons to three-straight playoff appearances at the 1A level in Nevada.
However, Moulchin has been in Jefferson county for longer than one might realize, as he moved to Whitehall with his wife months ago where he watched the Trojan boys during their 2019 season.
"I went to the Whitehall games and was impressed," Moulchin said. "Coaching in Vegas, going into schools like Bishop Gorman, you're going into a war zone. But out here it's a little more relaxed. I remember they lost one game by about 20 points and the stands gave the team a standing ovation, they support them."
Whitehall went 2-8 in District 5B this past season, but while the Trojans are coming off a tough season, Moulchin believes in the young talent on the squad.
Moulchin listed Flint and Dylan Smith, Hayden Hoagland and Brendan Wagner as talented players, but that his responsibility is not just having talent, but working with them and turning them into a competitive team.
"Brendan's a fine point guard, but I think he can be much better," Moulchin said. "We have to make him more fluid and we have to open the offense in general. We need to use the post more, Hayden Hoagland who's 6-5, we can expand his game and play him inside-out. Both Smith boys as well. There's a good nucleus to work with and putting in a system after seeing them last season."
Mecklen Davis
While Moulchin has worked his way to Whitehall from outside of the Treasure State, Davis arrives with a Montana-based resume.
After averaging 7.9 points and 3.5 rebounds in his final season with the Bobcats in 2008, Davis began his coaching career out of Bozeman.
Davis has balanced being a coach for Gifted Outlier Hoops, a travel basketball program based out of Bozeman, with being a coach of the Gallatin Valley Homeschool basketball team for the past eight seasons.
He's found consistent success with both, but in terms of transitioning to being the Trojans' head coach, the biggest benefit of work with G.O. Hoops is that he's already familiar with two of his players.
"Brenda Wolfe and Jada Clarkson have trained with us for almost six years now," Davis said. "They've started going to school over there at Whitehall. I recently put in my resignation because other programs were asking me to coach, but it just so happened that the Whitehall girls needed a coach, and I was interested."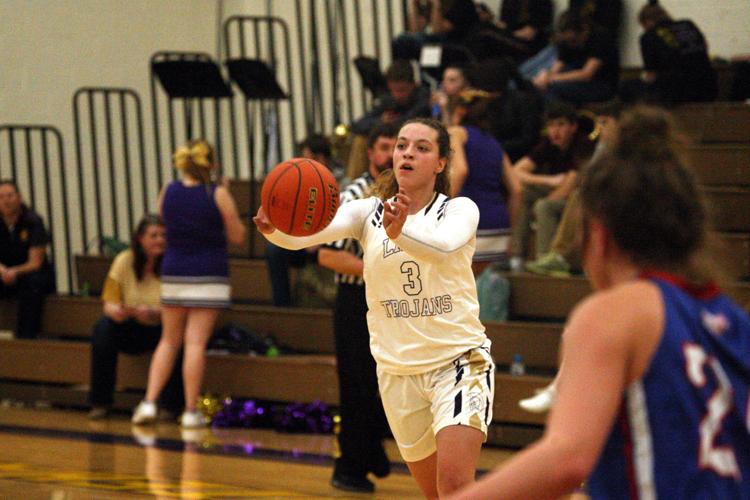 Davis comes into a program that was competitive in 2019, finishing second in 5B with a 6-4 record in the district and an 11-6 final season record.
Davis' experience in coaching outside of the MHSA has allowed him to get a clear picture of the environment in District 5B, and mentioned his knowledge of players and schools elsewhere.
"We've also trained with other schools all throughout the state," Davis said. "I've worked with various girls on the Whitehall team over the years. With [Wolf and Clarkson] both going to school there, I've gotten to watch a good amount of their games.
"It was kind of a no-brainer when I was asked. I know the team and the situation, but I don't know all the girls and that will be a challenge. They just went to divisionals, the talent is there, we just need to keep pushing on this journey."
The Trojans lost important seniors in Britney Welker, Asha Noyes and Ashlynn Ellison, but Whitehall returns eight players, including four seniors to go along with Clarkson and Wolfe.
After making it to the divisional tournament and just nearly missing a state tournament appearance, there's reason to think that the Whitehall girls will be able to carry momentum under Davis rather than build from scratch.
"I think state is what the girls are thinking to be completely honest with you," Davis said. "For me, I'm just trying to push the girls to be the best athletes they can be. I want to help them achieve their goal… That's the goal for the seniors, and if they have that goal, we can definitely get the rest of the team on track."