BUTTE — The induction of three teams into Butte High's Silver B's Friday night will be highlighted by three living members of the 22-member 1947 Bulldogs.
Jack Saunders, Bob Williams, and Dan Schmitt will be just the 16th, 17th, and 18th members of the Diamond B's, in recognition of the 75th anniversary.
Saunders will be at the ceremony on Friday.
"I am so grateful for the honor, and for the work that the Silver B's have done," Saunders said. "To keep the tradition alive for 83 years is amazing. A well-earned congratulations for the 1972 and 1997 teams on their inductions as well."
Saunders and the . The Bulldogs outscored their opponents 162-61, which included an impressive six shutouts and a stretch of three consecutive shutout to help Butte win the Big 7 championship.
"Coach Swede was a tough coach, but we all enjoyed playing for him," Williams said. "We had a ton of respect for him, as well as assistant coach Bill Hawk."
"Most of us learned more lessons on the football field than in any book, that's for sure," Saunders said. "Many of the lessons that I learned from Coach Swede and Coach Hawk I took into the business world with me."
The team was an interesting mix of players that represented Butte's blue-collar ways. Tough and hard-nosed, the Bulldogs of '47 took on the competition and were relentless.
"Playing football in Butte was a great experience," Williams said. "People did not like Butte much because we were successful. Football was rough-and-tough. At the same time, we were all good sports and played clean football."
"We were definitely a representation of Butte," Saunders said. "We were able to make great things happen on the field. We had a ton of talent and made things work."
The Bulldogs started the season with a game at Pocatello, Idaho. In a tight contest, Pocatello squeaked by Butte, 7-6.
Butte bounced back with a 27-0 win against Havre, but suffered a tough loss to Miles City, 20-14.
The 7-0 win over Great Falls started an impressive run of five shutouts over their seven-game winning streak. The only teams to score against the stingy Bulldog defense were Billings and Missoula. The shutouts came on the road against Kalispell and Anaconda, and at home against Butte Central and Helena.
The 21-0 against Helena on Nov. 14, 1947, was play in icy conditions in six-degree weather.
"What I remembered the most about the Helena game was how we all had to navigate the field conditions," Williams said. "It was ice on top of snow and we all had the cleats on. If we went in one direction, we had to continue in that direction. If we cut back, we landed on our butts. Not to mention it was six degrees."
Having to ensure the slick field conditions, Tom Tomich blocked two punts that ended up being returned for touchdowns by Bob Williams (30 yards) and Joe Roberts (in the end zone). Alex Chavez's 35-yard touchdown pass to Roberts accounted for the lone offensive touchdown.
The Bulldogs outrushed Helena 194-62 and managed 92 passing yards on four completions.
"The way that our backs were back then, we could have gained a ton more yards," Saunders said. "We all had trouble keeping our footing. We should have used different shoes in the game."
The state championship was played on a slippery trek in Billings on Nov. 27, 1947.
Butte held a 20-7 lead before the Broncs scored two touchdowns blocked a punt for a safety to defeat the Bulldogs for the state championship, 21-20.
"In the second-half, we couldn't get the ball back from Billings," Williams recalled. "Each time they punted to us, their coverage team kept yelling that we touched the ball, resulting in a fumble. The officials listened and gave the ball back to Billings. Of course, I am looking at it from the perspective of the team that was affected by the ball."
"That 1947 championship game in Billings was a heartbreaker," Saunders said. "We just couldn't get the ball back. We learned more from that loss that any other game that I can remember."
Several 1947 Bulldogs were selected to the Associated Press All-State Team. 
Joe Roberts (end), Gene Downey (guard) and Alex Chavez (quarterback) received first-team honors. Gordon Jones (tackle), Joe Chelini (center) and Bob Edwards (end) were on the second team. 
Other first-year lettermen from the 1947 that have passed on are: Floyd Actis, Jack Anderson, Alex Chavez, Robert Craver, Gene Downey, Bob Edwards, Robert Graham, Fred Guay, Jim Hoida, Gordon Jones, Bill McKechnie, Bill McMaster, Wayne Seguila, Charles Shontell, Leonard Smith, Loren Southers, Jim Stafford, Tom Tomich and Lee Williams.
"Coming back to Butte over the years, my teammates and I looked back at the great times that we had on the field and always talked about those great games," Williams said. "Butte has such a rich tradition from the junior high school program all the way to varsity."
While Williams will not be present at the ceremony on Friday night, he is grateful for the honor of being inducted into the Silver B's in the Diamond category.
"It's a great honor," Williams said. "It should be a great night for everybody."
Gold Standard: Butte Bulldogs' 1972 squad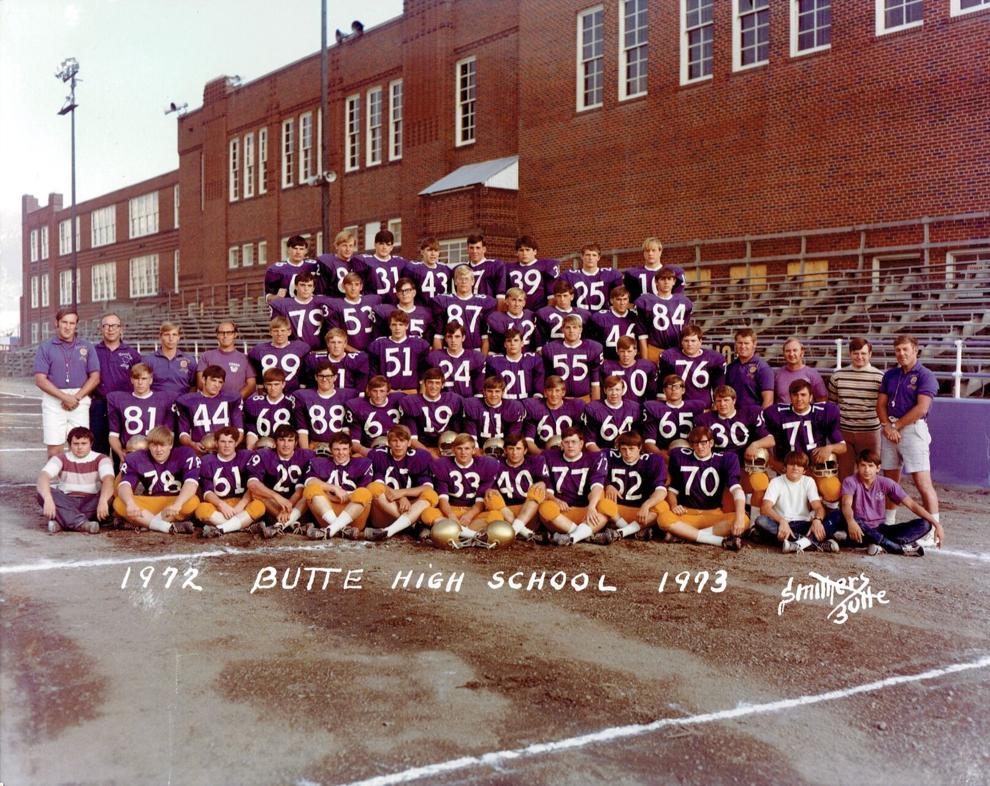 The Golden B's tier (50th anniversary) will induct Wayne Paffhausen's 1972 squad that went 6-4 against tough slate of talented teams. Butte outscored their opponents that season, 160-140.
The '72 Bulldogs was Paffhausen's third and final season at the helm. Much in the way of Butte itself, the Bulldogs were a gritty, grinding force on both sides of the ball.
Despite starting their schedule 0-3 against Butte Central, Kalispell and Billings West, the Bulldogs won their last five games and six of their final seven games. The average margin of victory during the five-game winning streak was 12 points.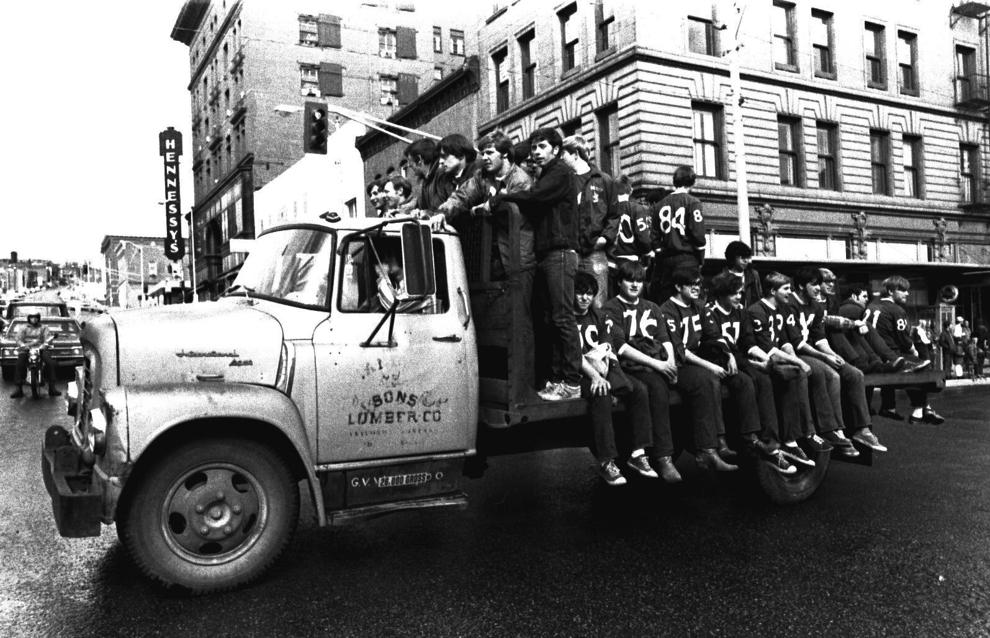 Several members of the 1972 Bulldogs earned All-State accolades.
Len Kelly (end), Dan Sullivan (tackle) and Len Kelly (defensive back) received first-team honors. Fellow D-linemen Len Jansen and Dan Sullivan were named to the second team. Jansen played defensive end while Sullivan was a tackle. John Masonovich, who played guard and halfback Mike Quinn were honorable mentions. 
Of the 23-letter winners on the team, 18 players are living members of the squad.
Tom Benson, Tim Bosch, Bob Clifford, Ed Dawson, Jr., Mark DeVore, Jim Dick, Terry Doble, Dean Harris, Chuck Hazlett, Dave Holland, Tom Madrazo, John Masonovich, Bob Peterson, Mike Quinn, Tim Shea, Joe Pat Thomas, Bill Varady and John Weitzel are the surviving members of the team.
Deceased members of the 1972 team are Mike Brown, Pat Driscoll, Tim Mandic, Gene Popovich and Barry Rademacher.
Silver Streak: The 1997 Butte Bulldogs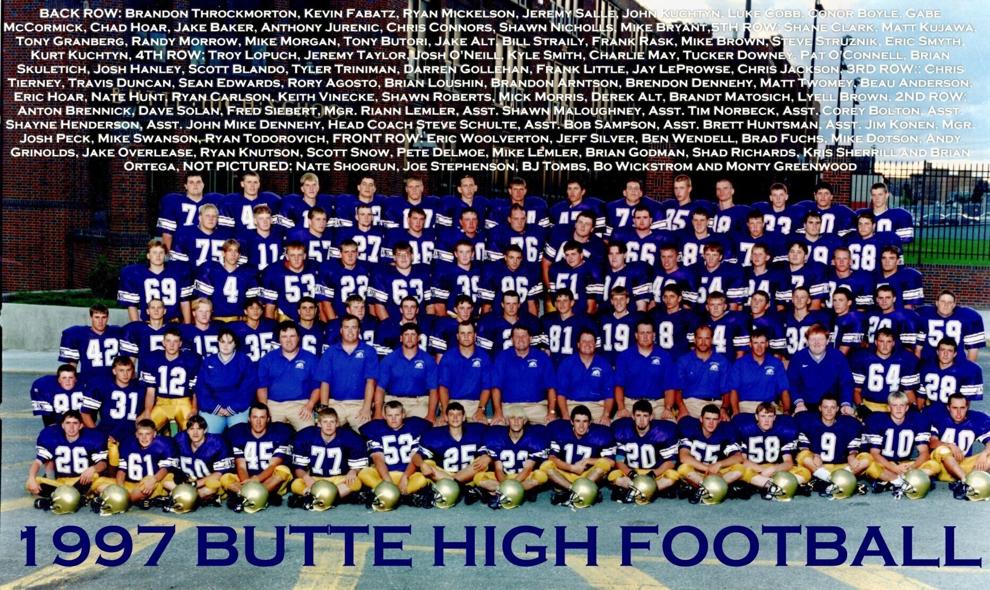 In recognition of their 25th anniversary, the Silver B's are welcoming to the club the 1997 Bulldogs, led by first-year head coach Steve Schulte.
The 1997 edition of the Butte Bulldogs went 5-5 against a stout schedule.
Although the squad did not make the playoffs, the Bulldogs were locked up in several tight battles that led to a 2-4 start.
Butte won three of their final four games, with the three victories being an average margin of 24 points.
The members of the 1997 Bulldogs were: Derek Alt, Beau Anderson, Scott Blando, Mike Bryant, Tony Butori, Ryan Carlson, Shane Clark, Luke Cobb, Travis Duncan, Sean Edwards, Brad Fuchs, Matt Kujawa, Frank Little, Brandt Matosich, Mike Morgan, Randy Morrow, Jeremy Salle, Kris Sherrill, Brian Skuletich, Bill Straily, Brandon Throckmorton, Matt Twomey and Eric Woolverton.
All three groups will be recognized before Butte's homecoming game against Missoula Big Sky on Friday night at Naranche Stadium.