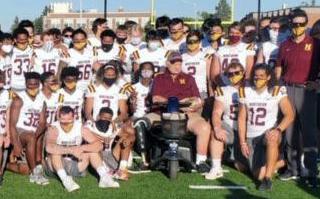 HAVRE — Barely a week after spending nearly six months in hospitals, where at one point he was given maybe a day or three to live, Mike Tilleman steered a scooter onto the sparkling new artificial turf at Montana State-Northern on a sunny Hi-Line evening.
Tilleman's heart, which has given the 76-year-old former Montana Griz and NFL tough guy so much trouble of late, was full. His words, which ordinarily flow easy for the country boy with a gift for spinning a yarn, eluded him.
"Oh my god," was all Tilleman remembers thinking of first laying eyes on the field. "That was it. Oh my god."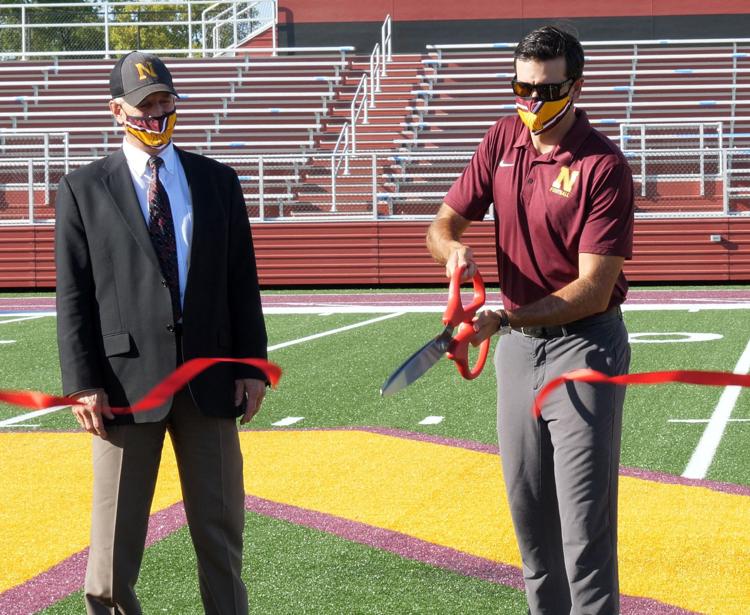 The Aug. 26 ceremony was not only the culmination of a privately funded $3 million capital campaign to give Lights football a campus home, but also a benchmark moment for a program Tilleman almost single-handedly resuscitated in 1999 after a 27-year absence and has kept afloat financially ever since.
After playing at Havre High School's Blue Pony Stadium, a long-struggling program described by Tilleman's son Craig as the Frontier Conference's "red-headed stepchild" finally has, in the literal and figurative sense, a level playing field.
Naturally, the surface is called Tilleman Family Field.
"We owe a lot to that family," third-year MSU-Northern coach Andrew Rolin said. "There really probably wouldn't be Northern football without them. It was a special night, not just for the football program but also for the university and town of Havre."
MSU-Northern Chancellor Greg Kegel, who describes himself as "a football guy" and whose sons played at Washington State (Matt) and Montana Tech (Justin), recalls standing with a cup of coffee each morning and watching the field's progress from his office window.
Kegel marveled at the work of Shaw Sports Turf, a North American company that recently laid turf in New Orleans' Superdome and at the New England Patriots training facility. When the project was completed, he said, workers told him it is "second to nobody" in terms of the attention to detail.
"It's absolutely the nicest football field in the state, and I've been told it is," Kegel said. "One of my boosters walked up to me and said, 'If this isn't the field of dreams, what is?' It's amazing and I couldn't be prouder.
"It will be a game-changer."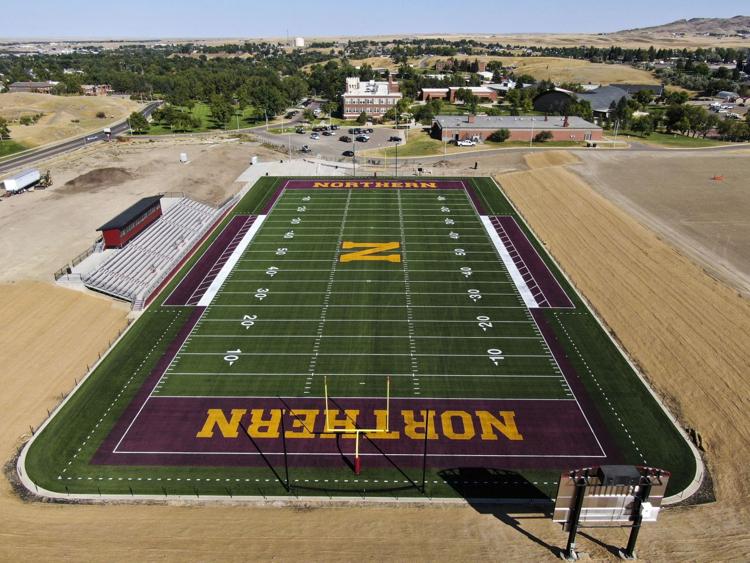 It was, of course, a community effort — no small feat given Havre's remoteness, modest population (9,700) and MSU-Northern's 1-49 record against Frontier opponents from 2015-19.
By the time ground was broken on Phase 1 of a three-phase project in March, more than $2.6 million had been raised locally and privately. Ezzies Wholesale, entrenched on the Hi-Line for a half-century, donated $100,000; Duchscher Kapperud Insurance chipped in with $25,000.
But nothing compares to the devotion of the Tilleman family in general and Mike in particular.
The son of Belgian immigrants who settled on a farm outside of Zurich, Mike was an all-round star and football all-American at Chinook High School who bulked up by lifting 20,000 hay bales each summer. He was deciding between Montana and Washington to continue his football career, and ultimately chose the Griz, he said, because UW happened to call the ranch on a day "I was picking rocks and it was colder than hell and, I don't know, just because they called and it bothered me so I decided to go to Montana."
After earning all-Big Sky Conference honors twice, Tilleman gave up his senior year with the Griz to play in the NFL. He starred on four teams for 12 years as a defensive tackle, led the league in tackles and sacks in 1972, and started in 148 of his 156 games; he earned the league's Brian Piccolo Award as the comeback player of the year in '72 after overcoming bowel cancer discovered during surgery to remove an appendix that ruptured during a handball game.
Instead of retiring in a big city like many of his fellow players, Tilleman opted to return to the Hi-Line in 1977, opening a car dealership first in Chinook and then Havre.
"I had a lot of friends who never left football," he explained. "They're in pro football and they played for Atlanta and they never left; they just died going to the game every Sunday and helping to coach it instead of going out and having a real life and doing something that everybody could understand, like get a paycheck."
Comparing his yearning for a simple family life on the Hi-Line to the glitz of other post-NFL careers, Tilleman added: "I was probably more interested in a Bud Lite."
By the time he returned to the Hi-Line, football had been gone from Northern Montana College for five years. After losing to Whitworth (Wash.) College 83-13 in November 1971, the Lights were sitting on a 23-game winless skid.
When the program resumed more than a quarter-century later, Tilleman made it his personal mission to ensure its longevity.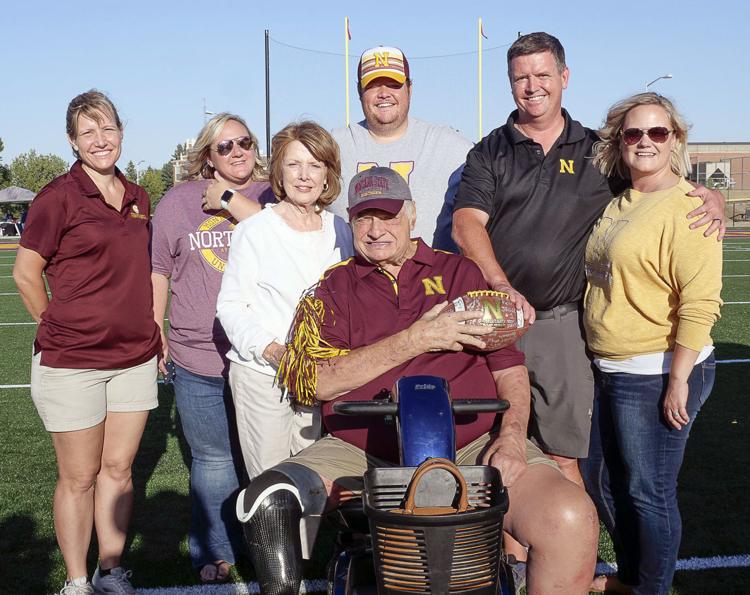 One spring, during a St. Patrick's Day party at an Arizona bar where Tilleman bumped into former Los Angeles Rams quarterback Roman Gabriel and other NFL brethren, they told him if he ever staged a fundraiser in northern Montana — anything but golf — they'd support him. Ever since, Tilleman's annual Legends for the Lights celebrity pheasant hunt and two other fundraisers have brought in more than $2 million for the Northern Lights Athletics Scholarship Foundation.
"Well, I think we are team players, my dad's a team player, we are hometown and we want to help Havre," Craig Tilleman said. "What's good for Havre? Northern is good for Havre. Northern sports are good for Havre. Havre needs Northern and Northern needs Havre."
Even so, without a home football field the Lights faced long odds trying to recruit against the likes of national NAIA power Carroll College and increasingly strong Frontier rivals.
From their musty locker room in the 1940s armory that hosts basketball games the players would board a school bus for the short journey to Blue Pony Stadium. It never felt like a home game, and the Lights paid for the second-class-citizen persona in recruiting and on the scoreboard.
Other than a four-year anomaly from 2005-08 — when Mark Samson was 27-16, fashioned the program's only two winning seasons and earned the team's only NAIA playoff berth — the Lights have been abysmal. They are 35-141 over the other 18 seasons since 1998.
The two most pressing needs: A coach with a pedigree and a home field.
They found the first in Rolin, a native of southern California who had been an assistant at San Jose State and San Diego and a graduate assistant at Washington.
"A stud," Craig Tilleman said. "Hopefully he's going to be here long enough to get us on the map. We're very fortunate to have him."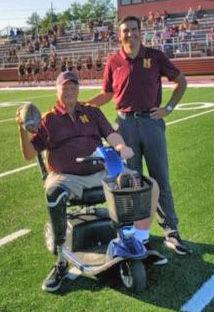 Rolin loved the idea of coaching at MSU-Northern in part because he has family in Montana, but he had one major condition of the job: A field.
"I want to build this program brick by brick, and you've got to have the right structure and foundation," Rolin said. "We obviously knew the challenges — the past records here at Northern — and we wanted to be able to change the tide with the right staff and the right student-athletes in the program.
"We talked about the stadium from the (start). This is going to have to be part of the deal. You need to build a first-class facility to compete in the Frontier Conference."
First in line with a donation? Mike Tilleman.
"Then once people see money being given they get excited and donate," Craig Tilleman said.
By the March ground breaking, Mike Tilleman was in a hospital with a heart-related bacterial infection.
Craig Tilleman said he'd watched his father age rapidly before his eyes and didn't understand why. One day, after going to Chinook to do some ranch work, Mike tripped in the family home, hit his head and was knocked unconscious for what he said was the third time in his life.
The first time was during an NFL game as an original member of the New Orleans Saints. The second? He was on the shoulder of a highway watching foxes chase mice when his father inadvertently ran into him at 55 mph with their El Camino. Until passing out an hour later, Tilleman declined an ambulance ride to a hospital; the El Camino was totaled.
"I was in La-La Land for four or five months," Tilleman said.
The prognosis was grim at times: As little as one day and no more than two months to live, in part because of complications affecting other organs. Amid such uncertainty, MSU-Northern officials wanted to ensure they could honor Tilleman properly, so they scheduled the Aug. 26 ceremony even though a home football game would've been ideal.
Tilleman concedes he was fatigued, but he sat for pictures and has been gaining strength since arriving home more than two weeks ago. Though he requires help with routine activities — "What do you do with a 300-pound galoot? How do you shower?", he said with a laugh — his baritone voice and gift of country gab remain intact, "and now all of a sudden I'm starting to get some drive back."
Of course, when you've done as much for the community as Tilleman has, it means a steady stream of well-wishers dropping by.
"It's the damndest thing," he said. "I've got the greatest friends in the world. They come here in droves, and I ask them, 'Is this how you're supposed to act in a pre-wake?' They keep coming to visit, which is nice because if they come to visit when I'm cold I won't know it. Man, the support is unbelievable."
The MSU-Northern family would say the same about Tilleman and his family.
Thanks to their ability to galvanize the Hi-Line, the Lights have leveled the playing field. Coming in the next phase is a three-story complex on the south side of the field for housing football operations, a bookstore, kitchen for events and a the campus' second indoor basketball court; phase 3 involves parking and lighting.
For Kegel, the project isn't just about athletics. He cites studies of the Big Sky and Frontier conferences that show how "facilities like this" improve student retention and enrollment.
"I've said it from day one, this wasn't about football to me as chancellor," he said. "This one (football field) was a pretty easy one. The people that made this happen are absolutely adamant this was the right thing to do.
"It's really outstanding, a huge upgrade to our campus."
Despite going winless his first two seasons in the Frontier, the Lights have made incremental strides competitively and statistically. Rolin said that while the program remains young and progress will be paced, it was poised for modest breakthroughs until COVID-19 intervened.
When the Lights are competitive, Rolin, Kegel and the Tillemans firmly believe, Havre will rally around a school known locally as "The Harvard on the Hill" and the program will no longer serve as the league's proverbial red-headed stepchild.
"This place is hungry for it," Rolin said. "This special place doesn't get the reputation it deserves, and you know what? There's no other place I'd rather be than in Havre, Montana, with a winning program."
Mike Tilleman felt much the same when he returned to the Hi-Line with a full heart. Now, nearly a half-century later, as he stood on the field he helped build, surrounded by players he's long supported, representing a program he almost single-handedly rescued two decades ago, he couldn't have been more touched.
"It was unbelievably neat," he said. "The football field is beautiful. And if I'm going to be tied into something, it might as well be beautiful, right?"
Be the first to know
Get local news delivered to your inbox!