BUTTE — On fourth and 17 from the College of Idaho 21-yard line, Montana Tech wide receiver Trevor Hoffman made one of the catches of the Frontier Conference season in his first game of the year.
Running to the back corner of the end zone, Hoffman leapt up over two Yote defenders to haul in the touchdown, cutting the C of I lead to two scores. He would finish for 11 catches for 149 yards and leads the conference in receptions per game.
This week on the road against Eastern Oregon, the Orediggers will again likely lean on him.
"Big time excited about Trevor," Montana Tech head coach Chuck Morrell said. "Really felt last season that he was a real nice, strong compliment to Dion Williams. Stayed all summer and trained and lifted and worked and it's no surprise to anyone on this team that he is capable of that type of performance."
Williams, who owns basically every Montana Tech receiving record, was always going to be a hard player to replace.
But in Hoffman — who stands 6-foot-4 and is a bit over 200 pounds — Morrell has the potential to have another all-conference level performer. And this is not exactly Hoffman's first go around, either.
As a redshirt freshman last season he hauled in 46 catches for 511 yards and six touchdowns while soaking up tons of knowledge from Williams.
"I'm excited to take his place as one of the main guys," Hoffman said. "Hopefully I can keep balling out for the squad and feels good that the coaches have faith in me."
Outside of Hoffman, however, there was not a ton of production from the wideouts. Only three other receivers caught passes last Saturday — tight end Nate Sander (three for 36 yards), fellow tight end Jaylen Taggart (two for 18) and Kiley Capara (one for 15) — but the coaching staff does not seem to be worried.
"I'm still excited about a lot of guys in our receiving corps," Morrell said. "Obviously the game bent a particular direction and it just gets you off your game plan … so it didn't really allow us to showcase some of our guys that are out there. I thought Nate Sander had a real strong day from the tight end and he's going to be a threat for us throughout the course of the season.
"I've got a lot of other guys that I expect to make some big plays coming up here."
Hoffman and his fellow wideouts will have their hands full this week as the Orediggers will have a tough matchup against the Mountaineers, who are coming off a dramatic win over rival Southern Oregon.
They, however, are confident.
"They play a lot of Cover 4, which is good for us," Hoffman said. "They press every once in a while. They play their corners to the field and boundary, but I'm not super worried. I think I'm just going to do my thing and ball out."
You have free articles remaining.
Keep reading for FREE!
Enjoy more articles by signing up or logging in. No credit card required.
THREE KEYS
Watch the edge
Eastern Oregon has two of the best defensive ends in the Frontier Conference in juniors Sage Delong and Chase Van Wyck. Delong is massive, standing 6-foot-5 and listed at 255. Van Wyck, who is listed as a linebacker on the Mountaineer's roster, but is basically an edge rusher and is another big presence at 6-foot-2 and 245 pounds.
Delong had a monster game against SOU, totaling eight tackles (five for loss) and three sacks. Van Wyck had a sack as well to go along with two blocked kicks.
"(They are) arguably two of the best defensive players in the league, period. They were very good last year as sophomores and they're fantastic this year as juniors. Those two guys singlehandedly wrecked a lot of things for Southern Oregon last weekend.
"Every time you flip on the film they just really stand out there all over the place."
Contain Kai
Eastern quarterback Kai Quinn, a four-year starter, is a dynamic presence on the field and stopping him will be a major goal for the Orediggers. Through two games Quinn has completed 44-of-84 pass for 454 yards and two touchdowns and rushed for 45 more on the ground.
He does already have five interceptions on the year and with Montana Tech's impressive secondary, there should be an opportunity for turnovers.
Watch for him to finish the fourth quarter strong, however, as Quinn has a knack for leading late drives and wowing with incredible heroics during that time.
"He's definitely a young man that plays with a lot of confidence and he's got a great arm, is mobile and can get himself out of trouble," Morrell said. "He keeps his eyes downfield and makes plays."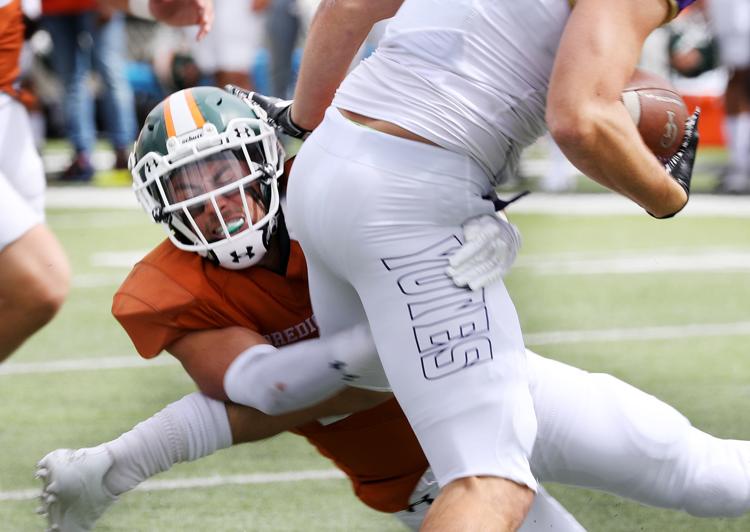 Running back roulette
Three Montana Tech running backs — Jed Fike, Tyler Folkes and Blake Counts — all saw carries against C of I and will likely do so again this week.
Fike finished with 22 carries for 97 yards, while Folkes had four for 28 and Counts had four for 13. Tech has said throughout its preseason camps that they were going to run the ball more and that certainly seems to be the case.
Giving carries to other backs than Fike — something Tech has not always been able to do the last few seasons — is going to be important throughout the season as well.
"It allows us to keep the running back position fresh throughout the course of the game," Morrell said. "I think if we can establish our presence from a physical standpoint, the big goal is for Jed to be able to put the hammer down late in games by peeling off some of the carries throughout the game that he's had to take in the past."