BUTTE — Over the final six minutes and six seconds of the first half, Montana Tech had no answer for the third-ranked Montana Western women's basketball team.
The Bulldogs went on a truly impressive 14-0 run during that span, hitting 5-of-7 shots (including two from 3-point range) as well of both of the free throws they attempted. On the other end of the court, the Western defense forced the Orediggers into 0-of-3 shooting and four turnovers.
The run gave them space and despite a few Tech attempts to make the game close, the Bulldogs rolled to a 70-57 win.
"We were able to keep them out of a paint and of course we made some tough twos during that stretch," Montana Western head coach Lindsay Woolley said of the run. "That was probably the best five minutes of defense we put together the whole game.
"They're tough to guard. They get to the rim, they get fouls … they do a nice job."
It's the Bulldogs second win over Tech this year and their ninth in the past five seasons. Tipoff of the game came just hours after Western received what's believed to be the first-ever No. 1 votes in the NAIA basketball poll.
The Bulldogs received two and had 207 points in the poll — just four behind No. 2 Columbia (Mo.) and trailed top-ranked Freed-Hardeman (Tenn.) by 11. Western has been ranked in every poll this year and currently sits at 19-1 on the season.
"It's a reward. It's nice for the kids and obviously some recognition for some hard work and buying into what we're trying to do with our program," Woolley said. "Ultimately when you come down to it, it doesn't mean anything. It looks good on paper … but if our kids don't stay focused on the task at hand it's just going to be a waste of time."
Tuesday's victory was the Bulldogs seventh in a row and they haven't lost since an 11-point setback against Providence in early January.
Western did miss some easy looks early in the first quarter and at points during the third, but the nation's top-ranked scoring defense (48.9 ppg) was enough to hold off Tech.
The Orediggers managed to pull it back within nine at the 4:30 mark of the fourth quarter, but a bucket out of a timeout from Cierra Lamey right before the shot clock buzzer pushed Western's lead back to double-digits. Tech missed a shot on the other end, which pretty much put an end to Tech's comeback hopes.
Tech did hit a few field goals and free throws as time wound down, though never was really able to cut into the Bulldog lead. After the game, Montana Tech head coach Carly Sanon was pleased with how her team responded after the early deficit.
Western made just three field goals in the third quarter and were outscored 34-27 by the Orediggers in the second half.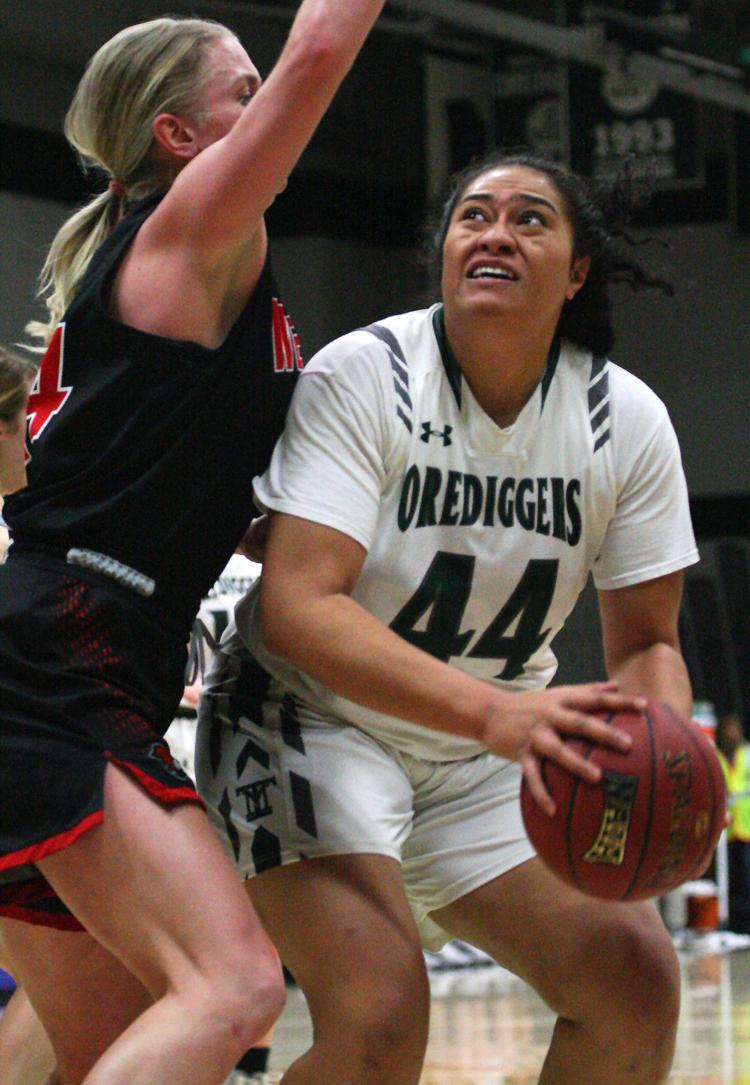 "I felt that first half we looked a little timid, playing scared, kind of chewed them at halftime about that and told them to just go out there and play," Sanon said. "When we play, it's a whole different ballgame. We've just got to make sure that every game we come out ready to play."
The loss moves Tech to 12-10 on the year with a 2-9 mark in the Frontier Conference. It was the Orediggers third game in five days and they'll head to Idaho for a game with Lewis-Clark State on Thursday.
Western will also play the Warriors, taking them on Saturday afternoon in Idaho.
"It doesn't get any easier," Sanon said. "It's another battle, but like I've talked a lot about, we get better and better each and every game."
HIGHLIGHTS: