BUTTE — On Jan. 10, 2015 the Montana Tech basketball team beat the (then) University of Great Falls to win consecutive Frontier Conference games.
It would be exactly four years before they'd accomplish that feat again. On Thursday night, the Orediggers made three free throws in the final three seconds of regulation to seal a 77-74 upset of No. 23 Providence.
That followed a Jan. 5 win over Rocky Mountain College. The Orediggers — sitting at 13-4 and 3-2 in the Frontier — are on a conference win streak now and they were exactly aware of how long it'd been since they could say that.
Owens late attempt is no good... but he's fouled. Argos bench was assessed a technical foul after this and the Orediggers made 3-4 total free throws. Tech leads by 3, 2.4 left in the game #mtscores pic.twitter.com/8QpLKoT5Oj

— Jordan Hansen (@jordyhansen) January 11, 2019
"I told the guys, this program had not won consecutive conference games in a long, long time," Montana Tech head coach Adam Hiatt said. "That was the next step for us. We've shown that we can win games at home, but can we win consecutive games. That's a big step for us."
That isn't to say the win was anywhere close to being easy. 
Argo guard Jacob Wetzel made a 3-point shot to tie the game with 18.4 seconds left, which left Tech to take the last shot. Troy Owens Jr. was fouled on a two-point attempt with 2.4 seconds left in the game and Providence's bench was assessed a technical foul following the call.
Nick Fitts then made 1-of-2 technical foul free throws while Owens Jr. hit both of his shots from the charity stripe. Providence called timeout and certainly still had a chance to win the game.
The ensuing inbound pass was partially tipped by Tech's William Mytty, but still fell into the hands of Providence guard Brandon Cotton. It was a well-designed play and Cotton got a final shot off before the buzzer, but it smacked into the shot clock and wasn't close to dropping.
"Yeah, it was a little dicey," Hiatt said. "We missed five-straight free throws and we could have sealed it at the free throw line … that made it real hairy.
"This is a young team and young teams get a little nervous in those moments."
The Orediggers trailed by nine at halftime, with Providence guard Austin Starr making a truly impressive 3-point shot at the buzzer. Tech, however, was quickly cut into Argos lead early in the second half. It took the lead with a little under 15 minutes remaining on a deep three from Nick Fitts and would not trail for the remainder of the game.
Providence refused to go away down the stretch, but timely Tech field goals were able to keep its opposition at arm's length.
"They made some free throws, we hit a three to get back in it, but I'm not really going to say anything about what happened at the end," Providence head coach Steve Keller said. "They played a really good second half and we played a really good first half.
"We got a little bit tired, but there's no excuses. They beat us."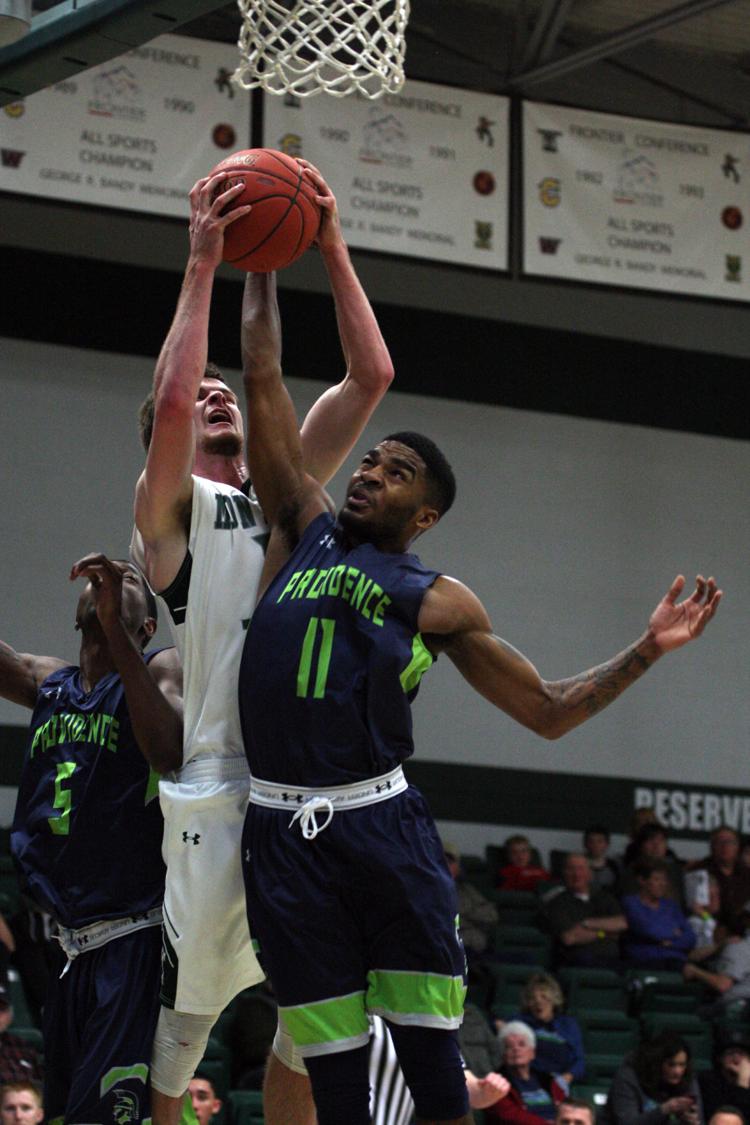 Owens Jr. led all scorers with 22 points on 17 shots, including three makes (of six) from behind the arc. All five Orediggers starters were in double-figures: Taylor England had 16 points, Nick Fitts had 13 (4-of-3 from 3-point range), Derrius Collins scored 16 and Dylan Pannabecker added 10.
Starr led Providence with 22 points while Jaxen Hashley ended with 17. Star Argo guard Jalen Shepard fouled out early in the second half with just eight points and Keller said after the game he should have taken him out of the game sooner.
"We didn't play well enough to win and they did," Keller said. "You've got to give them the credit.
HIGHLIGHTS: