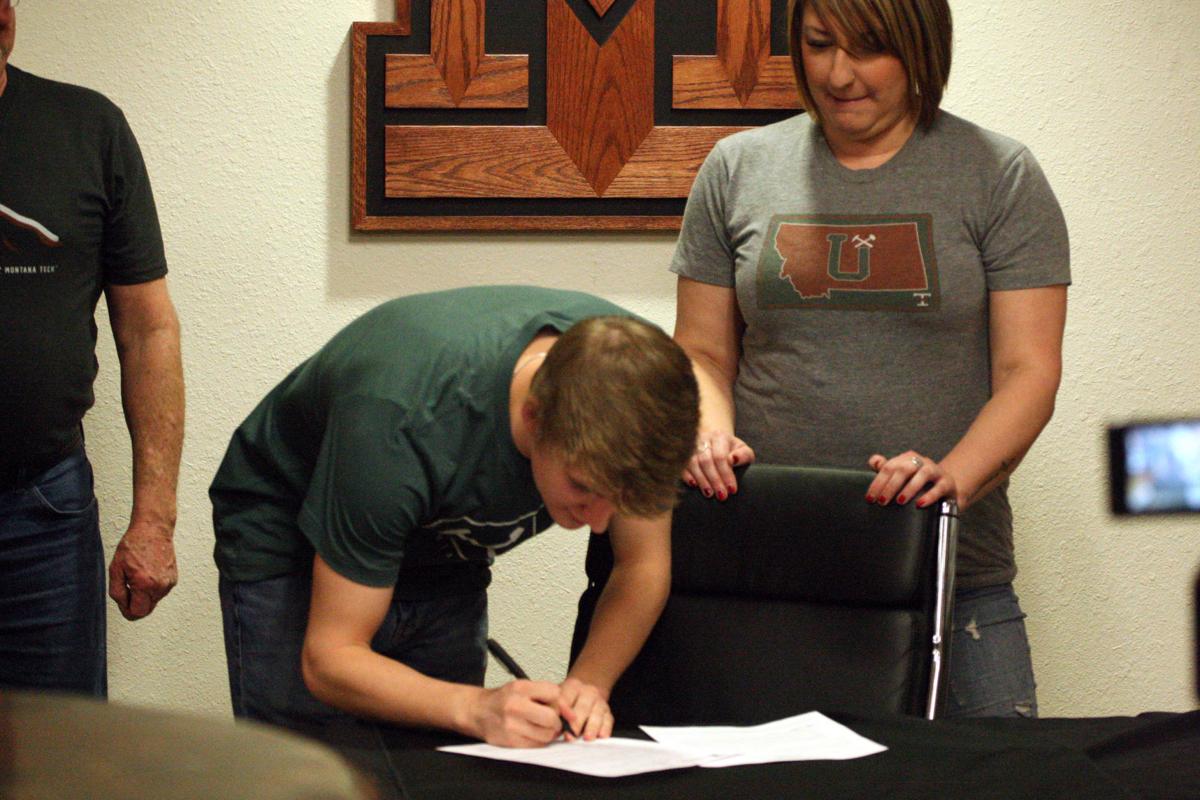 Montana Tech officially has their first cross country runner.
Butte native Jake Vetter put pen-to-paper on becoming the Orediggers' men's team's first roster member as Tech prepares for its first cross country season in the fall under head coach Zach Kughn.
Vetter said that he was looking for any chance to compete and that the opportunity to be Kughn and Tech's first signing was special.
"Anywhere I could explore my options and have the chance to run," Vetter said. "For it to be at Tech, it's amazing. I get to stay in Butte, where all my family is and this community, which is second to none, supporting all the athletes that they have. I think we'll have a big showing coming out."
Vetter has been on campus for a semester already after graduating from Butte High last spring, where the former Bulldog consistently led the school in cross country and track, setting school records along the way.
Kughn's a former runner at Montana State, and became the head coach at Winona State in Minnesota and Dakota Wesleyan in South Dakota after graduating.
Tech's first coach said that athletic director Matt Stepan pointed in Vetter's direction as soon as Kughn took the job.
You have free articles remaining.
"Jake's somebody that Stepan told me about as soon as I was hired," Kughn said. "Doesn't take long to find him in [online] results, he's arguably the best runner to come out of Butte. Probably the best range of anyone, someone who's running on the track but also has the 5K school record too."
Kughn added that the recruitment of Vetter was about as easy as any coach can hope for, considering that the freshman was already on campus.
"I reached out to [Vetter,]" Kughn said. "Luckily when you're a student here, you get a predictable e-mail address. I went on the computer, you type in the generic campus e-mail and said to come down and meet with me. He'd been looking for it too, so it worked out for us both."
Vetter, Kughn and the women's team's first commit, Manhattan's Jessa Steele, still have a considerable amount of time before their first season starts in fall of 2020.
In the meantime, Kughn said that his goal is to add a full roster for both the men's and women's teams.
"The goal right now is ten of each gender," Kughn said. "I think it's going to happen, there's a lot of interest in the school, first of all. Great academic institution, and that goes hand in hand with distance runners quite a bit. Getting these first signees on the board, publicly, will be huge for us and will be a catalyst for us to get the ball rolling."
Vetter said that he's been training at Tech's facilities with friends in the meantime, and Vughn has added that he's been running as much as he can to get familiar with the area of Butte and the running community.
Vetter's words to potential Butte High and Butte Central seniors that may want to join the program?
"It's a chance to be a part of something new and exciting," Vetter said. "You can help it grow and it gives you the opportunity to keep on running and competing, which is what all athletes want to do, is go out and compete."
Be the first to know
Get local news delivered to your inbox!