HELENA — Some people are destined for certain things and Kyle Samson, his destiny was being a head football coach.
From growing up in Helena, being around the game via his dad and his grandfather, two noteworthy head coaches in their own right, to his time in Havre, Kalispell and now at Montana Tech in Butte, his path forward was clear.
"Being a coach is kind of all I knew growing up," Samson said. "Watching my dad coach and my grandfather coach, being a coach's son, I always loved the game of football and as for as long as I can remember, I had a plan in mind to be a coach."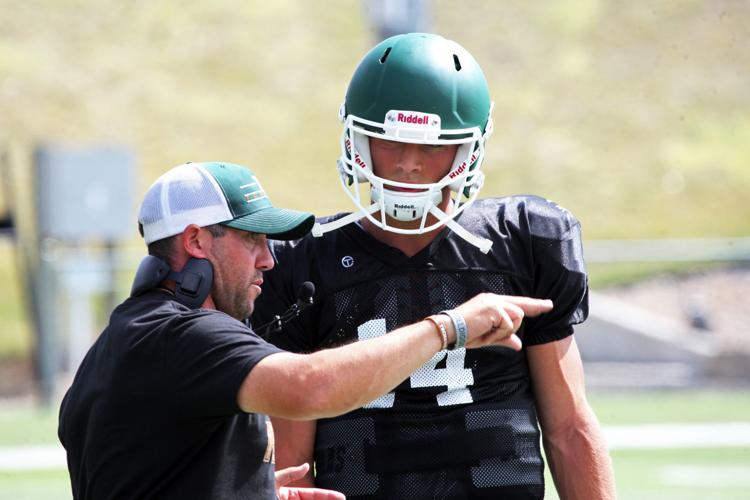 The old saying is that "those who can't, teach." In sports, it's "those who can't, coach."
Well, Kyle Samson doesn't fall into that category, because make no mistake, he could play.
In fact, Samson was such a successful athlete at Helena Capital he would eventually earn his way into the Helena Sports Hall of Fame. His achievements include earning all-state honors in football, basketball and track.
However, Samson is best known for what he did on the gridiron.
Playing for his dad, Mark Samson, Kyle was a two-year starter at quarterback for the Bruins. In 2002, he helped lead Capital to a 13-0 record and a Class AA state championship, the third in four years. 
Samson was first-team all-state after helping the Bruins overcome a 21-7 deficit against Great Falls CMR in the state championship to win 28-21. He was also Montana Gatorade Player of the Year.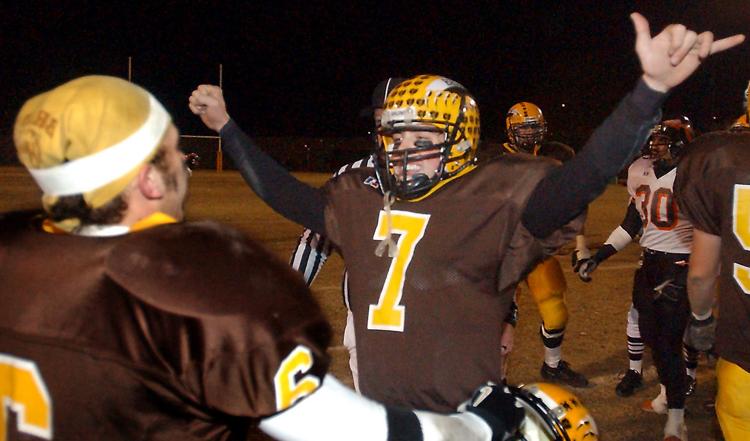 Yet, as talented as Samson was, other qualities stuck out more. 
"He was far and away one of the best leaders I've ever been around," Mark Samson said. "You know what I mean when I say certain people have it, well, Kyle, was one of those people. He just had it. He knew what he had to do and he could get it done."
One shining example of that "it" factor came during Kyle's senior season, in a road game.
Capital, ranked No. 1 and undefeated, wasn't playing well. When the Bruins took possession late in the first half in their own territory, Mark told Kyle to take a knee to run out the first-half clock.
"We were playing terrible for the No. 1 ranked team in the state and I wasn't very happy," Mark said. "I said 'Let's take a knee and go figure this out.'"
"He goes, 'No. Give me the ball and I'm going to score," Mark said. "Then he runs out there and does it." 
It took the Bruins about 30 seconds to reach the end zone. On the sideline, Mark said Kyle had another message: 
"He came over to me and said, 'Don't ever doubt me, dad, I'll always get the job done.'"
Just like that, Samson was befuddled about what to say at halftime. 
"In a span of about 30 seconds, I went from not being very happy, to giggling to myself, wondering, OK, now what am I going to say to the team?" Mark said. "But the message was clear and that's what great athletes do. Certain times you have to step up and take it upon yourself and that's what Kyle had the ability to do."
Samson committed to Montana and played in Bobby Hauck's inaugural season as the head coach in 2003. He was recruited as a quarterback/athlete and played in 10 games as a freshman, including significant snaps at quarterback in a win over Idaho, after injuries to the top two guys on the depth chart.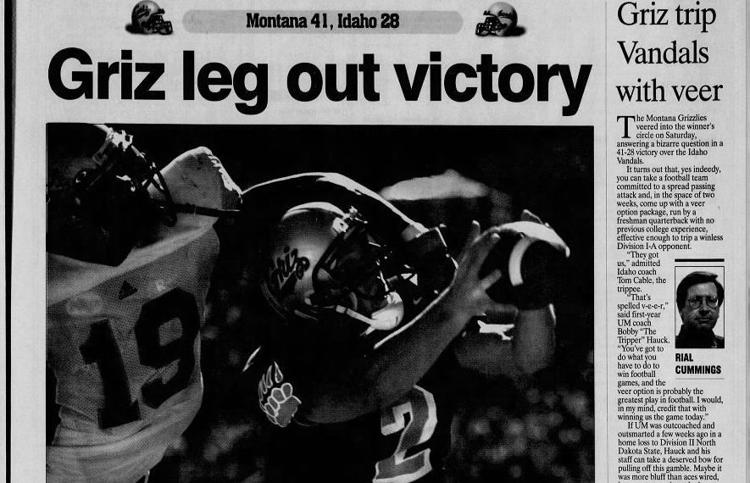 "I rotated at quarterback and played some special teams," Samson said. "That was a great experience and something I'll always remember."
But after that 2003 season, Mark Samson left Capital to become the head coach at Montana State-Northern and Kyle transferred away from Division I football to quarterback the Lights, who were fresh off a one-win season.
"I always told him, if he ever got a college job, I'd come play for him," Kyle said. "It just so happened after that year he did. I didn't really know much about Havre or MSU-Northern when he took that job, but myself and my brother and all the people that went and played for him felt like it was the ultimate challenge and my dad felt the same way."
Mark Samson took over a Northern program seemingly light years behind Carroll College, which had just won the second of back-to-back NAIA national championships.
But armed with Kyle, his other son Marc, and a number of talented former Bruins, including running back Don Saisbury, the Lights eventually turned the corner.
Much of it had to do with Kyle, who would became an All-American and the Frontier Conference Offensive Player of the Year in 2006.
"It didn't take much recruiting," Mark said of getting Kyle to Northern. "He always wanted to play quarterback and it ended up being a good situation for him. But I always believed it was him and my other son Marc, as much as anyone, that allowed us to get the kids we needed to get up there (Havre) in order to get that turned around."
The Samsons ushered in the golden era of Northern football. 
The best year came in 2006, when Kyle was a senior. The Lights were 9-2, made the NAIA postseason and upset No. 1 Carroll — an unthinkable feat just a few years prior.
"A lot of people thought my dad was crazy," Kyle said. "But he saw some pieces in place and taking that program from winning one game to beating Carroll, a program that was so well-respected and had so much success, that was a great reward for all his hard work and for all of us kids from Helena, that meant something extra special."
After throwing for 5,303 yards and 35 touchdowns in his career, along with 1,591 rushing yards and 15 rushing touchdowns, Kyle made the transition from player to coach, becoming MSU-Northern's quarterbacks coach leading up to the 2007 season.
It only took one year, however, for Mark to promote his son to offensive coordinator, which meant handing over the play-calling duties. 
"He's got a good mind for football," Mark said. "But he's a great recruiter, too. He brought a lot of good kids to Northern and a lot of that is just his personality. People gravitate to him."
The time coaching under his dad at Northern was also a critical part of his tutelage.
"I learned a lot, especially those first couple of years," Kyle said. "He shared a lot of knowledge with me, obviously, we always spent a lot of time talking about football and he gave me the reigns and I think that's a huge part of my progress as a coach." 
Kyle left Northern after 2013 to become the head coach at Kalispell Flathead and his dad followed suit in August 2014, ending a historic run that saw MSU-Northern win 46 games in 10 years, including 40 in the Frontier. In the seven years since their departures, the Lights have won seven games total and are 3-57 in conference play.
"I still think that's one of the greatest coaching jobs ever in the Frontier Conference," Kyle said. "He did a tremendous job turning that program around. A lot of people didn't think he could do it and I just think it speaks volumes about the kind of coach he is."
In Kalispell, Kyle had a similar rebuilding job ahead of him. The Braves, once a perennial Class AA power, had won four games in the two years prior.
It took some time, but after leading the Braves to three wins in 2014, Samson had them back in the playoffs with a seven-win regular season in 2015 and another playoff berth in 2017.
In 2018, Flathead made it to the Class AA state championship game before falling to Billings West 21-17.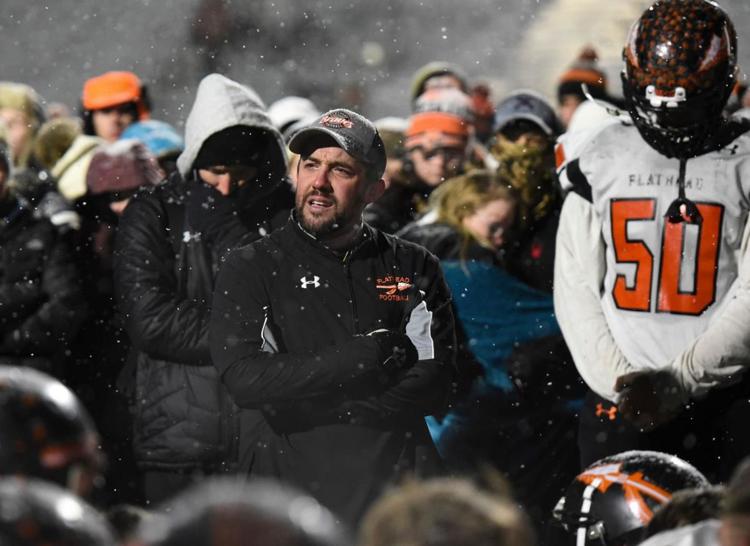 "Being a head coach in high school taught me a ton as well," Kyle said. "It's just a lot different going from the coordinator to being the head coach and being in charge of the whole program. 
"I think I learned a lot in my five years at Flathead," he added. "And I am hoping that will help me in being the head coach (at Montana Tech)."
Like his father, who went from Class AA to the Frontier Conference, Kyle has made a similar leap. He took Montana Tech's offensive coordinator job last season, then after Chuck Morrell departed for Fresno State, he was named head coach.
"I've always had a goal to be a head coach in this conference," Kyle said. "So it's a great honor. Montana Tech is one of the best jobs in the Frontier Conference and I've thought that for a long time."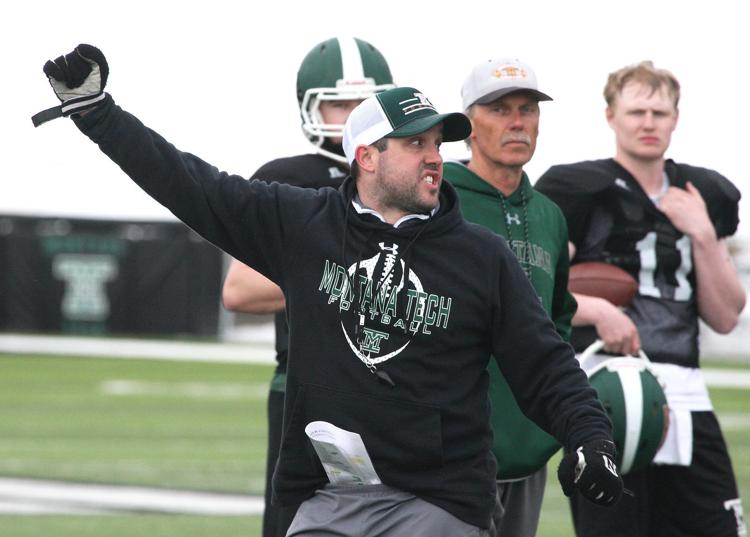 Once an assistant at Carroll under his father-in-law and Saints legend Bob Petrino, Mark Samson has no reservations about cheering for the Orediggers.
"I've got tons of Montana Tech stuff," he said with a laugh. "It's great to be able to go and watch a game. Heck, I hadn't been to a college game for a long time before last season and it was kind of nice to be in Butte or Helena, just sit in the stands, eat a hot dog and watch the game."
Mark, now head coach at Great Falls High, still offers his own two cents from time to time.
"We talk football all the time," He said of him and Kyle. "But mostly just the game in general. Sometimes about certain players or things. I will tell him and my son-in-law (Travis Dean, Tech assistant), jokingly, all they have to do is listen to me. But I don't have to tell Kyle what to do. He knows what he's doing."
There's no doubt Kyle Samson's dad has played a central role as the 35-year old embarks on his first season as a college head coach. And that's not likely to change.
"We still talk a ton," Kyle said. "It's a special thing. I still get a lot of advice and feedback from him and it's great to have that person you can always call on for advice."
For Mark, the Tech job is the fulfillment of something he's seen coming a long time. 
"I always knew he'd be a coach," he said of Kyle. "I jokingly said to him, 'There are better ways to make a living.' But he's good at it and it's what he's wanted to do." 
Chris is the sports editor and lead preps reporter for the Independent Record and 406mtsports.com. Follow him on Twitter @cmpetey406
Be the first to know
Get local news delivered to your inbox!