BUTTE — With plenty of college freshman basketball players, coaches will see flashes of what's to come.
A shot here, a nice dribble drive there. Maybe a particularly nice pass or the perfect execution of something the team has spent time on in practice. But usually, they won't put it all together until later in their career.
Dani Urick is just different.
Sure, the freshman out of Belt has things to work on — that's a given with any player. There's just something about the way the Montana Tech guard plays that makes her look like a player far beyond her years. A cool feel for the game, fantastic footwork and versatility that's impressed head Oredigger women's basketball coach Carly Sanon.
Maybe that's why she's started nearly every game this season.
"There's been times I'm like 'I wish I had five Dani's' because she does so many good things and she's only a freshman," Sanon said. "I think her potential is unlimited."
The realization of Urick's talent began at Belt High School, where she was a four-time all-state basketball player under head coach Jeff Graham. During her four seasons, Urick scored 1,498 points and won two state titles in basketball.
She also was a standout on the track, throwing javelin and shot put as well as spending time in the high jump pit. Oh, and she played volleyball as well and helped the Huskies earn their first state volleyball championship her junior season.
Her first love, however, was basketball and the sport she was easily best at. Belt's a fairly decent sized Class C school (enrollment of 74 last spring) but it's still a school where everybody knows everybody else.
Urick liked that and along with the team chemistry it helped build. The Huskies had been good in most of their sports for years and her time there was no different.
"I was super fortunate to have really good coaches in every sport," Urick said. "So I think we all grew up playing with each other so by the time it came to high school, we knew each other's strengths, so it was much easier to play with each other since we'd been playing together so long."
The small-town feel has, in some aspects, translated, to Montana Tech. Sanon knows Graham well, as she went to high school with him at Chester, which is now part of the Chester-Joplin-Inverness cooperative.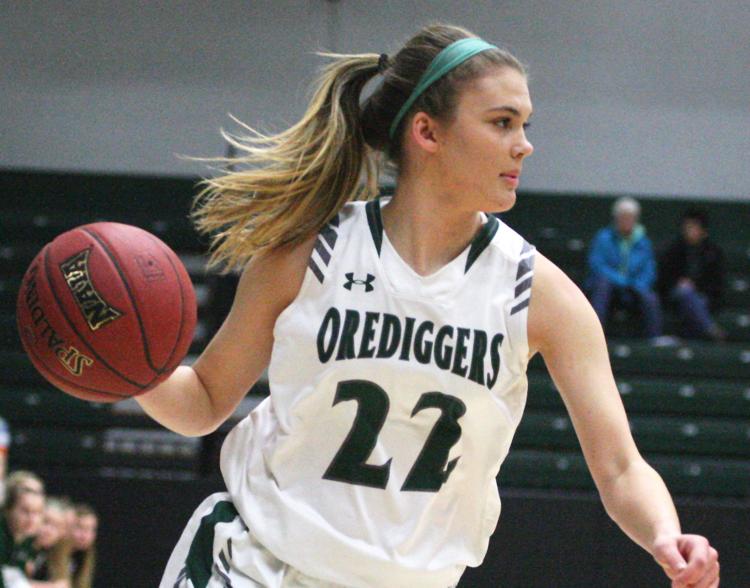 From a Class C school, Sanon knows where to go looking for players and Urick was no different. There are several on the Orediggers squad this season and it's been a calling card of Sanon's tenure.
She'd known about Urick for a while and felt that Montana Tech would be a good place for her to come and play. There was just one problem — the Belt senior didn't know if she even wanted to play basketball at the next level.
"After the season was over, really started talking to her hard and we were gonna have her come up," Sanon said. "(The Belt) boys team was going to play in the state tournament here and she was up here and was gonna come then, but the roads got really bad and her parents went home.
"But we did get her up here."
Urick liked the campus, liked the academics and liked the student-athletes who would eventually become her teammates. She knew some of them — Mesa Williams (another Class C product), Hailey Crawford and Molly Peoples — and it wasn't long before the Husky was now an Oredigger.
It also wasn't long before Urick found herself thrown into the rotation. Sanon had raved about her leading up to the season, so it wasn't exactly a shocker when Urick started Tech's first game of the season and dropped 11 points while hitting a pair of 3-pointers.
Well, maybe a little bit to Urick.
"It was a surprise to me I guess," Urick said. "But I mean I was working really hard to get a spot and get playing time."
She's certainly found time on the court. Urick's averaging 30.5 minutes per game, which is the highest on the team while putting up a touch less than 10 points per contest. She's third on the team in assists and has — by a strong margin — the most steals on the team and is fourth in the conference in average swipes.
That's not even to mention her upbeat personality and strong academics. Urick lamented the fact she's missed class due to basketball, but says bus rides and study sessions have helped her keep up.
Given the chance, she's more likely to be found in the Highwood Mountains hunting elk. Her family has a cabin there and Urick has spent many hours fishing and hiking, two more of her favorite things to do.
Other than star on the basketball court, that is.
"She's a Montana kid through and through," Sanon said. "That's for sure."