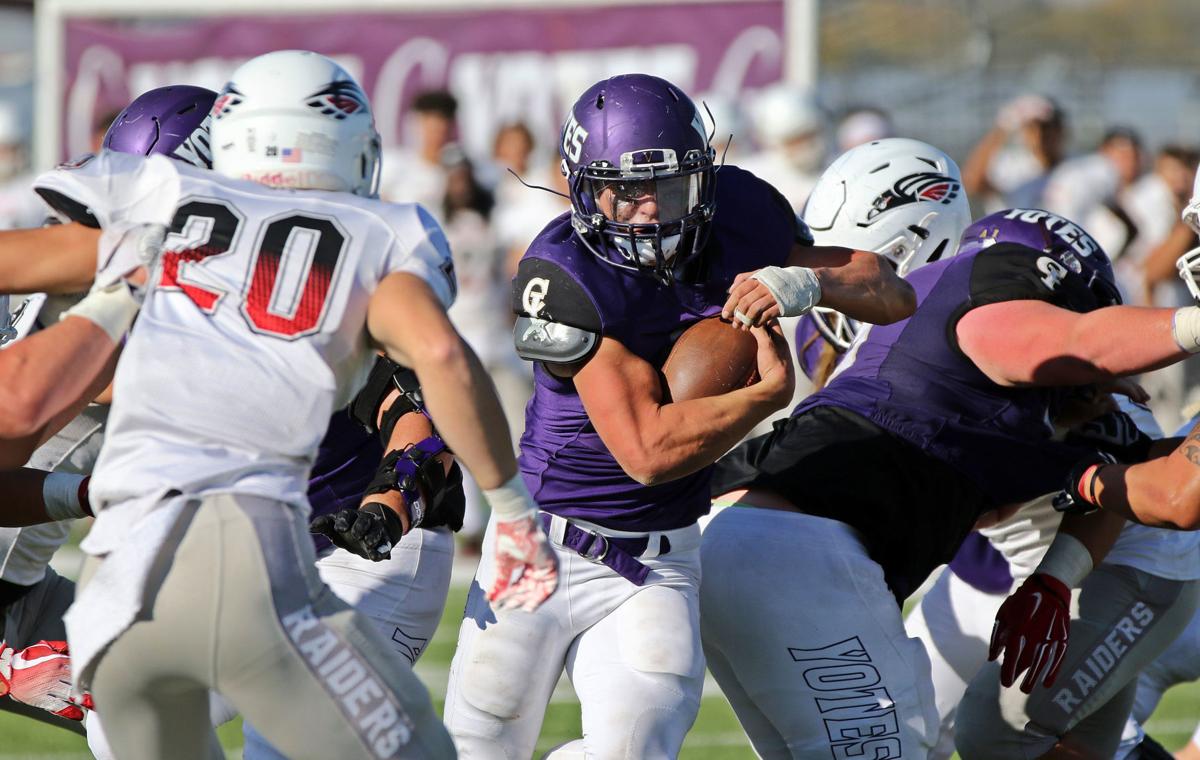 They say you shouldn't judge a book by its cover.
But when it comes to the frontier Conference football power rankings, that's not the case.
Although, I did read the first few pages to see what happened in the first full week of Frontier Conference games. Though that is just a small sample size, it gives fans an idea of where we are heading in week 3.
There are no breaks when it comes to the power rankings, folks.
The College of Idaho takes the top spot and the deck has been shuffled around from last week.
Agree or disagree? Let me know on twitter at @rskuhn
1. College of Idaho (2-0, 2-0 Frontier)
Last week I pondered the question, "What is a Yote?"
Now, I think I have an answer.
The Yotes are a really good NAIA football team.
The No. 15 College of Idaho travelled to Butte and took down Montana Tech 28-14, as its quarterback showed once again why he is a candidate for offensive player of the year.
Darius-James Peterson finished with 218 total yards and two touchdowns.
The only problem is that he might have some competition on his own team.
Running back Nick Calzaretta finished with 247 yards rushing on 24 carries and a touchdown.
Not saying this will be a weekly occurrence but, if he keeps this up, he will be on pace for more than 1,800 yards rushing this season.
That's a pretty lethal 1-2 punch.
Next up: vs. Southern Oregon
2. Rocky Mountain (2-0, 1-0 Frontier)
I had my doubts that Rocky Mountain was going to have a sub-par season after bringing in a new coach and graduating quarterback Jacob Bakken.
Boy, have the Battlin' Bears left me with my foot in my mouth.
Rocky dismantled Montana State Northern in Billings this past Saturday 53-34, and it looks like their offense is picking up where it left off last season.
Quarterback Drew Korf had a career day, completing 24 passes for 332 yards and five touchdowns.
If only there was a NAIA fantasy football league, right?
Add running back Sam Sparks' 133 rushing yards and Rocky Mountain might be a team looking to contend with College of Idaho for a Frontier Conference title.
3. Montana Western (1-0, 1-0 Frontier)
I have said it before, and I'll say it again…Montana Western isn't a secret anymore.
The Bulldogs ran out of the gates with a 31-24 win against Carroll College on Saturday.
Montana Western is going to pick up wins this season. It finished with six last year and was picked to finish third in the Frontier Conference.
The thing that stood out was how the Bulldogs got the win, scoring with less than two minutes left in the game.
Much like Rocky Mountain in week 1, this shows that they have the determination and maturity to finish a game like this.
Oh, and it doesn't hurt that sophomore quarterback Jon Jund threw for 356 yards and four touchdowns.
Look for a great offensive game in the coming weeks as the Bulldogs travel to Rocky.
Next up: at Montana State-Northern
4. Eastern Oregon (1-1, 1-1 Frontier)
Eastern Oregon moves up some spots after quickly putting behind them a 48-12 stomping by the College of Idaho in week 1.
The Mountaineers travelled to Southern Oregon and came away with a 24-21 win when quarterback Kai Quinn threw a 4-yard touchdown pass to Saige Wilkerson with 10 seconds left in the game.
Don't overlook Eastern Oregon this season.
Coach Tim Camp revamped his offense and defense. As the longest tenured coach in the Frontier Conference, he has the experience to get some wins.
Wilkerson was listed as a quarterback on the Mountaineers roster but showed off he was a valuable receiver, finishing with seven catches for 65 yards.
If its quarterback can be a valuable receiver like that, what else can Eastern Oregon do?
Next up: vs. Montana Tech
5. Carroll College (0-1, 0-1 Frontier)
Carroll College started the Troy Purcell era this past Saturday when it traveled to Montana Western.
The outcome wasn't what the Saints had in mind, losing to the Bulldogs in the final two minutes, but there was some good that came out of it.
Newly assigned quarterback Devan Bridgewater threw for 292 yards and a touchdown, and freshman running back Matthew Burgess played in his first career game and had 111 yards rushing.
While the Saints might have been marching to a happy tune on the way back from Helena, this was the best possible loss they could have had.
I guess those new white helmets really did give Carroll a fresh start.
Look for the Saints to compete with Rocky Mountain in their home opener this week.
Next up: vs. Rocky Mountain
6. Montana Tech (0-1, 0-1 Frontier)
Montana Tech could have the best running back in the Frontier Conference in Jed Fike.
He finished with 97 yards and a touchdown.
The only problem during week 2 was that the spotlight was on the other team.
College of Idaho quarterback Darius-James Peterson and Nick Calzaretta ran all over the Orediggers.
The good news for Montana Tech was that great quarterback Jet Campbell was on point, completing 60 percent of his passes, and Trevor Hoffman caught 11 passes for 149 yards.
No reason to worry about Montana Tech's offense, but all eyes will be on the defense for week 3.
Next up: at Eastern Oregon
7. Montana State-Northern (1-1, 0-1 Frontier)
You may be wondering why a 1-1 team dropped this far in the power rankings.
There is only one reason.
The Lights allowed 53 points and gave up 594 total yards against Rocky Mountain.
And it wasn't just the Battlin' Bears quarterback, Drew Korf, who went off.
Sure, he threw for 332 yards, but running back Sam Sparks also ran for 133 yards.
It didn't help that Northern's quarterback, Brandon Medina, threw four interceptions and the offense lost a fumble.
The Lights showed they could play defense and win a road game when they took down Arizona Christian the week prior.
If they want to keep up as the dark horse in this conference, a win next week is crucial.
Next up: vs. Montana Western
8. Southern Oregon (0-2, 0-2 Frontier)
Southern Oregon has had a rough few weeks to start the year.
It started out giving up 77 points to Sacramento State.
Most recently, it were stunned by Eastern Oregon in La Grande.
Southern Oregon has the talent to get back up on top of the Frontier Conference in quarterback Wyatt Hutchinson, but they need to hit the restart button.
Raiders head back out on the road for the next two weeks and it won't be easy.
Next up: at College of Idaho
Be the first to know
Get local news delivered to your inbox!