HELENA — It is an end of an era at Carroll College.
After 20 seasons, longtime Saints football coach Mike Van Diest announced his retirement during a press conference Monday morning.
He led the Saints to six national championships and 14 Frontier Conference championships during his tenure, but after four consecutive losing seasons, he said it was time to step down.
"I never envisioned this day. I talked about it, but never envisioned when it was going to happen," Van Diest said, trying to hold back tears. 
Van Diest finishes having won the American Football Coaches Association National NAIA Coach of the Year award three times, the AFA National Coach of the Year award twice and with a .792 winning percentage (203-53). He will be inducted into the NAIA Hall of fame this January.
Carroll College President John Cech not only recognized Van Diest's on-field accomplishments, but also his character and the impact he has made on the university for the last two decades.
"We are witnessing the retirement of one of our nation's football coaching legends," Cech said. "Not only has Van Diest been a coach for the Fighting Saints, he has also been an integral part of the players' lives during their time at Carroll and continuing after gradation."
Senior linebacker Reece Quade was just one of the players standing in the back of the room showing support for his coach.
"The emotions of this morning were tough" Quade said. "He definitely developed me into the man I am today. He helps people grow as players, and the culture he built of winning and becoming a great person while you are on the football team is really attractive."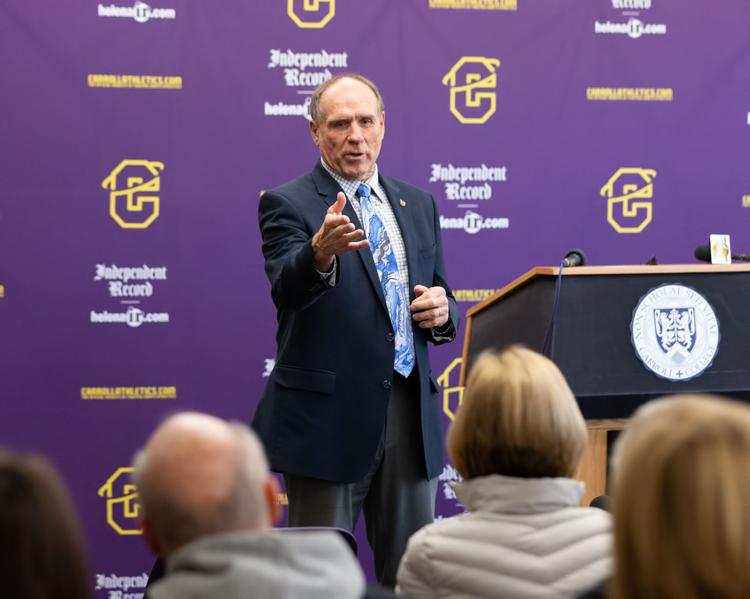 Van Diest graduated from Helena High in 1970 and played college football for the University of Wyoming.
It wasn't until he returned to watch a Carroll football game with his father that he wanted to get into coaching.
"I left at halftime because I couldn't stand not being a part of the game," Van Diest said. "I never thought about it, but my dad was a baseball coach and I idolized him. We butted heads a lot, but that made the decision to coach easier because he was an influence on me."
Van Diest started his coaching career in 1976 as a volunteer coach for the Saints and quickly moved up the ranks. He returned to Wyoming as an assistant coach and went on to become the assistant coach for the University of Montana, the University of Massachusetts-Amhurst, Northwestern University, and back to Wyoming before arriving at Carroll in 1998.
It did not take long for Van Diest to become successful as the Saints won their first National Championship in 2002 to start a string of four straight.
But the number of wins and rings he won did not drive him. It was the success he saw from his players.
"People only get a chance to see Saturday afternoon sometimes, but you don't get a chance to see the other side," Van Diest said. "You don't get a chance to see Beau Meyer come off a serious injury or Drew Melton tearing up his knee at Rocky and coming back because the love of the game. (Players) give up their summers to stay in Helena to work out at 6 a.m. or 7 a.m. Saying goodbye was hard."
Carroll won two more national championships in 2007 and 2010 before success became harder and harder to come by.
Carroll's last wining season came in 2014, when it finished with 10 wins. Since then, the team has averaged 4.25 wins per season.
Van Diest said he and his family have talked about when would be a good time to retire and it came to the forefront this past summer.
"I told the team this morning that there is one reason why I came back to coach this past season," Van Diest said. "It was a selfish reason, but I wanted to turn this program back into a winning program for the seniors. These seniors are absolutely amazing people."
The Saints finished this last season with a 5-6 record and ended the year losing to Eastern Oregon on a blocked field goal.
"Maybe it would have been better for them to have a different voice in the locker room, but I wanted to be with them," Van Diest said.
Despite the football program's recent struggles, Carroll College athletic director Charlie Gross described Van Diest's impact as immeasurable to the department and expressed that he will be greatly missed.
"Not only did he bring national prominence to the football program, but he created a culture of excellence for all of us in the athletic department to model," Gross said. "His passion for Carroll is unwavering, his love for the students is contagious and his persistent energy is invigorating."
The Carroll football coaching staff will begin recruiting for next season on Tuesday. Gross said the athletic department will work in a reasonable timeline to find Van Diest's replacement by the end of the semester.