HELENA — Could the race for the Frontier Conference Championship be any tighter? No. Heading into the final two weeks of the regular season, both College of Idaho and Rocky Mountain College are tied atop the standings at 6-2. Montana Western follows just a game back at 5-3.
If the season ended today, the Yotes and Battlin' Bears would be crowned Frontier co-champs and Rocky Mountain would be awarded the conference's bid to the NAIA Football Championship Series as it holds the head-to-head tiebreaker over C of I with a 33-30 win on Sept. 4.
As the end of the regular-season approaches and the possibility of multiple teams tying atop the standings grows, here is an important reminder. Teams that tie for first in the conference standings will be awarded co-champion status (see the three-way tie from the spring). The tiebreaker is only used to determine which Frontier team (ranked inside the top-20 in the NAIA coaches poll) will represent the league in the playoffs.
The first two tiebreakers are as follows: head-to-head record among tied teams, then fewest defensive points allowed in conference games.
League leaders (in conference games)
All-purpose yards per game -
2. Nick Calzaretta - 103.9
3. Shane McLaughlin - 97.1
3. Latrell McCutcheon - 12
Frontier Conference in the polls
With the addition of Montana Western, three Frontier teams were represented in this week's NAIA top-25 coaches poll. Rocky Mountain, the league's highest-ranked team, fell four spots to No. 17 following a four-point loss to Montana Tech. College of Idaho jumped up six positions to No. 19, while Western entered the poll at No. 25 after a 63-7 blowout of Montana State Northern on Saturday.
Conference Players of the Week
Offense: Quarterback Jet Campbell, Montana Tech
Defense: Defensive lineman Sage DeLong, Eastern Oregon*
Special Teams: Defensive end Cole Schmidt, College of Idaho
*DeLong also earned NAIA Player of the Week honors for his performance.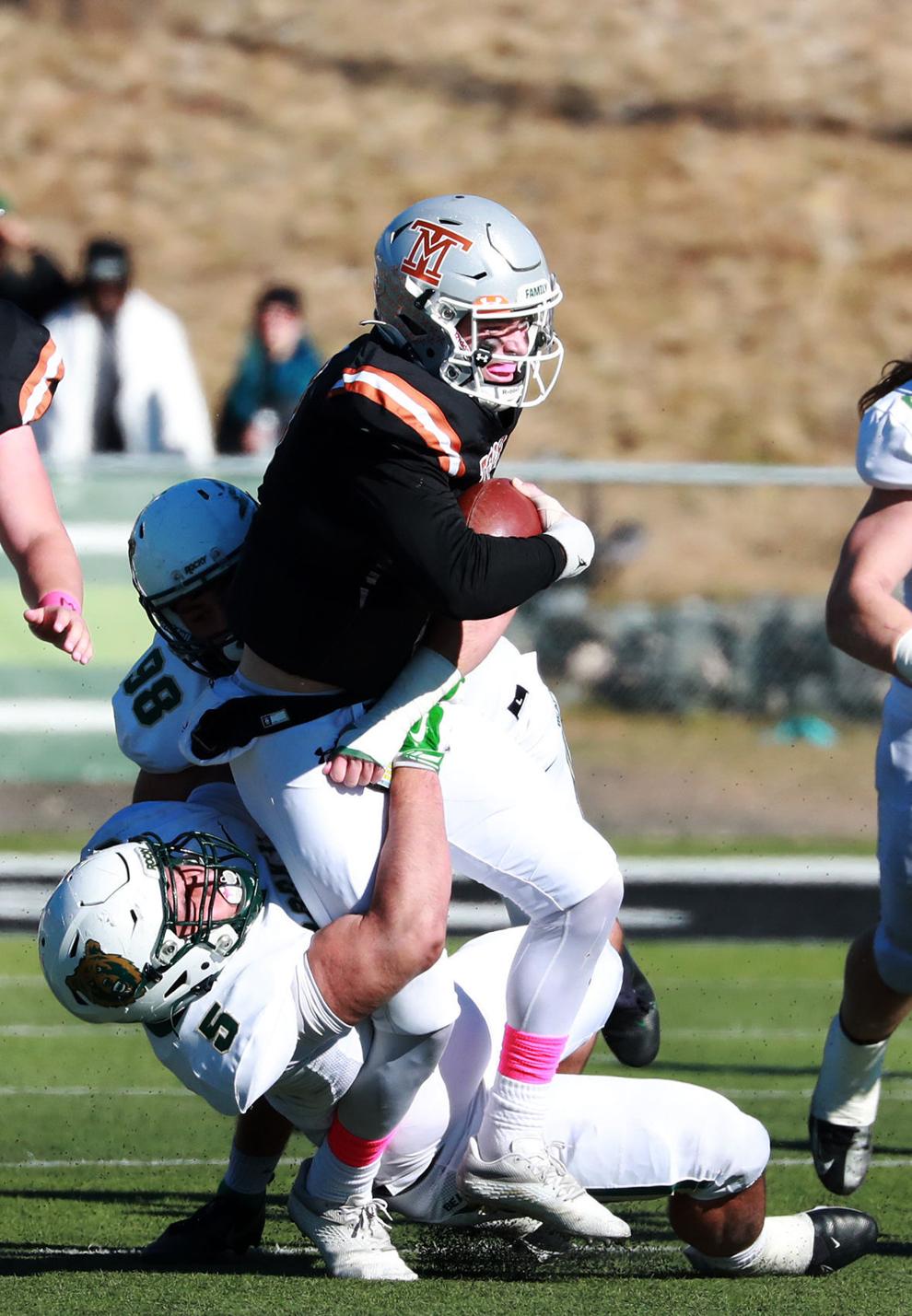 Week 10 top performers
Montana Tech quarterback Jet Campbell: 17-for-30 passing, 316 yards -- 32 rush yards, 2 TDs
Montana Western quarterback Jon Jund: 19-for-23 passing, 275 yards, 5 TDs
Carroll quarterback Jack Prka: 20-for-33 passing, 286 yards, 3 TDs
Montana Western wide receiver Nate Simkins: 8 receptions, 154 yards, 3 TDs
Eastern Oregon quarterback Kai Quinn: 13-for-19 passing, 115 yards, 1 TD, 1 INT -- 106 rush yards, 1 TD
Rocky Mountain College wide receiver Lucas Overton: 5 receptions, 118 yards
Montana Tech tight end Logan Kennedy: 6 receptions, 105 yards
Rocky Mountain College quarterback Nate Dick: 13-for-25 passing, 182 yards, 1 INT -- 78 rush yards, 1 TD
Carroll wide receiver Kyle Pierce: 4 receptions, 79 yards, 2 TDs
Montana Western wide receiver Isaiah Thomas: 4 receptions, 82 yards, 1 TD
Eastern Oregon defensive lineman Sage DeLong: 11 tackles, 6 sacks, 7 TFL, 1 pass break-up
Montana State Northern linebacker Dylan Wampler: 13 tackles
Rocky Mountain College defensive back Ty Reynolds: 10 tackles, 1 fumble recovery, 1 pass break-up
College of Idaho defensive back Taeson Hardin: 9 tackles, 1 forced fumble, 1 pass break-up
Southern Oregon linebacker Drew Schuler: 9 tackles, 1 TFL, 1 pass break-up
College of Idaho linebacker Dylan Martinez: 9 tackles, 1 fumble recovery
Eastern Oregon linebacker Hayden Brandon: 9 tackles, 0.5 TFL
Montana Tech defensive back Jordan Washington: 8 tackles, 1 TFL, 1 INT, 1 pass break-up
Montana Tech defensive end Logan Kolodejchuk: 7 tackles, 1 sack, 1 TFL, 1 pass break-up
College of Idaho defensive end Cole Schmidt: 4 tackles, 1 sack, 1 TFL, 1 INT, 1 punt TD (off block)
Carroll kicker Stephen Powell: 2-for-2 FG, 4-for-4 extra-point, 10 points
Southern Oregon kicker Cesar Ruiz: 3-for-3 FG, long 41, 9 points
Southern Oregon punter Nolan Rinefort: 4 punts, 148 yards, 37 avg., long 53, 1 punt inside 20-yard line
Montana Western wide receiver Trey Mounts: 4 punt returns, 68 yards, 17 avg., long 33
Montana State Northern punter Hunter Riley: 7 punts, 268 yards, 38.3 avg., long 45
Week 11 predictions
Rocky Mountain College vs. Montana State Northern: Battlin' Bears 42, Lights 10
Rocky Mountain's two losses this season have both been to Tech. The Lights played one of the league's best teams to a three-point contest in September but will enter the weekend after allowing 63 points to Western.
Despite scoring a season-low 17 points against the Orediggers, Rocky Mountain is still averaging better than 33 points per game and more than 400 yards of offense.
The Battlin' Bears should roll in a home game.
College of Idaho vs. Eastern Oregon: Yotes 31, Mountaineers 17
Eastern Oregon is struggling. A 34-27 loss to Carroll handed the Mountaineers their fifth-straight loss and dropped them firmly out of the title hunt. College of Idaho is still very much alive in that race, and is currently tied for the league's best record at 6-2.
The Yotes probably need to win out to not only have a shot at the Frontier championship outright, but to also make an appearance in the playoffs. A home game against a down EOU team is up first.
Carroll vs. Southern Oregon: Saints 34, Raiders 21
Carroll has scored 34 points in each of its last three games. Only two of those were wins, but over the Saints' last five games, their offense has averaged 32.6 points per contest. Quarterback Jack Prka threw for a career-high 286 yards and three touchdowns in last Saturday's win over EOU while the defense held the Mountaineers to 261 yards of offense.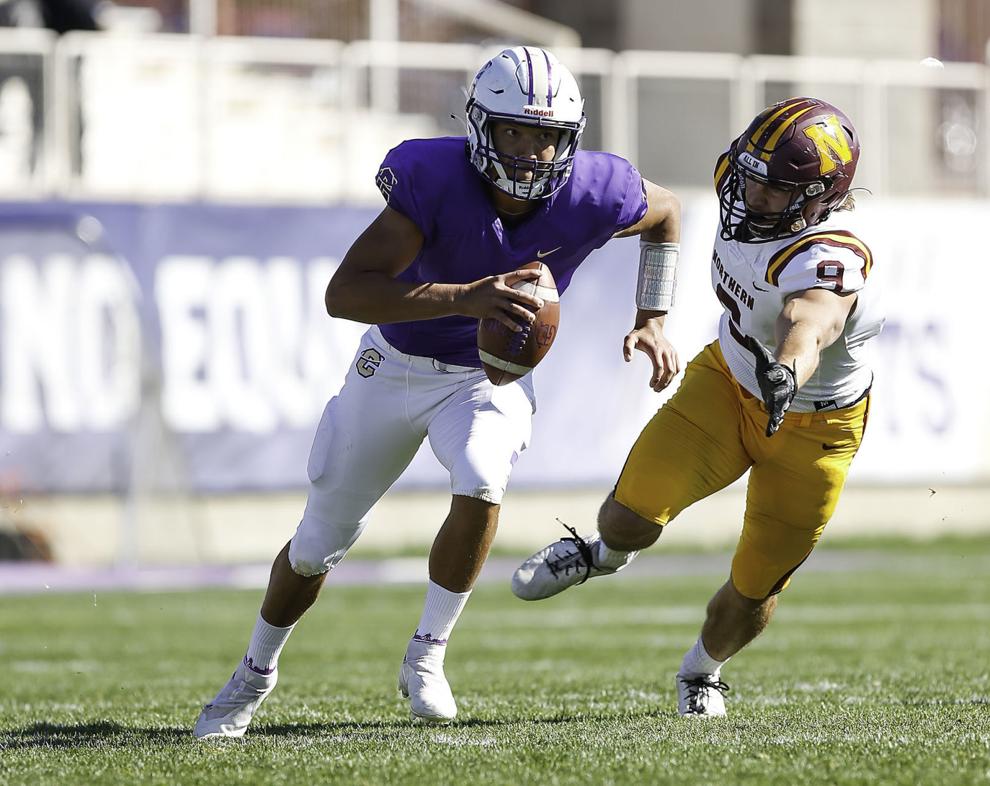 Southern Oregon is coming off a two-point loss to C of I and now must hit the road to face a team that likely is not too happy with how the last matchup between these two programs ended up (34-33 SOU win).
Montana Western vs. Montana Tech: Bulldogs 31, Orediggers 21
Bulldogs quarterback Jon Jund tossed five touchdowns in a rout of Northern last week. Tech took down the No. 1 team in the league -- again. Western is fighting to keep its postseason hopes alive and needs some help to force a potential tie atop the standings. That means Western needs to take care of business, and the Bulldogs will get two homes to wrap up the regular-season to do so.
Western took the first matchup between these two programs 45-21 in late-September and should complete the season sweep with a two-score victory this Saturday.