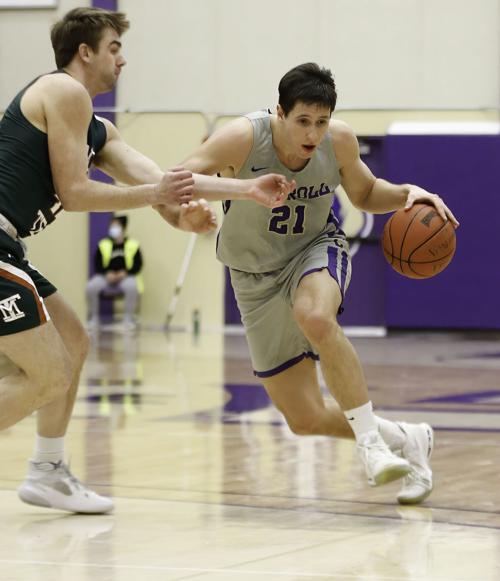 HELENA — The month of January brought with it the promise of Frontier Conference basketball. Now, as that month closes and February takes hold, the promise of a fight for the regular season championship is being made.
Both Providence and Carroll are vying for the top spot, and after the Argonauts stumbled this week, the Saints' chances of overtaking them in the standings continued to rise. In the second edition of our 2020-2021 Frontier men's basketball power rankings, however, Carroll has done just enough to inch by Providence, for now.
1. Carroll -- 11-5, 8-4 Frontier
The Saints handled their business against Rocky Mountain College in Billings over the weekend, completing an 8-2 month of January. Carroll's win streak now stands at six games as it shaved the equivalent to a half game off Providence's lead in the Frontier standings by going 2-0.
Junior Jovan Sljivancanin had back-to-back 20-point games against Rocky Mountain last weekend and now averages nearly 18 points per game. Carroll is the No. 2 team in the country in 3-point field goal percentage as junior Shamrock Campbell is shooting north of 51 percent from long-range.
2. Providence -- 8-1, 8-1 Frontier
The Argonauts got 22 points from junior Marcus Stephens, but fell to Montana State-Northern 96-85 on Saturday night for their first loss of the season. Providence bounced back and beat Northern by a dozen on Sunday and needed double overtime to down Montana Western on Wednesday. Still, Providence allowed the Saints to temporarily shave a game off its conference lead, making the two scheduled games between those programs later this month all the more intriguing.
Providence is No. 21 in the country in 3-point field goal percentage and features five players who average double digit points per game. Senior Zaccheus Darko-Kelly averages 20.6 points per game, a number that leads the Frontier. Darko-Kelly also paces the league with 10.4 rebounds and two blocks per game.
3. Montana State-Northern -- 6-5, 5-5 Frontier
A pretty simple way to move up the power rankings is to beat teams ahead of you. That is what Northern accomplished on Saturday, taking down Providence by double figures and handing the Argonauts their first loss of the season. The Argonauts' 118-point outburst on Wednesday makes what Northern accomplished all that more impressive, albeit was without Providence's best player on the court.
The Lights got 26 points from seniors David Harris and Mascio McCadney on Saturday as that duo finished a combined 18-for-22 from the field and 6-for-7 from 3-point range. Harris and McCadney are both averaging 17.3 points per game for Northern while the latter is shooting over 52 percent from long-range this season.
4. Montana Tech -- 9-7, 9-5 Frontier
It was hard to drop a nine-win team like Tech, especially with it coming off two wins against Montana Western, but Northern did beat the Orediggers at home earlier this season. That being said, Tech has won its last three games and is the first team to reach nine conference wins this season.
The Orediggers are led by reigning Frontier Player of the Week in senior Sindou Diallo who is second in the conference with over 19 points per game. Senior Taylor England has struggled to stay healthy this season, but when he is on the court, he scores north of 16 points per game, on average. With help from those seniors, Tech owns the third-best scoring offense in the Frontier.
5. Montana Western -- 3-9, 2-9 Frontier
The Bulldogs have lost seven-straight games, including three in a row to Tech and a double overtime thriller against Providence, after winning three of their first five contests. The road ahead for Western doesn't get any easier as it must still face Providence once on the road and Carroll twice to end the season.
While Western averages over 75 points per game and features four scorers who average double figures, the Bulldogs' defense allows 80.5 points. Opponents are shooting 47.4 percent against Western this season and out-rebounding the Bulldogs by more than four rebounds per game.
6. Rocky Mountain College -- 1-9, 1-9 Frontier
The Battlin' Bears lived up to their name and took Carroll to overtime on Sunday, but ultimately lost to extend their losing streak to eight games. Rocky does not rank inside the top-40 in any NAIA team categories and still has Tech and Providence remaining on its schedule.
Sophomore Maxim Stephens is Rocky's leading scorer at 14.7 points per game, but the Battlin' Bears score just 65.4 points per contest as a team. That number ranks them 184th in the country.