DILLON — Before the Montana Western women's basketball team dropped a game 61-50 to Providence on Jan. 5, the No. 4 Bulldogs had rolled right along without a loss.
Not one that counted on their record anyway.
Western did suffer a 79-60 defeat to Division I Montana State on Oct. 30, though the game counted as an exhibition.
But between the floor in that contest without implications, Montana Western senior Brianna King was shinning, just as she does against NAIA competition in all the games between then and March that really do count.
She led all-scorers with 25 points that night, a touch under her average of 21.9 which leads the NAIA.
For King, a Washington native and junior college transfer, there have been fleeting thoughts about possibly having played somewhere bigger than Dillon, Montana. 
But with title aspirations in her final season, Dillon feels like home.
"It's definitely something I thought about before, but I'm happy where I'm at," King said before a practice in December. "I really like this team, I like this school, the coaching staff is really nice so I kind of don't think about it too much.
"Given the chance, I definitely wouldn't transfer. I like it here, it's like a home."
And though having just two seasons to don the red, black and white, King has already set herself up for a hall of fame induction a few years down the line. A season ago, King led the Bulldogs to the NAIA tournament semifinals. She had 40 points in the Bulldogs' quarterfinal win, and another 22 in the semifinals where Western came up just short of playing for a national championship.
An All-American selection a year ago, her performance as a junior would be hard to top. But she's doing it so far. In the team's win over No. 22 Rocky Mountain College on Thursday, King secured her 1,001st point. It took just 50 games to eclipse the mark. 
"Her decision making is better," head coach Lindsay Woolley said. "She's always been a kid that's been able to score, kind of whenever she wanted. … but her decision making in terms of making the right play at the right time has gotten so much better."
King says she worked over the summer to get more consistent all that comes with playing floor general, but her uptick in production could be due in part to the chemistry she has with the women around her.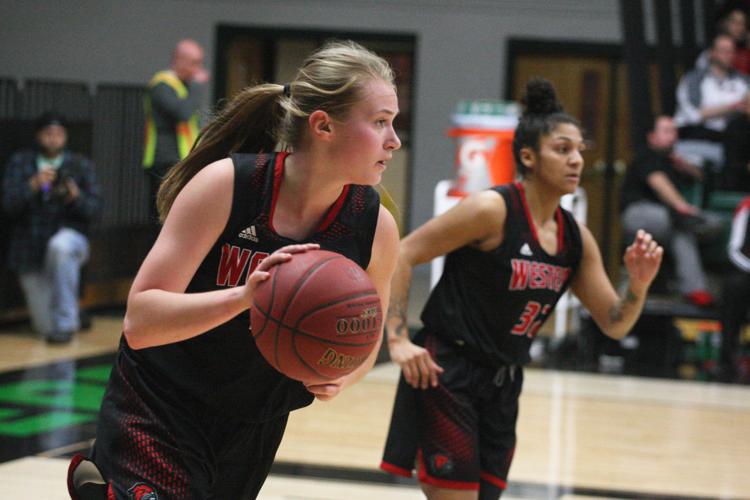 After King, Cierra Lamey checks in with a touch over 10 points per game. Britt Cooper is behind her with 8.4 points and 6.3 rebounds a night. Savanna Bignell averages 8.5 points a night and Paige Holmes clocks in at 7.8.
Having go-to players like that back for another crack, that makes this team just that much better.
"I think it's grown a lot since last year," King said of the team's chemistry. "We've gotten a lot closer as a team and we know each other really well. We know each other's games and we've just got to trust in each other."
Aside from their one slip so far, the Bulldogs have looked every bit as good or better than the team that made a deep postseason run ago. They responded to their first loss with the come-from-behind win over Rocky on Thursday, and they'll meet their tallest test yet when they host No. 8 Carroll College Saturday night.
And though the meat of conference play lies ahead, the prospect of bringing home a national championship banner in late March already looms over the season.
For both coach and player, though, the onus on who's really thinking titles falls on each other.
"I try not to think about that too much but I think our coaches definitely do think that," King said. "I don't think about the pressure too much. You just kind of go out and play and do what we do."
"We don't talk about it a lot, I know it's in their minds because they're kids," Woolley said. "… In terms of talking about a national championship, we don't talk about it, they probably talk about it themselves."
Woolley says if his side is going to be back in contention as the tournament field dwindles in March, they have to take care of the little things: focus on the task at hand, one game at a time, and so on. 
But, he points out, this team does get a bit more revved up when the competition is steepest. That's a positive sign with Carroll on deck.
"They get a little more up when we play good teams, which is always a good thing," Woolley said. "You know when it's a big game, they're going to be locked in to play. And so as a coach, it's somewhat comforting to know you've got kids that have been through the fire so to speak, and understand what it takes to be successful at a high level."