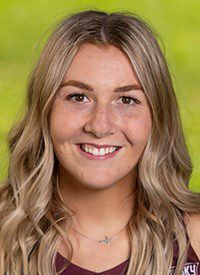 MISSOULA — The offense is clicking for the Montana women's basketball team and it's more than just new-look schematics that have led to the uptick.
It's good old-fashioned conditioning work. All of the Lady Griz run the floor well, including post threats Carmen Gfeller and Abby Anderson, and it was impressive to watch Thursday when they out-ran a Sacramento State team that is notorious for running all the time.
"We spend a lot of time working on our transition game," said Montana coach Mike Petrino, whose team tallied a season-high 90 points in Thursday's blowout win and will be looking to do it again in Saturday's 10 a.m. home rematch against Sac State.
"It's not about getting the quickest shot. It's about being aggressive and then flowing into what we want to do. We had a lot of good pitch-aheads (Thursday). Then we just have to be patient. It starts with (point guard) Sophia (Stiles). She sees the floor so well."
With Thursday's win, the Lady Griz catapulted into third place in the Big Sky Conference standings at 3-2 (6-4 overall). Climbing higher is going to take more consistency for a Montana team that split its first two league series.
"It's super important to get this sweep," said Gfeller, who has averaged a league-high 17.8 points per game in Big Sky action. "I really wish we had that sweep last week against Northern Arizona. I don't think any team can be overlooked so we just have to come out and give it our best Saturday."
After the way the Lady Griz shredded Sac State's defense in the last three quarters Thursday, they'll need to guard against complacency heading into Saturday's contest. The Hornets may be the worst team in the Big Sky record-wise at 0-10, but it's worth repeating they had league-leader Idaho State (10-1) on the ropes last weekend before fading down the stretch in a 77-70 loss.
Sac State has a force to be reckoned with in junior guard Tiana Johnson. The Kalispell Flathead grad leads the Hornets in scoring at 13.7 points per game and she scored 25 earlier this month in a loss at Portland State.
"We definitely had more positive stretches than negative ones (Thursday), but now we have to put together back-to-back games," Petrino said. "They're a good aggressive team and it won't be easy."
Sac State will need to find a way to contain the 6-foot-1 Gfeller. She scored a game-high 22 points on 7-of-11 shooting and added a career-high 11 rebounds for her first double-double Thursday. She reached 20 points for the third straight game, becoming the first Montana player to do that since Kayleigh Valley.
"Carmen is having a great year, and she still wants to get better," Petrino said. "She knows what she can be better in, so she took pride in crashing the boards better."
Bill Speltz is Missoulian Sports Editor and has served as Sunday columnist the past 15 years. Do you have a story idea? Email Bill at bill.speltz@missoulian.com.