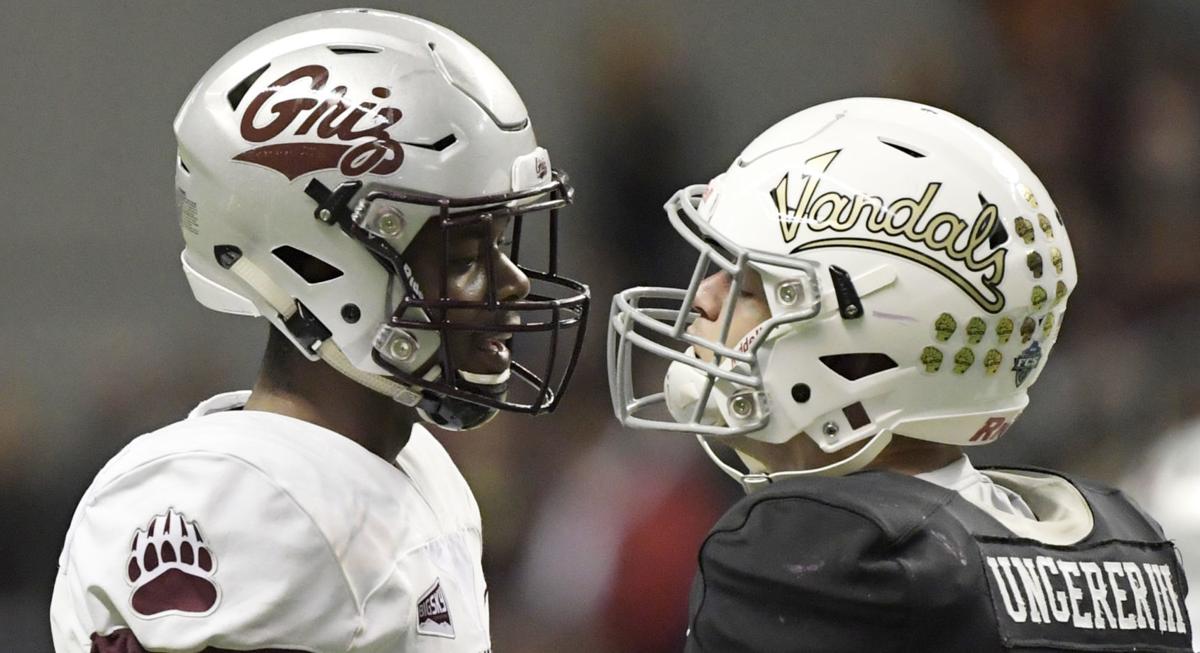 MISSOULA — The Montana football team will attempt to win its eighth game of the season, the most since going 8-5 in 2015, when it hosts Idaho at 1 p.m. Saturday in Washington-Grizzly Stadium.
The sixth-ranked Griz are 7-2 overall and 4-1 in the Big Sky after winning back-to-back games with backup quarterback Cam Humphrey. Idaho is also on a two-game winning streak, but the up-and-down Vandals have a losing record at 4-5, 2-3.
406mtsports.com caught up with Colton Clark, the Idaho beat writer for the Lewistown Tribune, to talk about this year's Vandals team and the outlook for the game, which will be broadcast on Root Sports.
Q: What's the vibe around this Idaho team coming off back-to-back wins to move to 4-5? Since all four wins have come at home, what are the main factors that have led to the road struggles?
A: From the read I've gotten, not a lot want to jump on board. I think people understand that there's legitimate talent there but don't believe that alone can make up for a loss like the Northern Colorado game, where the worst of Idaho came out.
A few different factors are to blame for Idaho's road troubles. Against Portland State, the offense was pretty hampered by injuries. Without their two best offensive players and a chunk of the line, the Vikings' flex defense just torched the Vandals.
Northern Colorado? Second-half turnovers and a fourth-quarter meltdown. Idaho played well enough to win against the Bears, even had a two-score third-quarter lead but blew it. Wyoming was somehow a real close game where Idaho was simply a bit overpowered. I don't entirely buy that it's a home/away thing — more that the Vandals prepared much more for Eastern, got overconfident and slapped for it, then played up to Weber and were dinged up afterward.
There are more unforced errors on the road, though. Hundreds of yards in penalties and interceptions thrown right to defenders, to be precise.
Q: What does Idaho tend to run offensively in terms of scheme and run-pass balance? Who's expected to start at quarterback, and how does the play calling change between the QBs?
A: Pretty traditional spread out of the gun. Three-receiver set with a lot of power game tossed in. Sometimes there are three TEs/FB hybrids; sometimes Jeff Cotton plays at wing back; very occasionally there are two backs.
Idaho mostly wants to pride itself on being a running team but isn't completely averse to throwing. With Colton Richardson, you might see 30 passes. With Mason Petrino, it'll be around 20, most of them thrown quickly on the run and not far downfield. Richardson upgrades the passing game's potential. Petrino's physically limited but checks into plays well and can get a few yards on a scamper.
In all, I'd expect a lot of Aundre Carter. Petrino's tight-lipped with injuries, but the general assumption is that it'll be Mason.
Q: What can Montana expect to see out of Idaho's defense? Why have the Vandals' linebackers been so productive — at least on the stat sheet?
A: I'd say linebackers are Idaho's top position group, especially when Charles Akanno was healthy. Tre Walker and Christian Elliss are just plain talented. Really, no other way about it. They're big guys with high motors who cover sideline to sideline, don't miss many tackles and love playing at the line of scrimmage.
The secondary's still a question mark, though I wouldn't say it's anywhere near as bad as last year's. But things will go poorly if Dalton Sneed/Cam Humphrey has four seconds to read. So far, that's how the Vandals' defense has avoided mammoth performances from opposing quarterbacks — it's pressuring them too quickly.
Q: What matchups/areas/position battles will you be watching from an Idaho point of view? What do the Vandals have to do win?
A: I'm watching the trenches and Mason Petrino. Montana's probably expecting a healthy dose of Carter, and for Petrino to test the flats and over the middle with quick throws, so the Griz will load the box and try to cut off intermediate routes. Petrino will probably need a better game than his best — the win over Eastern Washington this year.
If he is limited, then it's all on the O-line to help Carter with another 150-plus-yard day, and for the defensive front to pressure Montana's explosive offense into mishaps.
Q: What's your score prediction for this game? Why?
A: I try to avoid scores, but I'd bet Montana will defend its Little Brown Stein, but probably not by as much as people are anticipating. The Vandals have time and again discussed the revenge factor, and how they put way too much work into Eastern Washington, Idaho State and Montana. Could be why they played well against EWU and ISU — over-preparation, and disregarding teams like Northern Colorado and Portland State.
Frank Gogola covers Griz football and prep sports for the Missoulian. Follow him on Twitter @FrankGogola or email him at frank.gogola@missoulian.com.
Be the first to know
Get local news delivered to your inbox!