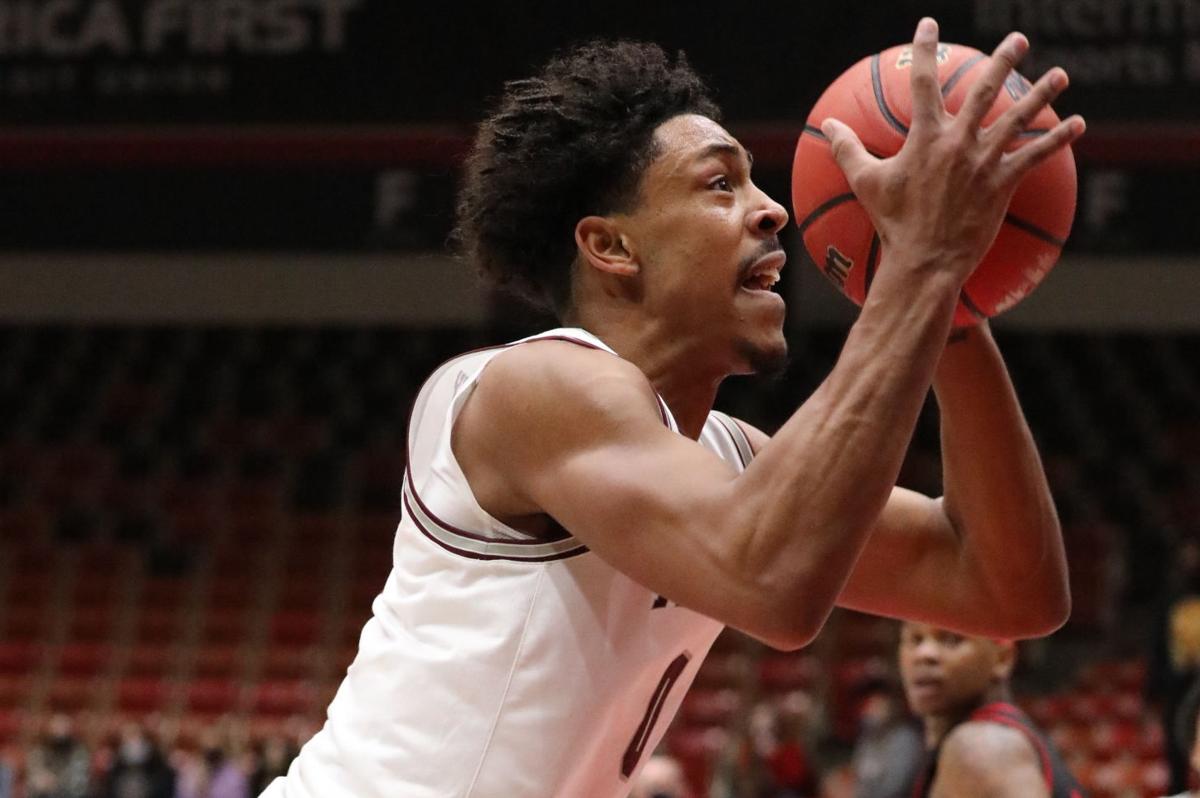 MISSOULA — In the final game of a difficult road stretch, the Montana men's basketball team will head southeast to take on SEC foe Georgia.
The Grizzlies have lost their first three games, including a weekend sweep at the hands of Southern Utah by a combined two points. Rebounding and scoring droughts have been an issue, as have poorly timed fouls.
Montana will not have much time to reflect as it will play its third game in six days on Tuesday at 5:10 p.m. MT against the Bulldogs in Athens, Georgia. The game will be televised on the SEC Network.
"We've got to get back into COVID protocols so we can get back out," Montana head coach Travis DeCuire told KGVO radio following Saturday's loss. "We'll try and play better basketball each night and see what happens."
After a few early mishaps, the Grizzly offense fell into a good rhythm in the first half of the second game against Southern Utah. Cameron Parker had 15 first-half points and was knocking down open perimeter shots.
Montana needs to continue shooting for percentage around the perimeter, and knocking down those shots will be key. Sophomore guard Josh Vazquez has become Montana's best 3-point shooter so far this year, and the Grizzlies will need to find a few other consistent options in order to open up things inside.
The Grizzlies are shooting from the perimeter at a 38.3% rate, but have attempted just 47 3-pointers in three games.
Redshirt senior center Michael Steadman has been efficient in the post, but he was hampered by foul trouble against USC and then in the first game against Southern Utah. The officials, who were the same for both contests against the Thunderbirds, called 12 fewer fouls against the Grizzlies in the second game against Southern Utah, which did make a difference.
Kyle Owens has emerged as a playmaker in every sense and has the potential to be an All-Big Sky player this season. He has been one of the brightest sparks for the Grizzlies on the young season and is coming off a career-high 21-point game. 
However, Montana faltered down the stretch and had issues converting on offense during its final few possessions. This allowed the Thunderbirds to claw their way back into the game.
With a variety of new pieces and some returning players taking on new roles, it was always going to take a bit of an adjustment. It will be nearly a month before the Grizzlies have their next Big Sky game — Dec. 31 against Northern Colorado at home — and the team will likely look different after three more non-conference games plus the practices in between.
Montana has also dealt with several injuries, as DJ Carter-Hollinger and Cam Satterwhite were not available in the second game against Southern Utah after playing in the first. Robby Beasley has not played in a game this season due to an undisclosed injury, though he seems to be close and has been traveling with the team.
UMass-Lowell mid-year transfer forward Darius Henderson should be available against Georgia, as UM grades have been posted. Australian Hunter Clarke was not in Missoula at the beginning of the semester, and it will likely be a bit before Grizzly fans see him as well.
"It felt like January," DeCuire said on KGVO radio when asked how the games against SUU compared to a normal season. "Now we go back into non-conference mode, but it's important we get better before we come back to conference. We'll see what happens."
Georgia presents a tough challenge as the Grizzlies prepare for the guaranteed game, which will net them $90,000.
While Anthony Edwards — the top pick in this year's NBA Draft — is now on the Minnesota Timberwolves, the Bulldogs still have plenty of weapons on its roster. Sophomore Sahvir Wheeler has been strong to start the season, averaging 16.7 points, 10.7 assists and 3.7 rebounds per game.
Georgia is out-rebounding its opponents by 14 this year and shooting the ball from the 3-point arc at slightly higher rate than Montana does, though at a lower percentage. That said, the Bulldogs — coached by Tom Crean — are shooting the ball extremely well from two-point range.
The 59.6% mark is the 32nd best in the NCAA from inside the arc. Montana has never played Georgia and is 0-9 all-time against SEC teams.
Jordan Hansen covers a bunch of stuff for the Missoulian and 406 Sports. Shout at him on Twitter @jordyhansen or shoot him an email at Jordan.Hansen@406mtsports.com