MISSOULA — It's been a while since Montana Lady Griz fans enjoyed a true freshman as dynamic as Sophia Stiles.
Now it's going to be a while before they see the spark plug guard from Malta again.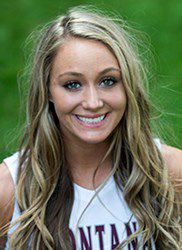 Montana women's basketball coach Shannon Schweyen confirmed Tuesday that Stiles suffered a season-ending knee injury in Saturday's home game against North Dakota. Stiles came down awkwardly on her left knee in the third quarter and tore her anterior cruciate ligament.
"She will be getting surgery here soon and hopefully get going on her rehab," Schweyen said. "It's an unfortunate situation for her. She was just having such a phenomenal freshman year for us."
Stiles cracked the starting lineup last Saturday in a game Montana won at Northern Arizona. Last Thursday she scored a game-high 26 points in a win at Southern Utah.
Through 11 Big Sky Conference games, the freshman ranks second on her team in scoring at 9.2 points per game and leads the Lady Griz in 3-point shooting consistency (37.5 percent). She ranks fourth in rebounds per game in league play (4.7) and second in steals (12 total).
"I felt like I was just kind of starting to play like I could and it's sad that just right when I got going I got injured," Stiles told 406mtsports.com. "I've only really had two sprained ankles in my life and I just wrapped them up and finished playing the game, so I'm not used to this.
"I'm definitely going to work hard and try be just as good or better than I was before. But it's been hard. I don't know what God has in store for me but I know He has a plan and I trust Him." 
It's another blow to a program that has become accustomed to dealing with injuries since Schweyen was hired in August 2016.
Last season it was Kayleigh Valley (knee), Alycia Harris (knee) and Mekayla Isaak (hand). This year it was Valley again (knee), Taylor Goligoski (leg) and now Stiles.
"Sophia is such a special kid, not only in what she does on the floor for us but the kind of person she is off the floor," Schweyen said in a press release. "From the moment she stepped foot on campus, she's been extremely competitive in everything she's done
"It was so much fun to watch her progress as the season went on and see how much more comfortable she became on the floor with her teammates."
Stiles, who hopes to be back in the gym shooting this summer and back at 100 percent by October, joined the UM program in the fall as a likely redshirt. But something special happened every time she stepped onto the court.
She upped Montana's energy level and pace of play, and made the Lady Griz noticeably more athletic and able to use all 94 feet of the floor, whether that be defensively or in transition.
"Her defensive instincts are as good as any freshman I've ever been around. You only had to tell her something once and she picked it up and got it," said Schweyen.
"And probably more than anything, she did so many things in categories that aren't even on the stat sheet."
She showed flashes of what she could do in the nonconference, when she averaged 5.7 points and 2.3 rebounds.
The 5-foot-9 guard had four blocks against Cal State Fullerton and five assists against Stephen F. Austin, a performance that shifted the tenor of that game from Montana being pressed to the Lady Griz going on the offensive. The Ladyjacks just couldn't contain her.
Her most complete game of the season to that point came at Montana State, when she put up 11 points and nine rebounds.
She followed that with a masterpiece in Montana's win at Southern Utah, finishing with a season-high 26 points on just 11 shots, with six rebounds and four assists. It put her within one of the program's single-game scoring record for a freshman.
That led to Schweyen making a bold, un-Montana-like move: making a change to her team's starting lineup in the second half of the season. But there was no denying it. The Lady Griz were a better version of themselves the more Stiles was on the floor.
Moving into a starting role completed the rise of Stiles from probable redshirt to contributor to starter on a team that was challenging for a Big Sky title.
"We'd seen her with Malta, but that was it," said Schweyen. "We hadn't seen her compete in other environments, so there was a lot about her we didn't know.
"I don't think any of us had any idea she'd be the player she is. She was a pleasant surprise for all of us."
Stiles made her first start in Montana's win at Northern Arizona. She scored her team's first seven points against the Lumberjacks and had 16 points and six rebounds on Thursday against preseason league favorite Northern Colorado.
In Montana's first 10 Big Sky games, those leading up to Saturday's victory over North Dakota, Stiles was averaging 9.6 points and 5.1 rebounds while shooting better than 46 percent.
Despite starting only two of those 10 games, she ranked second on the team in assists, blocks and steals, third in rebounds and was the team's top shooter from the 3-point line.
"Whether she played a lot of minutes or didn't get a lot of minutes, she was the same every day and competed in everything she did," said Schweyen. "I loved that about her. You never felt like she wasn't giving it her all."
Montana, tied for second in the Big Sky with two other teams and sitting just half a game out of first place with four weeks remaining, plays at Portland State and Sacramento State this week.
"Unfortunately we won't be building from where we've been the last 4-5 games," said Schweyen. "We're not back to Square One, but we're certainly back to a different spot.
"We'll be faced with a different lineup and a different situation with our depth. When things like this happen, it allows other players to show what they can do. There is an opportunity now for someone to step up and contribute to the team in a new way and make an impact."
UM sports information contributed