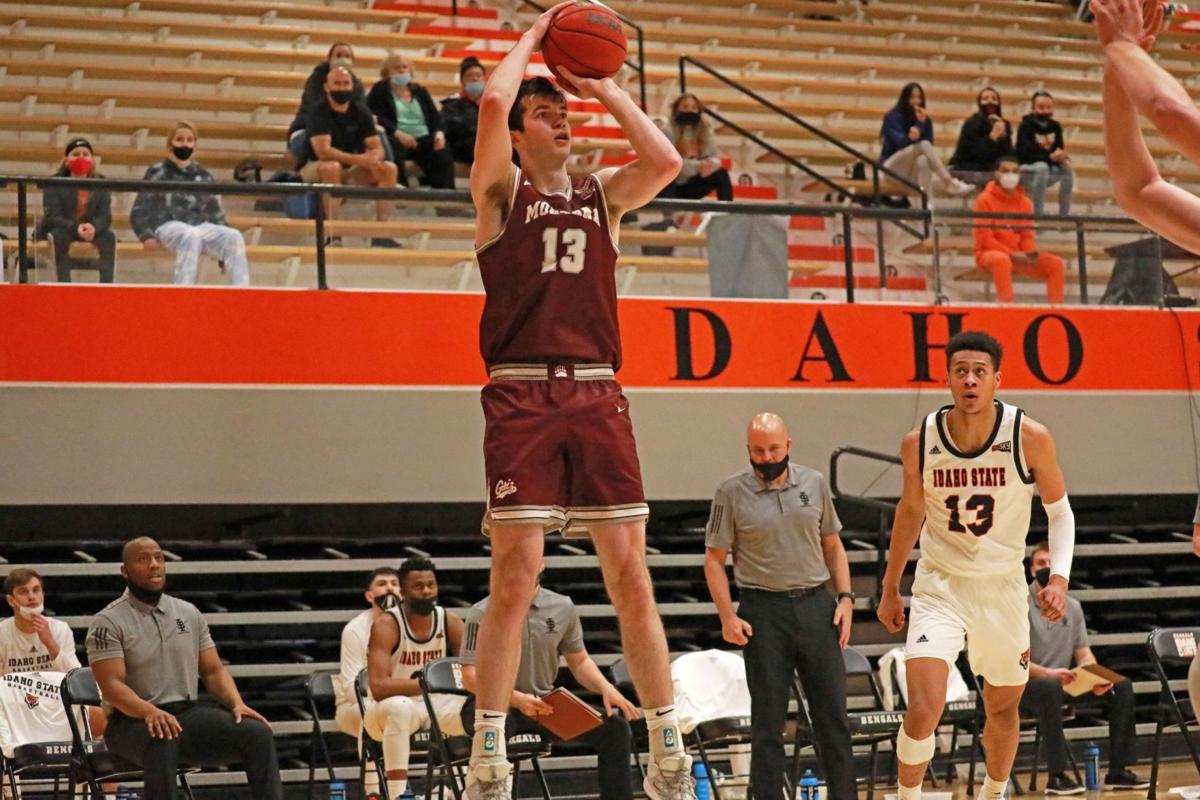 Depleted but determined, the Montana men's basketball team nearly blew a 16-point lead but held on for a 64-58 victory over Idaho State Thursday in Pocatello, Idaho.
The Griz ended a three-game losing streak and improved to 10-12 overall, 6-9 in the Big Sky Conference and 4-8 on the road to remain in contention for a first-round bye in the conference tournament. They became just the second team in 10 games this season to win at Idaho State, which dropped to 12-8, 7-4 and had its four-game winning streak snapped.
"I think the biggest thing was they handled adversity tonight," Montana coach Travis DeCuire told KGVO Radio after his team pushed its series winning streak against Idaho State to 20 games.
Montana led by double digits most of the game and went up 48-32 with 12:35 remaining on a jumper by Josh Bannan. The freshman finished with 19 points and 13 rebounds, the most by any Griz this season, as he collected his third career double-double.
Bannan scored 10 of his points during 15-0 run as the Griz jumped out to a 17-4 lead in the first half. They stretched their lead to 34-19 before going into the half up 34-23.
"The biggest thing for us was to see Bannan playing the way we knew he could play when we recruited him," DeCuire said.
The Griz had their lead cut to 61-57 in the final 83 seconds, but Brandon Whitney answered with a layup with 33 seconds left to cap his 14-point outing. The junior had the Grizzlies' only three field goals after they built the 48-32 lead.
Whitney and Bannan both played through four fouls as Montana was whistled for 26 to Idaho State's 20. The Bengals couldn't take advantage and went just 16 of 24 at the charity stripe.
Cam Parker chipped in 10 points, six assists and five rebounds while avoiding foul trouble. Kyle Owens, UM's scoring and rebounding leader this season, fouled out in 15 minutes, finishing with five points and two rebounds. Mack Anderson fouled out in 31 minutes, collecting nine points and three rebounds.
"Guys could have gave up and went and pouted," DeCuire said in reference to the foul trouble. "They hung in there and they supported their teammates while they were on the floor and they were ready for their turn."
The Griz shot just 15 of 22 (68.2%) at the free throw line. They entered the game third in the country, making 80.9% of their free throws.
Montana shot 21 of 47 from the field and 7 of 17 on 3-pointers against a team that entered Thursday's game ranked No. 7 in the country and first in the Big Sky in scoring defense, allowing just 60.5 points per game. The Bengals are 10-0 when holding teams to 60 or fewer points.
Idaho State had six players score at least eight points as Austin Smellie led the team with 10. The Bengals were playing their first game since Feb. 15 after having last week's series against Montana State canceled.
Montana played without Derrick Carter-Hollinger and dressed just 10 players. The Griz primarily used an eight-player rotation.
DeCuire is now 11-0 vs. Idaho State in seven seasons guiding the Griz. His teams have won nine of those 11 games by double digits.
Montana will aim for its first sweep of the season when it faces Idaho State at 11 a.m. Saturday in Pocatello, Idaho. The Griz then close the regular season with two home games against Idaho next week.
Frank Gogola covers Griz football and prep sports for the Missoulian. Follow him on Twitter @FrankGogola or email him at frank.gogola@missoulian.com.