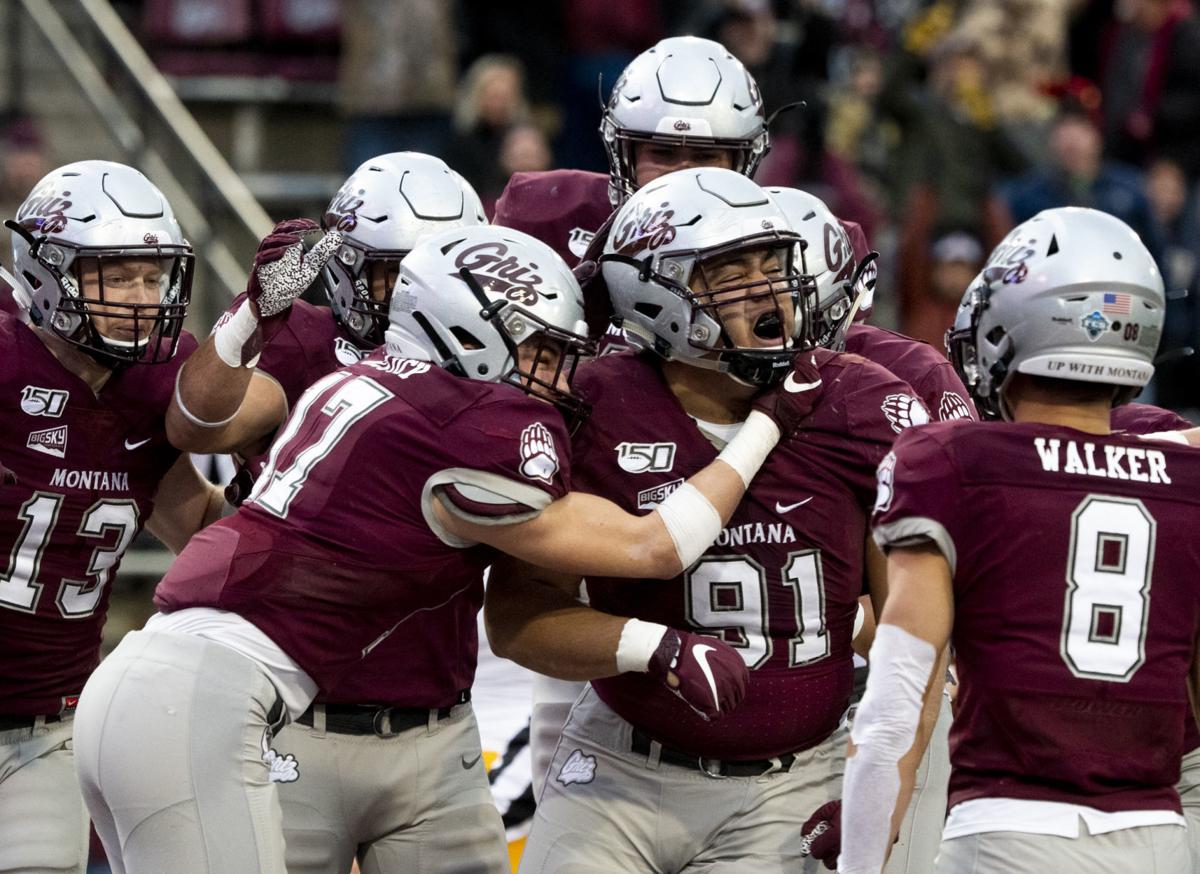 MISSOULA — Southeastern Louisiana came into the second-round playoff game against Montana as one of the hottest offensive teams in the FCS, ranking fourth in total offense and eighth in scoring.
The Lions tried to put a scare into the Grizzlies, but Montana kept them on a leash by playing with confidence and flying around the field in a 73-28 win on Saturday at Washington-Grizzly Stadium to advance to the quarterfinals.
The Griz did allow 489 yards of offense but limited the Lions to 28 points, their third-lowest total this season. They gave up 467 yards and four touchdowns through the air but took away the run and X-factor running back Devonte Williams, surrendering just 22 yards on 20 carries.
"It was a really good day in terms of making them one-dimensional," Montana coach Bobby Hauck said. "A team that wants to throw like they do, you can't let them come in and run it. Everybody wants to have some balance to their offense, even if they are a run-and-shoot team or an option team. On either side of that coin, they want to have a semblance of balance. To make them one-dimensional was good."
Of the Lions' 17 drives, seven ended in punts, two in turnovers on downs, two on end of halves, one on the interception and one on a safety by Eli Alford. It was the first safety by a Grizzly since Derek Crittenden in 2015.
Montana appeared to have a potential advantage on the lines coming into the game and found success by bringing pressure. The Griz delivered physical hits, tallying six tackles for loss and three sacks, nearly doubling the 1.75 the Lions had been allowing coming into the game.
"Defensively, they brought a lot of different looks and pressures, and it affected us," Southeastern Louisiana coach Frank Scelfo said. "That cost us a little bit. That got us out of rhythm somewhat."
Montana senior linebacker Dante Olson led all players with 13 tackles and 1.5 tackles for loss, and he also had one sack. Junior Gavin Robertson had a sack on a safety blitz, and linebacker Jace Lewis and lineman Vika Fa'atuiese each record a half-sack.
Linebacker Patrick O'Connell and lineman Eli Alford each had a tackle for loss. Lewis and linebacker Marcus Welnel had one quarterback hurry apiece.
"Today was a lot of fun," Olson said. "That's kind of how it goes is the offense has our back, we have the offense's back. If the offense is rolling, the coaches, they have their game plan, and if they feel comfortable to dial up some pressure, it's always kind of fun to pin the ears back and try to get after their offense and quarterback."
Despite the pressure, quarterback Chason Virgil completed 36 of 59 passes for 436 yards — empty calories, as Hauck call them — but he netted just 28 points for his offense. His was picked off by true freshman Corbin Walker, who returned the ball 47 yards for a touchdown.
"A lot of teams, they probably only blitz like on third down, but they were bringing pressure on every single down," Virgil said. "They were just trying to get us off our rhythm. They didn't really let us get in rhythm. We did get in rhythm a couple drives, and we were able to go down field and score. But for the most part of the game, they just kept us out of our rhythm."
Hauck said after the game how he still wants to see the pass defense step up. The Griz came into the game ranked 116th out of 124 FCS teams.
"We need to play better in the pass game on defense," Hauck said. "That comes down to you can't just blitz every down. You got to play the ball down the field, and you got to win up front, and you got to be able to beat guards and tackles and win some."
You have free articles remaining.
Montana did break up nine passes, with Olson and Dareon Nash each breaking up two.
"They gave us a lot of different looks in the secondary coupled along with the pressures, whether it'd been perimeters pressures or interior stuff," Scelfo said. "I thought the game plan was really good what they did. The execution of it, we picked it up at times, but then there were some times that they just did a good job executing."
Flowers power
Montana sophomore return man Malik Flowers scored on an 81-yard kickoff return touchdown in the second quarter, answering a Lions touchdown that had pulled them within 24-14 of the Griz. It was Flowers' second kickoff return score this season and third in his career.
"It was well blocked," Hauck said. "The first one, they weren't getting it very deep and everybody got their block on the touchdown. He hit it right. He knows where his eyes should be. He generally hits it in the right spot. He did that one, and he did the next one."
Flowers nearly returned a second kickoff for a score but was tackled by the kicker for a gain of 47 yards on the opening kick of the second half.
"It was a shame actually that the kicker got him down on the other one," Hauck said. "He probably should have had two today. He needs to weave and cut back on the kicker because we don't have anybody for him. But it was a good job by those guys today. Really good."
Flowers had 173 yards on four returns, an average of 43.3 per return.
"Special teams, when you got dynamic players like that being able to do what they do, I thought they did an outstanding job," Scelfo said. "I thought their scheme was really good."
Flagged
Virgil didn't feel the crowd or the weather were factors that affected the Lions negatively in their loss.
However, they were called for five false starts, all in the first half, in front of an announced crowd of 16,550.
"They got an excellent crowd, I'll say that," Virgil said. "It was loud out there, but it got us at times, but you know, we practice those situations earlier in the week. So, I wouldn't say like it just threw us off our game, but like we said, we knew it was probably like the most electric crowd in all of FCS football. So, we knew what we were walking into, but we just had to block that out and just play."
The weather was nice for December in Missoula: 36 degrees under cloudy skies with wind at 5-10 mph out of the north.
"No, the weather, it wasn't that cold. It was football weather," Virgil said. "I don't think the weather did anything. Coach Scelfo, our whole coaching staff, did a great job making sure that we had everything and we were going to be ready to go, and we did that."
Frank Gogola covers Griz football and prep sports for the Missoulian. Follow him on Twitter @FrankGogola or email him at frank.gogola@missoulian.com.