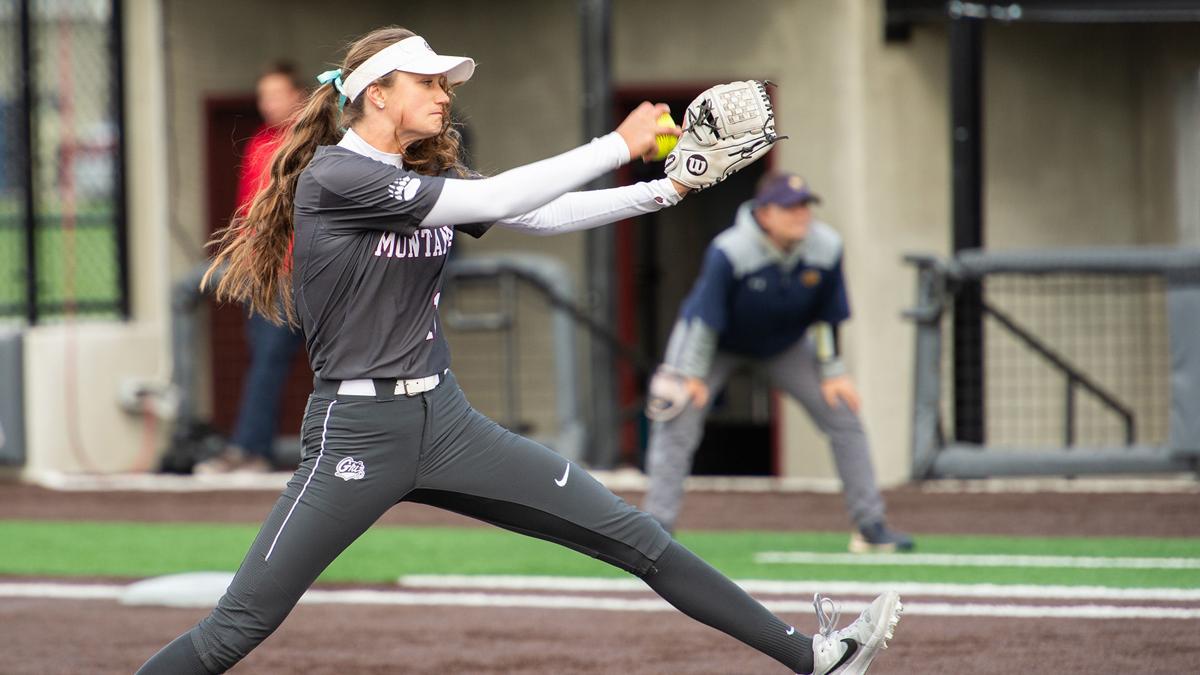 MISSOULA — The Big Sky Conference Pitcher of the Year hangs out in Great Falls these days. Her mom was able to find some toilet paper on a recent run to the grocery store, which is how a win is defined these days. 
April approaches and it's the first time since she was 7 that Tristin Achenbach's spring won't be centered on softball. At least the actual playing of it. In her mind, the season goes on and plays out if she allows her thoughts to go there.
It can be a pleasant diversion from news that can feel overwhelming, from new routines that remind her of what was lost. Then she snaps out of it and returns to grief she can't put behind her. Not yet anyway. And probably not for a long, long time.
Magical seasons and special teams don't come around every year.
A listing of recent stories details the heights that were reached and the lows that have been hit by the Montana softball team in what feels like a few blinks of the eye. 
Griz knock off ranked Razorbacks. Montana knocks off another Power 5 opponent. Achenbach named Big Sky Pitcher of the Week once again. Big Sky Conference suspends spring sports. Big Sky cancels spring competitions and championships.
It hasn't been a linear progression through the five stages of grief. Achenbach has hit denial, anger, bargaining, depression and acceptance. None has been checked off and set aside.
"Some days it feels like I've accepted it, then some days I feel like I'm back at the beginning at denial and don't think it's real," she says. "It depends on the day, but I'm always grieving, just in different ways every day."
It felt like a knee-jerk reaction when the NCAA announced the cancelation of all spring championships -- was that really less than two weeks ago? -- just hours after putting an end to its popular basketball tournaments.
Really? Couldn't we exercise some patience and see how things play out for a week or two before going full-on apocalyptic? Today it feels like the move was not only prudent but prescient as entire states and millions of people go into lockdown, ordered to stay away from one another.
And to think: one of our very first concerns was the loss of games.
Montana would have been busing to Pocatello, Idaho, for its opening Big Sky series of the season this week at Idaho State, not long after returning from a trip farther down the same interstate to face Utah Valley, BYU and North Dakota State. 
Then: home series later in the spring against Sacramento State, which ended the season with a league-best 14 wins, and Big Sky preseason favorite Weber State. All eyes looked ahead to sunny afternoons at Grizzly Softball Field.
Achenbach mentions none of these. What she and her teammates lost goes deeper.
She is a fierce competitor, which she hides well behind her soft-spoken, easy-going demeanor, but it's not the games themselves she will miss most. It's what they represented, which was the chance to join her teammates in working toward a common goal.
They love the support they get from their fans, but it's the feeling they have with one another, in the dugout, that's the most special part of it all. Not every team has it. Only the luckiest discover it, then cherish it, hoping it never leaves. But it's always specific to time and place.
Together almost daily since early January, she and her teammates are now connected electronically only. It will have to do.
"We have a big group message and we communicate quite a bit. We still have each other's backs and are supporting each other through this, even though it's not softball things," Achenbach said. "We're supporting each other through life and whatever comes at us."
The team gathered at 3 p.m. Friday, March 13, the evening before the Big Sky had announced suspension of all spring sports. Not long before the meeting, the president announced the country was officially in a state of emergency.
But there was hope in that one word: suspension. The season had yet to be canceled. The Big Sky had announced a suspension until April 15, at which time things would be reevaluated.
It wasn't much, but it was something.
"All of us were hanging on to that sliver of hope that we might get to play at least the Big Sky tournament or something," Achenbach said. "Then even that got taken away. I guess I would have preferred to be hopeful for a little bit than just having our season canceled right away. It was kind of gradual, but it still wasn't fun."
The Big Sky canceled all spring competitions and championships on March 18. 
The games? The practices? The pursuit of a championship, the realization of a shared dream? All done.
Most of the players had headed home for spring break, when it was just a suspended season, all hopeful they would return to campus and practice through the suspension, then play again by mid-April.
Instead, their season was canceled in the heart of spring break. With Montana going to online classes for the rest of the semester, home is where most of them remain.
It's why the Big Sky Conference Pitcher of the Year is in Great Falls, celebrating the more prosaic victories, like finding a store that has toilet paper in stock.
Of course Achenbach isn't officially the Big Sky Pitcher of the Year -- who knows what the league will decide to do with the usual postseason awards -- but she has as good a claim as anyone.
A league-best nine wins. A league-best 76 strikeouts. A 2.57 earned-run average.
"That definitely makes it harder," says Achenbach. "We had so much hope for conference and what was to come. It feels like unfinished business. Who knows what would have happened? But at least it would have been under our control. Winning the Big Sky would have been up to us."
When a softball season comes to an end in May, it brings with it the usual emotions. For starters: depression that everything that has been worked for is over. And that it will never be quite the same ever again.
Then acceptance arrives and summer comes and it won't be long until school and fall workouts resume. Now? Fall feels like forever from today. And who knows what that will even bring.
The calendar shows the weeks ahead, all future Montana softball games, once highlighted, now X-ed out in red.
No one could have prepared for this. But Achenbach still has it. Her passion for the game. Her love of team. It's what she continues to hold on to. She has to.
With everything right now being filed under UNKNOWN, she looks forward to what she hopes is ahead, and that it arrives sooner rather than later.
"I still haven't come to terms with the idea that my junior season is over," she said. "But I'm still excited for the next time I get to step on the field. I haven't lost that motivation. I wished I was playing right now.
"It's crazy to me that it's March and we've already turned in our equipment. We don't do that until May. It's just a crazy time."
Be the first to know
Get local news delivered to your inbox!