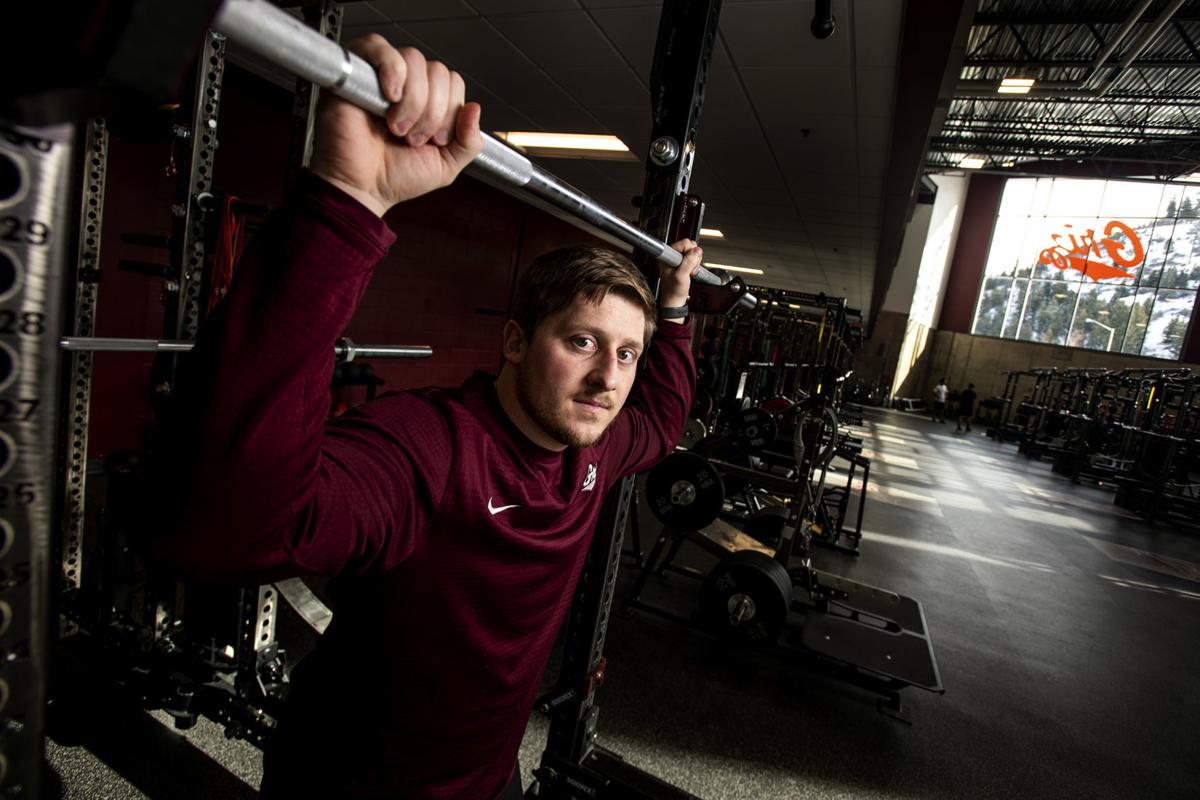 MISSOULA — Looking down at his Monday workout agenda as he walked into the Washington-Grizzly Champions Center, Sayeed Pridgett was a little surprised.
It was just three days before the Grizzlies were slated to play at Cheney against Eastern Washington and Pridgett, along with the rest of his men's basketball teammates, was set to max out on one of his common Olympic lifts — the deadlift.
It's a powerlift and a strenuous exercise that puts a lot pressure on the lower body.
"You might call it crazy," Montana Director of Athletic Performance Brandon Ronan admitted, "… but we hit new maxes for every one of the guys and they didn't even blink an eye. It's just like part of the process now, it's the culture that we've built the last few years."
Culture is a word reiterated constantly in the 19,500-square-foot Athletic Performance Center, which is part of the 51,000-square-foot Washington-Grizzly Champions Center. Connected to the Adams Center via a labyrinth of tunnels and doors, it is where Montana athletes go for everything from lifting, to recovery to training and even for food via the nutrition center.
A strong sense of community has been built there since the upgraded facility opened in 2017 and it is in no small part due to the efforts of Ronan. His job is varied, but he oversees the strength and conditioning of every Montana student-athlete and specifically works with the men's basketball, track and field and volleyball teams to create a variety of different workout plans.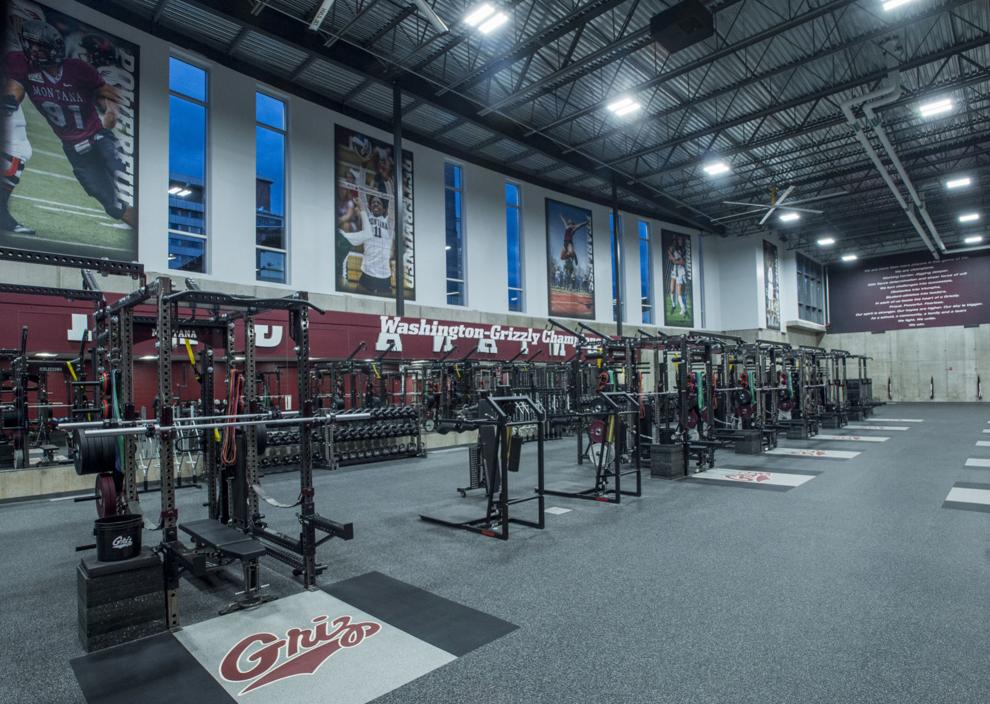 Ronan also confers with athletes on everything from sleep and hydration to nutrition and prefers the term "athletic performance" over strength and conditioning because it encompasses the full variety of his specialties.
Basically, he builds athletes up in every way possible while also managing the facility itself. If there is a problem anywhere, Ronan is usually the first person to know.
So that's why, even just a couple days before a game against a rival, the Grizzlies put up their best deadlift efforts of the year without too much of a second thought.
"It was definitely crazy," Pridgett said. "We were all kinda looking around, like, 'We're going that heavy before a game?' But honestly it paid off and we knew that we trusted him."
Indeed it did pay off as Montana beat Eastern Washington by 27 points later that week. It was the 36th Big Sky Conference game the men's basketball team had won since Ronan assumed control of the Athletic Performance program in late 2017.
The exposed concrete on the walls and the steel on the ceiling give the Athletic Performance Center a distinct feel that Ronan calls "blue-collar."
Blue collar describes his mentality and approach to the job, too.
From Waukon, Iowa, a town of just under 4,000 people in the extreme northeast corner of the state, the 29-year old was a standout linebacker in high school and went on to play four years at NCAA Division-III Loras College. A full anterior cruciate ligament (ACL) tear during his senior high school season first got him interested in the physical training side of athletics and it snowballed into a Bachelor of Arts in exercise science.
This led to a series of internships — first with Boise State, then Stanford, and finally Montana — before he finally got a graduate assistant position in the Grizzly Athletic Department in pursuit of a master's degree in Health and Human Performance.
It's hardly what you would call an easy path and the overall discipline has become more akin to a medical degree than anything else.
"It's a tough, tough major. It's really tough," Ronan said. "It's a lot of science, it's a ton of science on energy system development. My undergrad is sports science, which is more of the practical application of how to do more of the strength coach stuff and the training thing and my master's degree was more science based, energy system development, what goes on inside the body during exercise, and nutrition. It was very science-y, which was awesome. It was a step I needed to take with it. But it's hard to balance that role when you're full time as a strength coach and going to grad school too."
Ronan graduated with his master's in 2016 and was subsequently hired as the Assistant Director of Athletic Performance. The whole period was one of transition for the athletic department, as Montana was finalizing its plans for the Champions Center, which represented a significant investment in athletic performance.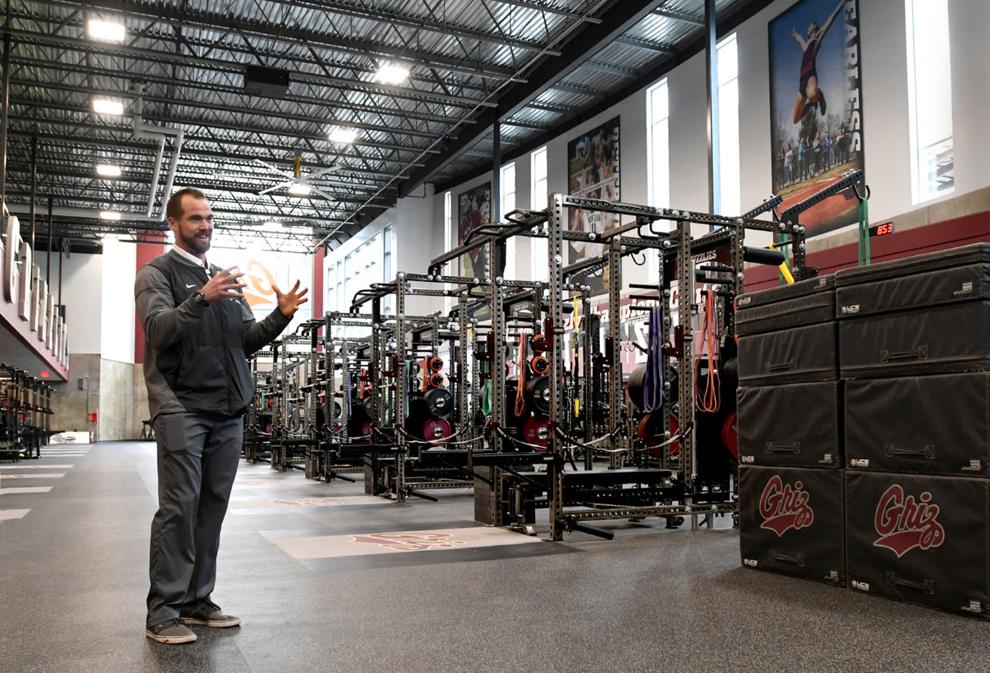 Ronan remembers there were rumblings of an upgrade to the training facilities when he first came to Missoula in 2014, but he never thought he would get to live a gym nerd's fantasy.
He got to help plan the facility.
"It was a dream come true," Ronan said. "I enjoyed every aspect of it, like now you see the final product and you're like, gosh dang, that's pretty cool. Like that's pretty sick and the athletes think it's the coolest thing ever."
Maroon and silver is everywhere from the banners on the walls to the plates hanging on the 20 full racks that are spread through the facility. At any given time a variety of athletes from various sports will be getting workouts in that are specifically put together to work around practice and academic schedules.
It's a big, wide-open facility that, for the Montana Athletic Department, seems to be worth every penny of its privately funded $14 million price tag. There is even a nutrition center where athletes can, for free, pick up a variety of grab-and-go food and drink items.
Considering the state of the training facilities just a few short years ago, which were falling well short of what Montana felt it needed to stay competitive with other athletic programs around the country, the improvement has been a sight to behold for many around the department.
"You think on the West Coast there's probably not as many, there's less than five that are probably as nice as that one," Montana men's basketball assistant coach Jay Flores said. "It's as nice as you'll find, probably across the country in terms of newness, all that stuff, functionality, everything that you want to do, you can do in there. Comparing it to the last one, it's night and day."
When asked at an early February practice if he has any advice to younger players on how to deal with the fatigue that comes with late-season basketball, junior Grizzly guard Timmy Falls lights up.
"I think just telling the guys to get some sleep," Falls said. "Freshmen want to stay up until the sun comes up."
And Falls knows, because, well, he was that freshman once upon a time.
"I talked with Timmy multiple times. He was one of those freshmen that didn't sleep and now he knows," Ronan said. "We talk about that almost every day."
Making sure his athletes are not sleep deprived is just one of the responsibilities Ronan oversees. Every player has a medical log where they record their weight, vertical leap, hydration levels, how much they slept and how hard their practice was. He even keeps tabs on many athlete's social and academic lives, offering support and help any way he can.
For incoming freshmen and players who are having trouble sticking to a schedule, food logs are kept. Workout plans are also adjusted to fit the needs of specific athletes. For example, basketball players playing a full complement of minutes have different workout and recovery needs than a student-athlete who is playing a much smaller allotment.
There are even different plans for redshirt athletes who travel versus those who don't.
"Brandon's incredible, he does a great job and we're very thankful that we have him at Montana," Grizzly senior guard Kendal Manuel said. "Everything he does, he tries to take care of us. We'll have days off and he'll just be like, 'hey come and get some recovery, I'll help you guys stretch out and do whatever we gotta do to get your bodies right.'"
Ronan also oversees a staff of four — assistant director Rachel Ronan (Brandon's wife), football strength coach Matt Nicholson and two graduate assistants, Tyler Bertolini and Ryan Koester — a small, but close-knit group.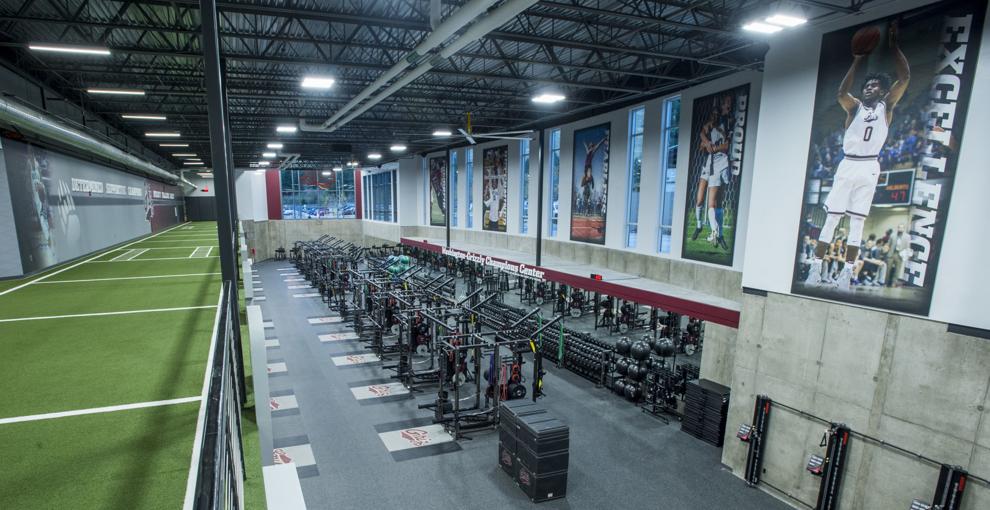 Oh, and then there's the job of figuring out time allotments for different sports in the training area, balancing the needs of each of Montana's 15 varsity sports along with everyone's academic and practice schedules.
"It's tough. There's multiple weekends, days of the weekend where I'm just sitting on the couch working," Ronan said. "Most of the time your first year's pretty tough and then after that you've got a blue print and build off of. So it's not terrible."
Throughout his time at Montana, Ronan has tinkered with what he wants this plan to look like, but his philosophy deals a lot with healthy movement.
Before athletes load up with any sort of heavy weight, Ronan and his staff take them through a three- to four-month program designed to teach them good technique in every exercise. Once the basics are mastered, he then starts to load them up with larger amounts of weight.
"I think movement is medicine. The better we move, the better we're probably going to be health wise," Ronan said. "So never losing range of motion and always getting after it through it. Even when we go in-season, we're gonna lift and train pretty hard."
Many athletes, especially in basketball, come into the program with little to no experience lifting. And, Ronan says, there are massive variances between different college programs as well. Any transfer that comes into the program goes into a similar plan as an incoming freshman.
It sometimes can be a slow progression, but it has paid off for the Montana basketball team. Pridgett has gained 20 pounds since joining Montana, all muscle. True freshman DJ Carter-Hollinger has also gained 20 pounds and that's just since entering the program over the summer.
The dedication to sleep, nutrition habits and variance in workouts have all led to success for the men's hoops program.
"I think when you can have someone like Brandon that takes ownership over that and is not just in there to lift with the guys and get them strong … that's a huge deal to maximize the success you can have a basketball player," Flores said. "At the end of the day it's about how good can you perform on Thursday and Saturday nights and I think he is instrumental in us being able to do that."
A little bit before Montana heads to Boise for the Big Sky men's basketball tournament they will max out on deadlifts again.
Few things are more critical on the hardwood than having strong legs and that is what Ronan has been building throughout this season. Between the constant travel, large number of games and the physical toll it takes on the body, Ronan feels basketball is the most difficult sport to train.
"I call it catabolic, like a negative effect on your body all the time, every time you play a game," Ronan said. "Trying to come back from that is pretty tough, every time."
But Ronan's approach has proven effective. Montana has won a lot of games over the past three seasons, including a 27-6 mark in February and March since he has taken over.
That's where championships are won or lost. Right now, the Grizzlies are winning and an impressive athletic performance department headed by Ronan is a big reason why.
"We're getting stronger throughout the year, we're just maintaining and staying healthy like that, we're getting stronger and being able to max at the end of the year," Manuel said. "I think that's helped big time, especially down the stretch, we're physically able to stay in games."
Jordan Hansen covers a bunch of stuff for the Missoulian and 406 Sports. Shout at him on Twitter @jordyhansen or shoot him an email at Jordan.Hansen@406mtsports.com