MISSOULA — There's a new cowboy in town and he's a rootin', tootin' rodeo ringer.
He favors a 10-gallon hat and big shiny belt buckle, but Tyler Turco does his flying under the radar. He'll never tell you he's the University of Montana's best shot at a national championship in the 2017-18 school year — even if it is true.
What he's done already is amazing.
Five times he has represented the Grizzly rodeo club team in Big Sky saddle bronc regional events and all five times he's won. He leads the National Intercollegiate Rodeo Association (NIRA) standings in his specialty by almost 300 points with five spring events in front of him.
"He feels like he can win pretty much anywhere, but he's not cocky," Montana rodeo coach Kory Mytty said of his junior phenom from Franktown, Colorado. "A lot of younger kids who are good, you know they get pretty cocky. He's not one of those kids.
"He's a super-great student and he wants to go to the College National Finals (CNFR) and hopefully win that. It's a goal of his and I think he's on his way there."
The question begs to be answered: How did Turco, who enjoyed a good deal of rodeo success at a Texas junior college the past two years and competes on the pro circuit in the summer, end up in Missoula? Mytty deserves credit for recruiting him but the mountains and rivers get the assist on this one.
"I'm a big fly fisherman and hunter and I'm taking advantage of that," said the 20-year-old Turco, who starred in wrestling as a prep. "Right next to the rodeo practice arena in Lolo there's a river right there. I'll go a couple hours early after class and fish for a couple hours and then go to practice. You couldn't do that in Texas."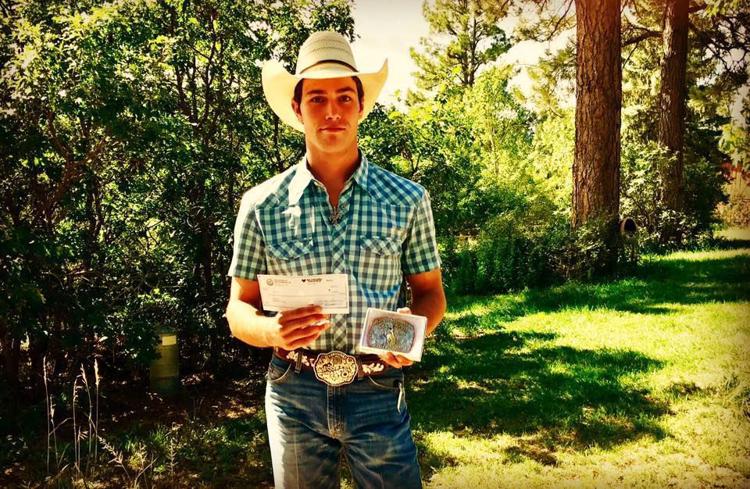 In six years as Montana's rodeo coach, Mytty has never had a cowboy quite like Turco. A salty rodeo competitor himself, the coach calls Turco a huge plus for his program.
"He boosts the morale of his teammates and everybody seems to be doing better because we've got a kid on our team that is consistently winning," Mytty said. "The rest of the kids see that and understand it can be done."   
Tyler didn't grow up in a rodeo family, which makes his accomplishments even more astonishing. This past summer he benefited from the sportsmanship of his fellow competitors on the pro circuit.
"I'm competing against these guys I've watched growing up," he offers, "and after I ride I go up and talk to them and ask what I could have done better. It's definitely a cool thing about rodeo for sure."
Mytty compares saddle bronc riding to playing the safety position in football. It's reading and reacting without knowing what's coming. Utilizing balance and strength.
A positive attitude also comes in handy.
"If you have a bad horse, like one that will jump around or bite you or whatever in the chute," he said, "you just try to make the best out of it and help yourself out and get a neck up on them so he's not flipping over on you."
Turco, who hopes to make a living in rodeo and then someday get into parks and outdoor recreation management, just missed qualifying for the CNFR as a member of the Clarendon College team last spring. Determined to get over the hump this spring, he'll enjoy the ride no matter how it turns out.
"Everybody involved with Montana rodeo has been super welcoming," he said. "You get to know everybody and they're all willing to help you out whenever they can. You get invited to a whole bunch of dinners and they treat you like family."
Good luck, Tyler. I've got a hunch Montana's rodeo team just picked up a bunch of new fans.
EDITOR'S NOTE: For more information on Turco and his life as a college student, see the Monday Montanan feature by Dillon Kato in Monday's Missoulian.