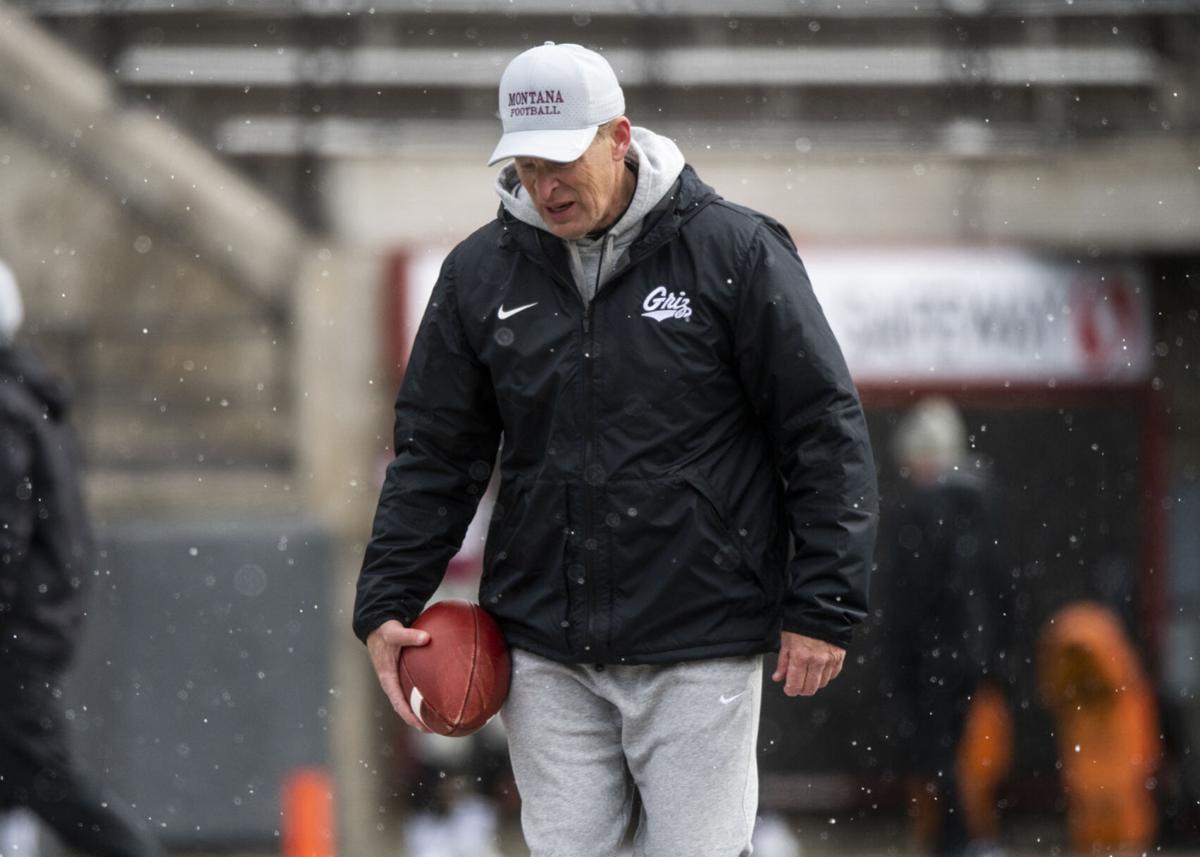 MISSOULA — There was excitement about the potential of the 2020 Montana football team after the Griz were eliminated from the 2019 FCS playoff quarterfinals.
A global pandemic was nowhere on the radar after that loss to Weber State on Dec. 13, 2019, in Ogden, Utah. However, the world came to a halt in March, upending many things, including the momentum coach Bobby Hauck had built going into this third season of his second stint at Montana.
The Griz will return to the football field for their first game in 485 days this Saturday when they host Central Washington.
"I really admire this group for their attitude and going through kind of a hard period and coming out here and playing hard every day and being motivated to do that. I really admire them for that. I think that's tremendously positive," Hauck said during spring camp.
He later added: "It's such a weird deal. It's uncharted. So, just watching how individuals as well as the group responded, I think having a good attitude through a fairly trying time, at least from an athletics standpoint, it's been good. The attitude has been tremendous. I couldn't ask for any more out of this group. I really couldn't expect more, and I couldn't ask more."
Here are 37 things that have happened in the longest of offseasons:
March 18, 2020: The Big Sky cancels spring competition six days after suspending spring sports, and with athletes sent home, Griz football players do makeshift workouts like pushing and pulling cars.
Aug. 29, 2020: FCS teams Austin Peay and Central Arkansas play the first college football game at any level during the pandemic.
Feb. 13, 2021: The FCS spring football season begins with a double OT game between McNeese and Tarleton State.
March 8, 2021: The Big Sky basketball tournament begins nearly a year to the day after it was canceled, with the Eastern Washington men and Idaho State women winning the tourney crowns but both falling in the first round of the NCAA tournament.
March 12, 2021: The Griz football team begins spring camp with a stretch of 21 practices and two games over a 37-day stretch.
March 21, 2021: Illinois State becomes the first FCS to opt out of spring football midway through the season and is soon after joined by Cal Poly, Albany and Western Illinois.
March 29, 2021: Former Montana men's basketball player and coach Wayne Tinkle has his surprising run in the NCAA tournament come to an end as Oregon State loses in the Elite Eight to Houston, which is led by former Montana Tech coach Kelvin Sampson.
Frank Gogola covers Griz football and prep sports for the Missoulian. Follow him on Twitter @FrankGogola or email him at frank.gogola@missoulian.com.